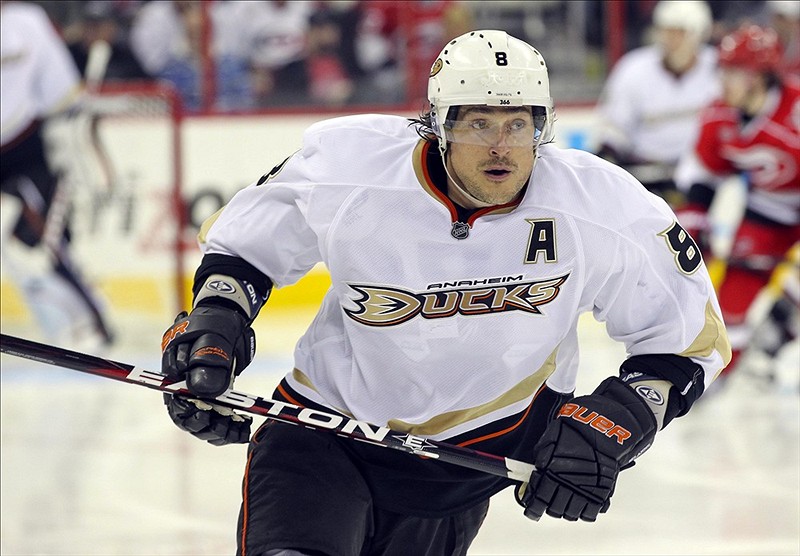 It took Teemu Selanne all of one game in 2013 to make history.
By simply stepping on the ice last Saturday against the Vancouver Canucks, Selanne became the oldest player to ever suit up for the Anaheim Ducks at 42 years, 6 months, and 16 days, and he didn't stop there. In a 7-3 romp, Selanne scored 2 goals and added another 2 assists, making him the oldest player to score 4 points in a game since Gordie Howe in 1971.
Despite the shortened season, it seems 2013 could be a year full of milestones for the ageless wonder as he inches his way up some of the most prestigious leader boards in NHL history. A brief glance at the names just above and below Selanne in the record books is a testament to just how dominant and spectacular his career has been.
Here's a look at some of the most notable records and milestones Selanne is closing in on in 2013.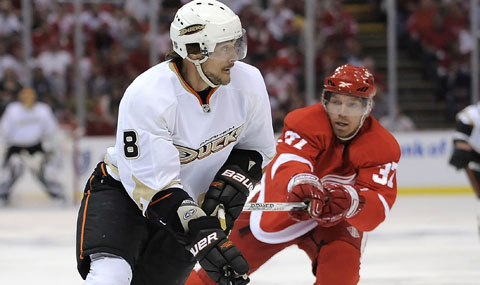 You can count on 3 things in life: death, taxes, and Teemu Selanne scoring power play goals. In 2010-11, he had 16 of them in 73 games. Last year, he tallied 12 more despite the Ducks boasting just the 21st ranked power play in the NHL.
Selanne currently sits tied for 3rd overall in all-time power play goals with Phil Esposito at 249. With one more, Selanne will separate himself from Esposito and take sole possession of 3rd place, but is Brett Hull's 265 mark within reach?
All-Time Power Play Goals
[table id=82 /]
With the shortened season, realistic expectations assume Selanne could score somewhere in the area of 6-8 power play goals, depending on health and the effectiveness of the Ducks power play. This puts him easily ahead of Esposito, but still short of Brett Hull on the list. If Selanne chooses to suit up for the 2013-14 season however, he will certainly be in contention for 2nd all-time, and let's be honest, is there anyone out there who would bet against Selanne playing another season at this point?
Blessed with an innate flair for the dramatics, Selanne also boasts some of the best game winning goal totals in NHL history, sitting 6th all time with 106, just behind Brendan Shanahan (109) and Brett Hull (110).
All-Time Game Winning Goals
[table id=83 /]
He's also been a model of consistency in this category, scoring 5 game winning goals in each of the 08/09, 09/10, and 10/11 seasons, and 4 in 11/12. In a shortened season, Selanne will be hard-pressed to repeat these totals, but it still feels somehow wrong to call Shanahan's 109 game-winners out of reach. This is perhaps the most up-in-the-air category to keep tabs on this year for Selanne as he could easily remain at 6th at year's end, but it wouldn't be a total shock if he ended up as high as 4th.
Perhaps the most exciting milestone that Selanne is aiming to reach this season is his potential jump into the top 10 all-time goal scorers in NHL history. The only thing standing in his way? Jaromir Jagr.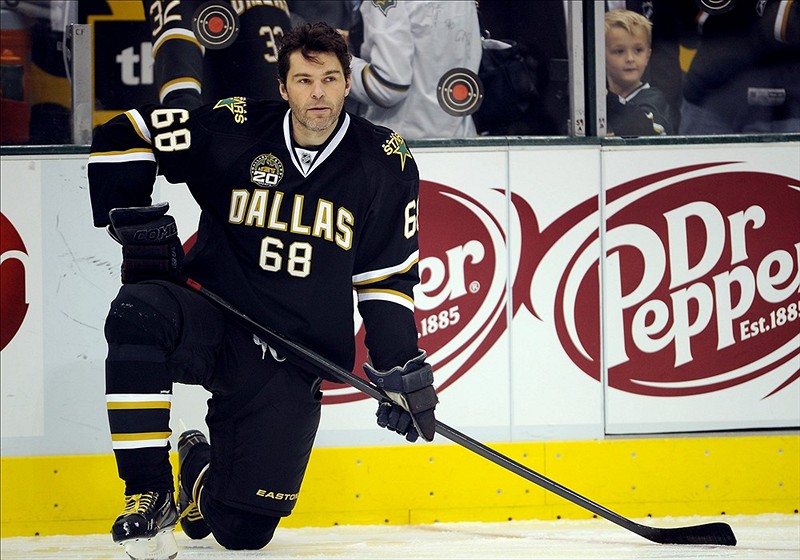 All-Time Goals
[table id=84 /]
Selanne currently sits 12th overall with 665 all-time goals. Barring injury or an absolutely catastrophic season (not bloody likely), Selanne seems poised to jump over Luc Robitaille's 668, but will be competing all season long with Jagr to secure his placement in the top 10. Jagr currently sits 2 goals ahead of Selanne with 667, and has looked dangerous early on with the Dallas Stars this season, however, Selanne outscored Jagr last year 26 to 19, a fairly significant gap.
This race is too close to call right now and is one NHL fans will want to keep an eye on as the season progresses.
All-Time Points
[table id=85 /]
The all-time points category is one in which Selanne has the opportunity to make some serious hay. He sits in 18th spot currently, but is just 15 points back of the 15th position. That means he'll likely be jumping names like Doug Gilmour, Adam Oates, and Bryan Trottier at some point this season. Not bad, eh?
Collecting the 57 points necessary  to catch Stan Mikita at 14th  is a reach in a 48 game season and then the gaps begin to get even larger, so it appears as though Selanne will be settling in at 15th, at least for now.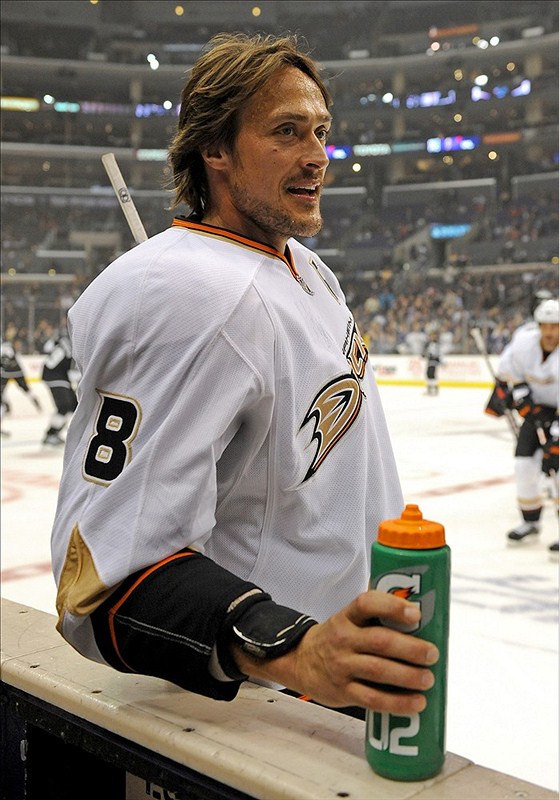 Whether 2013 is Teemu Selanne's curtain call remains to be seen, but watching his ascension through some of the most esteemed records in the history of hockey will undoubtedly be one of the greatest stories to come from the 2013 season.
Follow Anton on Twitter: https://twitter.com/antontibaldi