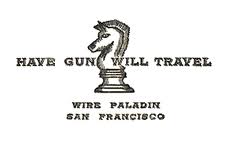 The club returns home tonight after a forgettable early season road trip to Phoenix and Colorado — twin four-goal losses, in which the Blue Jackets managed but a single tally. Naturally, this resulted in early calls from the lunatic fringe to abandon ship, and the Twitterverse teemed with angst.
To be sure, there was little redeeming social value to the Coyotes' game. Some solace could be gained from the fact that the Blue Jackets scored first – a nasty point shot from Fedor Tyutin, reversing a trend of falling behind early. From there, it was downhill, with Columbus squandering early momentum and surrendering time and space to the Phoenix skaters, who pelted Steve Mason with 42 shots in his season debut. Welcome back to the NHL, Steve. (More on Mason later). In Colorado, the Blue Jackets came out hung over from the Phoenix experience, and resumed the "fall behind by two early" theme. However, despite the 4-0 final score, the club actually found its legs over the last two periods, and played some solid hockey. They controlled the puck, put seven shots on goal during one power play, and generally seemed more in sync.  Varlamov was a brick wall for the Avalanche, Still, surrendering four goals was legitimate cause for concern.
So, are the worriers correct? Is it time to panic? I think not. Let's step away from the cliff and survey the landscape as a whole.
Offense — Chemistry 101
Coming into the season, the entire universe knew that teams who had a large core of veteran players carrying over from last season would have an early edge, making up for rust and deconditioned legs with familiarity and chemistry.   The Blue Jackets fall on the other side of that equation, with the youngest squad in the NHL, and a host of new players at key positions.   The lack of chemistry manifests itself most in the offensive end, when opportunities emerge and vanish in the blink  of an eye, and knowing where your comrades are going to be at any given moment makes the difference between success and frustration.  While Columbus benefits from Anisimov (KHL), Brassard (Austria), Dubinsky (Alaska), Calvert (AHL), Johansen (AHL) and Atkinson (AHL) having played during the lockout, the problem is that they have not played together. 
For his part, coach Todd Richards has tried to achieve balance and force chemistry by moving pieces around up front.  The sensible move of keeping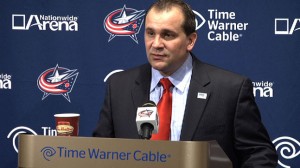 Anisimov and Dubinksy together, as a way of leveraging their time together on the Rangers, has had only marginal success, and he has not yet been brave enough to put a Calvert-Johansen-Atkinson line on the ice, to make use of their Springfield experience.  It's delicate stuff to determine whether a given line should just be allowed time to mesh, or whether change is necessary to enhance productivity.  The pressures of a 48-game season bring this debate into sharper focus.  Umberger continues to struggle, winning the Jason Chimera Shooting Accuracy Award against the Avalanche for missing a wide open net when a goal could have changed the momentum, and guys like MacKenzie, Boll and Letestu are looking for their games, which makes Richards' job a bit more difficult.Still, looking at the individual pieces provides lots of hope.   Anisimov has lots of strength, speed and skill, and Foligno is a monster.  Dubinsky clearly has a lot of skill, and is seemingly missing only the correct pairing to take off.  Brassard had the game winner at Nashville and has two assists.  He has been inconsistent in the face-off circle, bracketing a 70% performance vs. Detroit with sub-40% efforts against Nashville and Phoenix (where the Blue Jackets as a whole were awful in the circle.)  I think Brassard would benefit from a shift to the wing, where he can use his passing, while airing out his under-utilized shot as well.  While Atkinson's lower body injury has slowed him somewhat, Umberger's issues have also hurt the overall performance of that line.  Johansen has been unrewarded for some fine play thus far, as has Foligno.
At the end of the day, chemistry is a process that is . . . well,  a process.  The pieces are there, and things will click.  In the meantime, I wouldn't be surprised to see somebody like Audy-Marchessault added to the mix to provide some sniping and stir things up a bit.   The last two periods in Denver saw some terrific chances that just did not find the back of the net.  As the guys who didn't play during the lockout find their legs (and their sticks), the puck will start finding the net.   If not, John Davidson will likely not be shy about making the necessary moves.  In the meantime, the following lines would be intriguing to see:
Foligno — Anisimov — Brassard
Prospal–Dubinsky — Atkinson
Umberger — Johansen– Calvert
MacKenzie–Letestu–Dorsett
Defense — Pass the WD-40
Chemistry should not be the issue for the blue line pairings, as all return from last season, with the exception of Adrian Aucoin.  Sure, the outlets to the forwards require some chemistry, but the exit passing was solid against Nashville, then deteriorated as clubs figured out that an aggressive forecheck could disrupt flow and create turnovers.  Moore and Aucoin have been largely solid as a pair, though Moore has been only getting 12:35 in ice time, and really merits more.  Wisniewski and Johnson have shown the rust from not playing, but also show that their games are rounding into shape.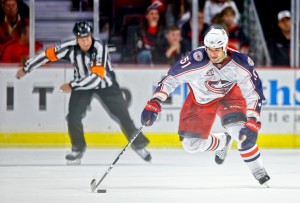 It is the Tyutin-Nikitin combination that has struggled thus far, which is a bit ironic, since both played regularly in the KHL during the lockout.  Tyutin actually leads the club (and is 32nd in the NHL) in points, with 4, but has shown more difficulty adapting in his own zone.  To be fair, some of his struggles are attributable to attempts to cover for Nikitin, who has been suspect over the first four games.  He has been slow to react, slow to get back into his own zone, and slow to recognize emerging situations.  For now, I'm willing to attribute this to the travails of a young player, experiencing his first work stoppage, and having a tough time adjusting back to the small ice NHL game after his time in Russia.  From his performance last season, we know he can get the job done on the blue line.  He simply needs to actually do it now.
So, while rust and lack of preparation time have undoubtedly impacted the blue liners, the defensive woes are not solely attributable to the guys who skate backwards.  Some of the forward contingent -most notably Calvert, Letestu, Dorsett and MacKenzie — have a tendency to drift in their own zone, and get tunnel vision on the puck.  That makes them unaware of the back side movement, and opponents have been cashing in on those opportunities.  It's interesting that these guys are also among the most aggressive fore-checkers, perhaps providing a coachable moment to the effect that they need to use similar effort in both ends of the ice.
The good news is that the defensive issues are not ones of talent, but of execution.  Nikitin and Tyutin will get their anticipation levels back, and the other guys will lose their puck focus and become more aware in the defensive zone.  That's all fixable with a bit of video work and some greater attention to detail.
Goaltending
Bobrovsky was superb in his first two starts, against Nashville and Detroit, and just ordinary against Colorado.  In fairness, he did not have much of a defensive effort in front of him, but he nonetheless did not have the sharpness displayed in his first two starts.  For his part, Mason was given no favors by his defense, either.  However, there is a qualitative difference between the two netminders that is difficult to ignore.  Bobrovsky conveys a sense of control over his crease, and an awareness of the developing circumstances.  Mason looks more furtive, and conveys a sense of being surprised when shots come from certain parts of the ice.  The high glove continues to be a vulnerability, and against the Coyotes, he again showed a tendency to over-react to a situation, putting himself out of position.  Between the two, Bobrovsky has shown better rebound control, both in terms of avoidance and in directing rebounds to harmless parts of the ice.
It's early, but Bobrovsky gets the early nod here.  The squad appears to play more aggressively in front of him, which may or may not be more imagined than real.  Still, it's something to watch going forward.  NHL Home Ice reported that Columbus was the "secret team" Vancouver was talking with about Luongo, which may or may not be true.  In the meantime, Bobrovsky represents a significant upgrade at the position, and could well develop into a solid front-liner.  Time will tell.
Special Teams  — A Bright Spot
Curiously, the power play and penalty kill have been early bright spots for the Blue Jackets, with the kill distinctly outperforming the power play, but both far better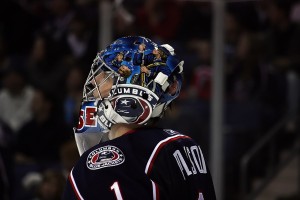 than past squads.   The PK ranks sixth in the NHL, and given the club's propensity for incurring penalty box time thus far — this is an important attribute.  The penalty killers have been agressive, without being reckless, and have demonstrated tenacity in challenging the puck in all three zones.  Good stuff.A zero-for-nine streak against Phoenix and Colorado hurt the stats for the power play, which still ranks 19th in the league.  As noted earlier, the power play bombarded Varlamov with seven solid shots during a single power play, and it was only his ability to prevent rebounds that kept Columbus off the board.  Unlike prior years,  the Blue Jackets have not had difficulty gaining the zone or maintaining possession once there.  A bit of puck luck and this unit could prove to be a major asset as the season progresses.Step Away From The Lifeboat
The bottom line is that the Blue Jackets have a young club, full of new faces, who have played three of their first four on the road.  Not excuses — just facts.  The mistakes being made are not attributable to a lack of talent or a lack of effort.  To the contrary, the Blue Jackets have played hard, and showed both resilience and energy most of the time.   Excuses?  N0 – just facts.  That Columbus has not yet established chemistry is not shocking. They are not alone.  At three points, Columbus has as many points as the projected Stanley Cup finalists — the Rangers and Kings — combined.
Don't misunderstand, there's a lot of need for improvement — sooner than later.  But with special teams playing well, and some very talented individual pieces, there is reasonable cause for optimism that those pieces can mesh into a productive unit.  With a compressed schedule, the mental and physical demands on every team are going to be brutal, so toughness and character will ultimately count for a lot.  Columbus had displayed both thus far.
Tonight would be a good time for the Blue Jackets to emerge from the scoring doldrums — with the undefeated Blackhawks coming into Nationwide Arena.  However, eight of the next nine are at home, which is just what the doctor ordered for a team looking to mesh.  That string will put us just past the quarter pole for the season, and progress should be evident.  In the meantime, there's no cause for panic.  Stay on the ship, order a cocktail, and enjoy the hockey.
Fan of hockey at all levels, with focus on the Blue Jackets, Miami RedHawks and the business side of the game. I try to bring a rational, even-handed analysis to my writing, wtih just a touch of snark. I use my legal background to bring some more insight on the business side. Love family, travel, hockey, golf and curling.