Jim Nill is starting to make this a habit. Next summer the Stars should announce their annual July blockbuster trade via fireworks display. However, please keep Tyler Seguin, Jamie Benn and John Klingberg in a bubble so we don't have any unfortunate 4th of July-like injuries.
It started in 2013 when the newly appointed Stars General Manager acquired Tyler Seguin from the Boston Bruins. Nill struck again in July 2014 by acquiring Jason Spezza from the Ottawa Senators. This weekend, Nill completed the July hat trick by acquiring Chicago winger Patrick Sharp along with defense prospect Stephen Johns. In exchange, the Blackhawks received veteran defenseman and fan favorite Trevor Daley along with pitbull line winger Ryan Garbutt.
The Chicago Blackhawks gloomy cap situation has been well documented. They absolutely needed to make a move, and they may not be done yet.  After winning the Stanley Cup, the Blackhawks were well over the 2015-16 salary cap max of $71.4M. They have since traded promising young forward Brandon Saad, and now savvy veteran forward Patrick Sharp. Those moves leave the Blackhawks with less than $300K of cap space going into 2015-16.
Meanwhile, the Stars have plenty of cap space while also having young players ready to push for bigger roles in 2015-16. Even after the trade, the Stars have just under $7M in cap space. To consummate the deal the Stars agreed to retain half of Garbutt's remaining contract ($900k).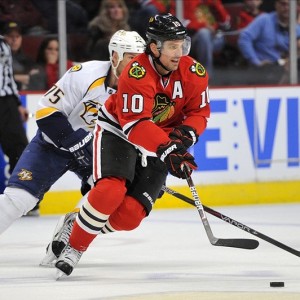 Patrick Sharp is a Dallas Star
Sharp, 6'1, 199, is a 4 time all-star and 3 time Stanley Cup winner.  He turns 34 in December, while not an ideal age, he is only one season removed from a career best 78 points in 2013-14. He fills a Top 6 need upfront with Jamie Benn, Seguin, Spezza and a revolving door of other forwards. A healthy Valeri Nichkushkin in 2015-16 will give the Stars a firm 5 out of 6 with Sharp's addition. Brett Ritchie, Colton Sceviour, Ales Hemsky and Patrick Eaves will compete for the 6th spot.
The Philadelphia Flyers selected Patrick Sharp in the 3rd round of the 2001 NHL draft. He played two seasons at the university of Vermont before spending parts of three seasons in the Flyers organization. Sharp played the majority of his games with the Flyers' AHL affiliate the Philadelphia Phantoms. He only played 66 games for the Flyers. His career really took off after being traded to Chicago in 2005. Sharp was teammates with Benn and Spezza on Canada's 2014 gold medal winning team. Sharp's contract has two years left at $5.9M per season.
A Physical Defensive Defenseman Arrives
If you have read my Stars articles you know I have been consistently bringing up their glaring need for a physical defensive defenseman. Stephen Johns fits that description. He's someone Jim Nill has had an eye on since his Detroit days when Johns played for the USNDTP U18 team in Ann Arbor, MI. Johns, 23, from Wampum, PA, is a hulking 6'4, 233, defenseman. Ironically the righthanded shooting Johns knocked the Texas Stars out of the 2014-15 playoffs by beating Jamie Oleksiak. The Hockey News 2010 Draft Preview rated Johns as the 48th best player available. Chicago took him in the 2nd round (60th overall) and after 4 years at Notre Dame he played his first full season of pro hockey with the RockfordIcehogs in 2014-15. John's contract has one year left at $800k before he's an RFA.
A Classy Veteran Heads to the Windy City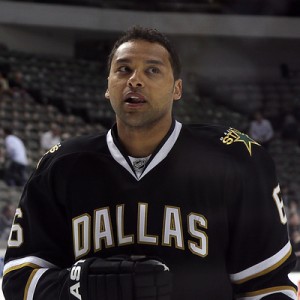 As the old saying goes, to get something you have to give something up. Trevor Daley will turn 32 at the start of the 2015-16 season. He has spent his entire NHL career with the Stars and is one of the most well liked athletes in the city. However, the Stars have younger defensemen such as Patrick Nemeth, Jryki Jokipakka, Jamie Oleksiak and soon Esa Lindell who are ready to take the next step.
Daley is still an above average skater, but his defensive skills leave a lot to be desired. Some will argue his defensive shortcomings are due to the Stars system, and coach Ruff challenging him to play more of an attacking style. Daley actually had a career year offensively (16g, 22a, 38pts) but as TSN's Scott Cullen pointed out he also had the worst relative possession stats among 128 NHL defensemen who played at least 1000 5×5 minutes in 2014-15. Analytics also show his D partners performed worse with him than without.
The Daley effect y'all. He dragged all his pairings down. We'll be fine.http://t.co/yg9QGorlre

— Carolyn Wilke (@Classlicity) July 11, 2015
Moving to the Blackhawks and playing with the likes of Duncan Keith, Brent Seabrook and Niklas Hjalmarsson will give Daley more support than he's ever had on the blue line in Dallas.
Former NHL defensemen Joel Quenneville and Mike Kitchen will be Daley's new coaches. It will be interesting to see if they allow Daley to freelance offensively or convert him to more of a conservative bottom pair defensemen. Daley's contract has two years left at a cap friendly $3.3M per season.
Change of Scenery for Pitbull Winger
Going into the 2014-15 campaign, there was a lot of buzz around the "Pitbull line" of Ryan Garbutt, Cody Eakin and Antoine Roussel. They earned the nickname with their fast in your face style of play. Yet they never really hit their stride as a line in 2014-15. Eakin and Roussel each took a slight step backwards and Garbutt's game suffered the most. His goal scoring production dropped from 17 to 8 and his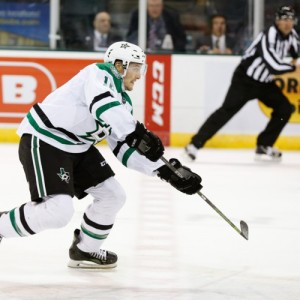 plus/minus went from +10 to -9. Also, the NHL Department of Player Safety suspended him twice. The majority of his surprisingly low number of pims (55) were often the result of poor on-ice decisions.
Perhaps he will revive his career with theBlackhawks skating on a line with current Chicago agitator Andrew Shaw. Who knows, maybe they will create a French Bulldogs line. In the meantime, his departure creates opportunity for Stars winger Curtis McKenzie and other young forwards.Garbutt's contract has 2 years left at $900k per season.
The only question left is what will Nill do in July 2016? What name will the fireworks display coming to Dallas?
Subscribe to our Stars stories to get email updates every time a new story is published.
Ed Sarno is a Dallas Stars staff writer for The Hockey Writers. You can follow him on Twitter @Edtexmass09