With Nashville Predators rookie Filip Forsberg turning heads in the season's first quarter, now seems a good time to look back at the franchise's best rookies of the past.
Following completion of play Saturday night against Columbus, Forsberg has 10 goals and 23 points and a plus-20 rating in 23 games. If he remains healthy and productive, he is set to smash nearly every Predator rookie record, particularly on offense, even if he doesn't manage to continue the point-a-game pace.
The list to follow is not meant to be comprehensive, though few names of note were left off. Nor is it meant to be a ranking—the list is more or less chronological.
David Legwand
Perhaps no player in Predators history has done more good things for the team, yet brought such enduring frustration than David Legwand. Legwand was the team's first draft pick in history, taken second in the 1998 draft, right behind Tampa Bay's Vinnie Lecavalier, a fact that probably has haunted Legwand more than a little bit in his 16-year career.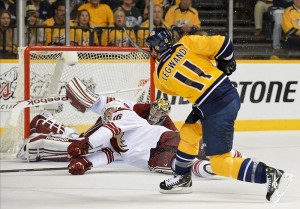 As a rookie in 1999-00, the Predators' second season of existence, Legwand played in 71 games, scoring 13 goals and 15 assists. In December 2000, Legwand won a game against the Rangers at Madison Square Garden on an overtime penalty shot—a big victory in those early years for the team and an NHL first. He potted 13 goals again the next season and upped his point total to 41. But 2002-03 was to be his breakout campaign.
That season started out tough for a Predators team bitten hard by injury. There were only two victories in the first 20 games, but the team fought back to a .500 record and a playoff spot, partly due to Legwand's 17 goals and 48 points in 64 games. Then Legwand hurt his shoulder, missed the rest of the season and the Predators didn't win at all in the last 15 games of the season.
After the lockout, Legwand surrounded a 63-point season with two injury-shortened seasons, but still played his way into a six-year contract. Despite good faceoff skills and defensive awareness, many observers felt like Legwand never reached his potential in Nashville, especially after the big contract, and he was traded to his hometown Red Wings in 2014.
Adam Hall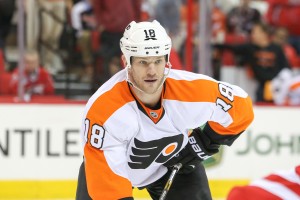 Just three days older than Legwand and also a Michigander, Adam Hall took a much different route to the NHL. Where Legwand went the major-junior way, Hall went to Michigan State and was a second-round pick in 1999 for Nashville.
After his first NHL training camp in 2002, he benefited from the same injury plague that downed the Predators that early season and stuck on a roster he may not have otherwise made. Hall made good use of it, scoring 16 goals—breaking Legwand's record—and posting 28 points in 79 games. He put up similar numbers the next season, establishing him as a solid third-line winger, but distinguished himself by scoring the first goal in Predator playoff history against Detroit that spring.
Hall was traded in the summer of 2006 to the Rangers and bounced around for several years. Now 34, he is playing in Europe.
Dan Hamhuis
Dan Hamhuis was Nashville's first defenseman taken in the first round of the draft. In keeping with Predators' philosophy at the time, Hamhuis completed his junior eligibility and played a year in the AHL. He stuck in he NHL after his second training camp and took a regular shift on the blue line thereafter.
As a rookie in 2003-04 Hamhuis put up seven goals and 26 points, proving, although not like his successor Shea Weber, he was a reliable quarterback for the offense. Detracting from his play that season was his minus-12 rating, but he never again sank below minus 4 in Nashville. He signed a six-year contract as a free agent with his hometown Vancouver in 2010.
Alexander Radulov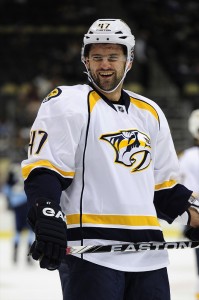 Alexander Radulov is easily the most-hated man in Predators history, and is probably somewhere just below former University of Tennessee football coach Lane Kiffin, who brazenly walked out on UT after just one season, on the list of most-hated Tennessee sports personalities of the last decade.
Radulov marked a departure in the usual draft strategy for the Predators. A first-round pick in 2004, Radulov was the first European taken in the first round in team history. It seemed a smart move though at the time. Radulov was a pure offensive talent—projected to be one of the best in franchise history—and had even committed to learning North American hockey in the Quebec junior league.
His rookie season in 2006-07 saw him erase Hall and Legwand's records. Radulov scored 18 goals and 19 assists. That was just a preview though. The next season saw him put up 26 goals and 58 points. Then it went south for all involved except, perhaps, Radulov.
After just two seasons, and a year left on his entry-level deal, Radulov walked for a much richer contract in Russia, leaving Nashville in a lurch. The team missed him in 2008-09, failing to make the playoffs. The two sides made up in 2011-12, when Radulov worked out a deal to join the team for the stretch run, but in the second round of the playoffs, was suspended for bad behavior while on the road in Phoenix. He was never seen in Nashville again.
Pekka Rinne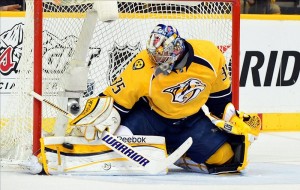 At 26, Pekka Rinne was too old to be considered a rookie in 2008-09, but his first full-time season in the NHL was impressive. Following the 2007 trade of Tomas Vokoun, the Predators tried to make do with Chris Mason and Dan Ellis, which got the team to the playoffs in 2008, but there was never a feeling of permanence. Rinne changed that.
In 52 games in 2008-09, Rinne posted seven shutouts, a 2.38 goals against average and a .917 save percentage. He was 29-15-4.
It was smooth sailing from there for Rinne, until he injured his hip after the 2013 season, limiting him to 24 games in 2013-14, but he has returned in finer fashion than ever this season, with two shutouts and a 1.82 GAA in 20 games. Talk of Rinne's being the best goaltender in the league abounds.
Alex is a native of Nashville, Tennessee. He has four years of reporting experience, both sports and news, mostly in newspapers. He holds a M.S. from the Columbia University Graduate School of Journalism, in New York City, and a B.S. in journalism from Middle Tennessee State University. He is a former news and sports editor at the MTSU student paper, Sidelines, and interned at the Tennessean. Raised in a football family, he left the reservation and found an obsession in hockey.