The Hockey Community
More than any other major North American sport, hockey players are a different breed.  They are always quick to credit the work of their teammates, and give thanks to them when they are able to achieve something special.  When a wide receiver in the NFL catches a 50 yard touchdown pass, he'll often do a dance in the endzone as his teammates come over to him to congratulate him.  When an NHL player scores a goal, he'll do a quick individual fist pump or celebration, and then turn to skate to his teammates, celebrate with them, and give credit to the teammate that passed him the puck.  There is a level of camaraderie, unselfishness, and sense of community that exists in hockey that does not exist in other sports.
When you are a member of the hockey community, you are usually a lifer.  Go to the rink, and you are bound to run into a number of familiar faces.  Hockey players love to give back to the hockey community, and stay involved in the game throughout their life.  Whether they continue to play, coach, scout, volunteer, or be an ambassador for their team, hockey players give back to the community that has given so much to them.  It is only proper to pay homage to the lives of members of the hockey community that were lost in 2013.
Players
Pentti Lund: Playing 259 games for the Rangers and Bruins in the late 1940s and early 1950s, Lund was the first Finnish born player to take a regular shift in the NHL (Albert Pudas played four games in 1926-27).  Although he moved to Canada at age 6, he still holds the distinction of the first Finnish citizen to play in the NHL.  He won the Calder Trophy as the best rookie in 1948-49, and led the NHL playoffs in goals and points in 1949-50.  After a career-ending eye injury, he became a newspaper reporter, and eventually the sports editor for The Daily Times Journal of Fort William, Ontario.
Dmitri Uchaykin: In the playoffs of the Kazakhstan Hockey Championship, Uchaykin was the recipient of a hit to the head from an opponent on Arystan Temirtau.  He was taken to a hospital, where he passed away due to a cerebral hemorrhage.  His number has been retired by his team, and has resulted in increased awareness about head injuries in hockey.

Kristiāns Pelšs: A prospect of the Edmonton Oilers, Pelšs had won Gold Medals for Latvia in the Division 1 U18 World Championship, and Division 1 World Junior Championship.  Pelšs had signed an entry level contract with the Oilers in 2012, and had shown promise as a goalscorer in the WHL and AHL.

Shawn Burr: A hard nosed, two-way player, Burr was a valuable contributor for the Detroit Red Wings, Tampa Bay Lightning, and San Jose Sharks.  Burr played the game hard, but clean, and served as a veteran role model for young Lightning players.  After he retired, he was the president of the Detroit Red Wings Alumni Association, which worked to raise money for children's charities in Detroit.  He was also the president of the Port Huron Icehawks of the IHL.
Coaches and Front Office
Don Baizley: Although he is not known by most hockey fans, the impact that Don Baizley has had on the NHL is immeasurable.  A lawyer, Baizley became one of the most influential player agents in the business, representing clients like Peter Forsberg, Paul Kariya, Joe Sakic, and Teemu Selanne.  The public's general perception of player agents is that they are greedy and cutthroat.  They think of Scott Boras, and Drew Rosenhaus.  Don Baizley could not be more different than the public's perception of an agent.  Paul Kariya said he saw Don as a friend and family member, a down-to-earth man who believed in confidentiality, and genuinely wanted the best for all of his clients.  He was a major facilitator in bringing in the first elite European players to North America like Jari Kurri, Anders Hedberg, and Ulf Nilsson.  He lobbied for the NHL to implement stricter concussion protocols, and spend more money on concussion research years before it was a hot button topic.  He was held in the highest regard among all members of NHL front offices, and the hockey community.
Wren Blair: Throughout his career, Blair held a number of front office positions in different leagues.  He won a World Championship gold medal as coach and manager for Team Canada in 1958.  He then moved onto an NHL career where he was the coach of the Minnesota North Stars for 3 seasons, leading them to a 48-65-34 record.  He then served as the general manager of the Pittsburgh Penguins for two years from 1975-1976.  But the most interesting thing Blair did was that he was the first man to discover the talents of Bobby Orr at a Bantam tournament when Orr was just 12 years old.  Working as a scout for the Bruins, Blair served as a mentor to Orr, and helped train him for an NHL career.  Orr only turned into the greatest defenseman in NHL history, completely revolutionizing the role of the defenseman in hockey today.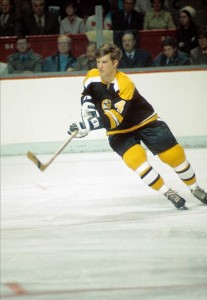 Tim Taylor: A huge influencer within USA hockey for years, Tim Taylor coached the Yale University Bulldogs for 28 years from 1976 to 2006.  He was an assistant coach for the US Olympic team in 1984, and the head coach in 1996.  At USA hockey, Taylor was responsible for putting together many of the World Junior Championship rosters, including the 2010 and 2013 teams that won Gold.  Loved by all of his players, Tim Taylor was as much a teacher and a friend as he was a coach.  He helped changed the philosophy taken by Team USA when selecting their U20 World Junior team, and the results have been incredible.
Hockey Culture
Stompin' Tom Connors: A famous Canadian folk singer, Stompin' Tom was the author of probably the most famous song ever written about hockey.  "The Hockey Song" was written in 1973, and is known throughout the entire hockey community.  It is played at every Toronto Maple Leafs home game.
There are many more members of the hockey community that we unfortunately lost in 2013.  Without the contributions of the above men, and the men listed below, hockey as we know it would not be the same game.
Boris Elik, Billie Dawe, Mike McMahon Jr., Gene Campbell, Jean Gauthier, Murray Henderson, Gerry Brisson, Armand Gaudreault, Tony Licari, Vasily Tikhonov, Matti Murto, Wellington Burtnett, Ulvis Katlaps, Barry Smith, Glen Skov, Igor Nikitin, Howard Riopelle, Viktor Zinger, Denis Brodeur, Igor Romishevsky, Leo Gravelle, Nikolay Karpov, Esko Niemi, John Matchefts, Wayne Fleming, Steve Rexe, Reg Sinclair, Aleksandr Komarov, Connie Broden, Maurice Benoit, Frank Selke Jr., Howie Riopelle, and Scott Winkler.
We thank them for all they have given to the hockey community.