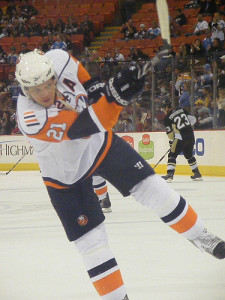 The 25-man roster has been named and Kyle Okposo isn't on it. And New York Islanders fans are very unhappy about it, as they should be. Okposo is having arguably his best season in the NHL and has been playing great as of late. And whether or not you're an Isles fan, you have to understand, from a purely hockey sense, why it's such a travesty that Okposo didn't make the squad.
Isles Poor Season to Blame?
Several hockey analysts have noted that Okposo being left off the roster has a lot to do with the team he plays for and the lack of attention he's gotten this season because of it. It's no secret that the Isles have had a rough first half of the season but I have to agree with Chris Botta here…
Making this about Okposo playing for the "disrespected" Isles is ridiculous. It's a hockey decision, dislike it or loathe it.

— Chris Botta (@ChrisBottaNHL) January 1, 2014
It's purely a hockey decision so thinking that the Islanders season has anything to do with the roster decision is outlandish.
Not Built for the Ice?
Okposo was evaluated by Scott Burnside, who was one of two writers who had access to the USA Hockey HQ during the selection process. In Burnside's review of Okposo, he states that Okposo "is not built for the big ice, his name will rarely, if ever, be heard in relation to making the team."
Wow. That's pretty harsh. I have the utmost respect for Burnside but how can he say that Okposo, who played at Minnesota, whom just so happens to play on an olympic sized ice surface, isn't built for the big ice? Okposo played 51 games at UM and scored 48 points. That's pretty efficient for someone who isn't "build for the big ice." I will respectfully disagree Mr. Burnside.
In relation to him saying that he doubts Okposo will ever be considered for the team, again, how can he say that? Okposo has played 41 games for the United States (Junior and Senior) in the World Championships. He has experience internationally and has represented his country before. I don't understand what quality he's lacking that makes Burnside say he'll likely never make a US Olympic team. Again, I disagree Mr. Burnside.
"Poile notes that Jason Pominville and Kyle Okposo are having great seasons but haven't been given much, if any, consideration"

Oh.

— Kevin Schultz (@Schultz88) January 1, 2014
The Future for Okposo
He's still young. He's only 25 so in four years, Okposo will likely be in the midst of his prime. As a professional athlete, Okposo is used to falling short (especially this season.) So as a fan, you shouldn't feel bad for him. You should expect Okposo to use this as fuel. I truly believe that he'll train hard during Sochi and he'll lead his on a playoff push (that they've already started.) The future is bright for Kyle Okposo, don't worry.
Sadly, the more we find out, it doesn't seem as if Okposo ever really had a chance on this team. As good as he's playing, he didn't make enough of an impression when it mattered. But that won't happen again. Okposo know's the drill now.
But the biggest snub of this team? Bobby Ryan. His absence on the roster needs an explanation and it mind-blowing.
Hope you watched the Winter Classic. It was an incredible event for the NHL community.
Happy New Year and Be sure to follow me on Twitter for up-to-date Hockey stuff @BSmithTHW
Check out our partners at TiqIQ for the best deals on NHL tickets for all 2013-14 games.
Smith works full time with Rise Against Hunger, a non-profit set on ending world hunger by 2030. He's a hockey enthusiast living in Pittsburgh, PA and formerly covered the Pittsburgh Penguins for THW.
Follow him on twitter @BSmithWV