Player development is a crucial part of the mysterious puzzle leading to Stanley Cup success, and of course, developing players is easier said than done, but equally daunting is the art of scouting. A rising trend we're seeing in the NHL is scouting for hidden gems, and diamonds in the rough. It's not an exact science, but the need for amateur scouts with this skill set has proven to be in high demand these days.
Throughout the last decade, we've witnessed the power of perseverance in players striving for a spot in the NHL Entry Draft. For guys like Jake Bean, who went overlooked by all 21 WHL teams at the 2013 WHL Bantam Draft, he found his payoff at the NHL Entry Draft this past June and got drafted by the Carolina Hurricanes at No. 13. Stories like Bean's are the rarest of all. Tanner Pearson is another. He went unnoticed in both the 2010 and 2011 NHL Entry Drafts and wasn't drafted until 2012 by the Los Angeles Kings.
https://www.youtube.com/watch?v=Ti4R-RvNNt0
The Pearson Playoff Weapon of Mass Destruction
Pearson's unique value proposition as an NHL asset is what made him so special. The first glimpse of it was seen in his 2014 NHL-break-through year, which inevitably led to Stanley Cup success in only 67 NHL games played. Alongside co-first liner's Tyler Toffoli and Jeff Carter, Pearson scored four goals and racked up eight assists in the final game of the 2014 Stanley Cup playoffs. To put it bluntly, no one saw this coming – except, of course, the people who scouted him.
When the Kings drafted Pearson at No. 30, they were making a statement to the world of hockey. Pearson, never having played in the Stanley Cup playoffs before, was not on anyone else's radar because no one thought his potential would eventually have an impact, let alone a dramatic impact during the playoffs. As it turns out, Pearson is a Stanley Cup playoff weapon, and obviously a secret playoff weapon at that. Perhaps this was the Kings' competitive advantage back then, and perhaps still can be. After all, no one's figured out how they can so accurately forecast unseen talent. It's not like they chose to draft him in the seventh round. No, they deliberately selected him in the first. The last time the King's selected a re-entry draft pick in the first round was in 2006: Trevor Lewis, drafted at No. 17. He has two Stanley Cups.
Unfortunately, the 2014-15 season failed to be fruitful for the Kings, and the Pearson playoff weapon of mass destruction never saw the light of day. However, their most recent run at the Cup showed the weaponized Pearson eagerly waiting for another take down in Game 3, when he scored 3:47 minutes into the first overtime period, giving the Kings a 2 – 1 victory against San Jose.
After the 2015-16 season, it's become pretty clear what Pearson's identity is as a player. He comes alive during the Stanley Cup playoffs. In fact, if you take a look at all the forwards who were drafted in the first rounds of the 2010, 2011 and 2012 NHL Drafts, who're still playing in the NHL today, AND have played in at least 20 playoff games, you'll see that Pearson ranks #13 for most point-per-game (PPG) during the regular season: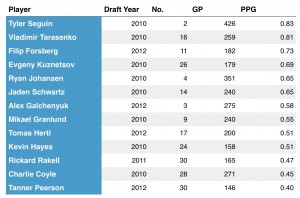 However, if you look at players with the most PPG for the postseason, you'll see that Pearson moves up to #8, and Tyler Sequin moves down to #12: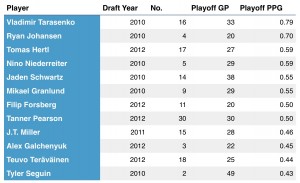 The Rising Trend of Uncovering Hidden Gems
So how does this happen? How does Pearson, the highest first-rounder of all these guys, go unnoticed for two drafts, and then become one of the top point-producers of them all? In a recent article published on Maple Leafs Hot Stove, 'The 2016 Toronto Maple Leafs Draft: Bigger, Older… Dumber?', Quinn MacKeen writes a novel about scouting for hidden gems, a well-known tactic of the Los Angeles Kings. In it, he states something very interesting:
"But beyond the blind-spots and irrationalities of scouts and managers, there are a whole lot of other reasons why a hockey player can underperform his peers. If a team's scouts can see those reasons, and believe those kids' potentials can still be tapped, they're going to be able to mine veins of talent other teams won't even see.

• For instance, maybe they know that a kid got sick and was underperforming or behind on his development because of that. Take Leaf pick Andreas Johnson, for instance, who was held back by undiagnosed asthma. After that was better managed, his totals soared.

• Or the kid whose team is so bad he barely gets to see the other team's end of the ice. [Not only will this often drag their stats down, they often have to deal with coaches doing dumb things.] [Hi Randy.]

• Or the players who simply get buried because a team is deep in talent, or their coach hates them, and so they get barely a sniff of ice time.

• Then there are the European and Russian kids having to adjust to North American ice and life. Rinat Valiev effectively lost a year of junior play to chaos as he came over.

• And then there are the kids who are physically big, and just not as comfortable and coordinated in their movements as kids who have finished their growth. They're often facing huge growth spurts in a year when they're supposed to be looking smooth and finished on ice."
Perhaps the Kings select re-entry draft picks not because they're better, or worse than non-re-entries, but because of the message it says about them. Sometimes, we don't know why a player's development becomes stagnant, but a good scout will figure it out, and know how to fix it.
Before the Kings won the Stanley Cup in 2012 and 2014, there was a stigma attached to re-entry draft picks. Now it seems other teams have caught onto this "advanced" technique, and the stigma is gone. Now we just have to figure out how the Kings did it.