It's something the Los Angeles Kings do two times more than the rest of the NHL. It's yielded talent like Trevor Lewis, Wayne Simmonds, Alec Martinez, and Tanner Pearson.
Brock Otten's OHL Prospect Blog may have been the first to notice this trend. LA Kings Insider asked Vice President of Hockey Operations and Director of Player Personnel Michael Futa about it last month in Philadelphia. So if it ever was a secret, it's not much of one anymore:
The Kings are gambling on "draft re-entries" more than everybody else.
Who are "draft re-entries" exactly? I spoke with Otten, who defined them as "players entering the draft for the second or third time after failing to be selected in their original draft year."
As mentioned, LA is gobbling these "leftovers" at twice the rate of the rest of the league: Since 2005, 38% of their draft picks (30/80) have been draft re-entries, as opposed to 20% for their competitors.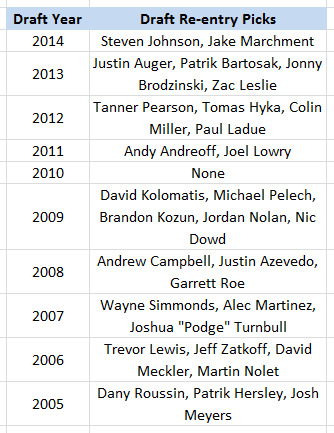 Knowing Los Angeles's affinity for plucking talent from the OHL since Futa's hiring, you won't be surprised to learn that 12 (Marchment, Auger, Leslie, Pearson, Miller, Andreoff, Kolomatis, Pelech, Nolan, Campbell, Azevedo, Simmonds) of their 23 re-entry picks from 2007 on are from that league. Management has also made two of only four re-entry first-round picks (Pearson, Lewis, David Perron, Viktor Tikhonov) and the highest re-entry selection (#17 Lewis) since 2005.
So why has LA eschewed the league-wide norm of drafting 18-year-olds who theretically have more room to grow?
"This is mostly because drafting a second or third-year eligible player gives NHL teams a lot of flexibility in their development under the new CBA." To further understand this flexibility, let's look back at a couple key changes to the CBA after 2005's lockout:
Signing European draft picks. Previously, teams were given two years to sign their CHL draft picks; however, they held the rights to European selections until those draftees were 31. Now, players from European leagues also have to be signed within two years of their draft year. NCAA prospects remained exempt: Teams retain the rights to college athletes until 30 days after they leave college. Otten elaborated, "These changes forced NHL teams to begin to re-think the way they scouted and drafted. No longer could teams be patient with European selections, leaving them to develop in Europe and choosing to sign them when they felt the players were ready to make the jump."
Roster limits. NHL teams were given limits to the number of standard player contracts (50) they could hand out. Otten illustrated the meaning of this point with an example from Los Angeles's arch-rivals: "NHL teams have learned to exploit the 50 contract limit by stashing talent in the AHL without [standard player contracts]. The Chicago Blackhawks used this strategy with Andrew Shaw. Drafted in the 5th round of the 2011 Draft, Chicago had their AHL affiliate, the Rockford IceHogs, sign him to an AHL/ECHL deal instead of sending him back to the OHL for his overage season. This allowed them to evaluate his ability at the next level, without burning one of their prized [standard player contracts], all the while retaining his rights. This is not a luxury teams receive from drafting first-year eligible players."
As for the Kings, they also enjoyed being able to fast track high-end talent to the bigs. Consider Pearson, who was selected as a 20-year-old. Would an 18-year-old late 2012 first-rounder have been as likely to mature quickly enough to drive LA's 2014 Stanley Cup-winning turn?
So should teams emulate LA's draft strategy?
After all, the Kings, winner of two of the last three Stanley Cups, are doing it. However, front offices shouldn't be making a headlong rush to snap up draft re-entries.
What Dean Lombardi and company have helped remove is the stigma against these older prospects. As Futa puts it, "If we think he can play, he can play. It doesn't matter where you get him."