Earlier in the week we began the top five trades in Leafs History – Post-Gilmour Trade – and you can read parts 1 and 2 here and here, should you be so inclined.
#1 The Leafs acquire Mats Sundin, Todd Warriner, Garth Butcher, a first round pick(10th, 1994)  from Quebec for Wendel Clark, Sylvain Lefebvre, Landon Wilson and a first round pick (22nd,1994)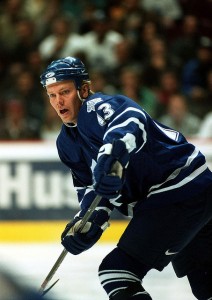 This is easily the best Leafs trade in the post-Gilmour era, and probably the best trade they ever made, depending on how you view it.  One one hand, it's not quite the steal of the Gilmour trade because, unlike Gary Leeman, Wendel Clark at least went  on to be an effective NHL player.  On the other hand, Sundin is unquestionably the best player in Leafs History (at least post 1967 expansion).
Besides being a great trade, this was also one of the gutsiest. Cliff Fletcher made some good moves while he was with the Leafs (the first time, anyways) but this was the craziest he ever got because in order to get Mats Sundin, he had to trade arguably the most popular player in Leafs' history at the absolute peak of his career. That takes guts, and I don't remember anyone at the time liking it. (although to be fair I was only 12 and didn't know what the internet was).
The trade happened 20 years ago this summer, June 28, 1994 at the NHL Entry Draft in Hartford to be exact.
Context
The Leafs were coming off of a 43 win season in which they finished second in the Western Conference and had lost 4-1 to the Canucks in the Western Conference Final, their second of back-to-back trips to the Final Four.
While that Leafs team had one of the greatest lines in hockey with Clark-Gilmour-Andreychuck, who put up 76-99-111 points respectively, a look at the team's roster shows they really lacked any secondary scoring and you can see why Fletcher, after just falling short of the Finals two years in a row, would want to add another high quality centre.
The Side Deals
Outside of Sundin/Clark the rest of the deal didn't work out great for the Leafs.  Wilson and Warriner were basically non-entities, although the Leafs did use Warriner for parts of five seasons, but he topped out at 12 goals. Butcher only played in the league for one more year after the Leafs got him, before retiring, while Sylvain Lefebvre was an effective stay at-home-defenseman for 5 years on the Nordiques/Avalanche.
Even though these side-parts worked out a little better in favour of Quebec, they don't come close to countering the fact that Toronto absolutely destroyed them in this trade.
Looking back, it's hard to believe the Leafs actually got Quebec to cough up a switch of draft picks as well as Mats Sundin. The Leafs got the tenth pick in the 1994 draft – which they traded to Washington, who drafted Nolan Baumgartner – while the Nordiques got the 22nd pick and took Jeff Kealty. Both players are more notorious for being involved in this blockbuster trade than for their own careers, so it's not like the Leafs really ended up benefiting. Interestingly, however, is that if we play the hindsight game, had the Leafs not traded the pick and instead picked Mattias Ohlund – 13th to the Canucks- this trade would probably go down as one of the most lopsided of all-time.
The Leafs, by the way, used the pick they got from Quebec to trade down and draft Eric Fichaud (after missing out on Brett Lindros at #9) in a trade with Washington that also saw them acquire Mike Ridley for Rob Pearson.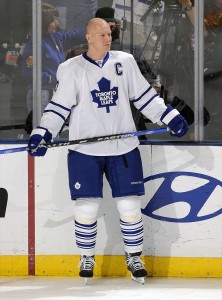 Clark for Sundin
The Leafs traded Wendel Clark at the absolute peak of his career. He was 27 and had just scored 46 goals in only 64 games. As mentioned earlier, he was the most popular Leaf at the time and one of the most beloved players ever to wear the Blue and White.  Despite all that, there is no one who can argue that the Leafs did not win this trade.
Clark played a grand total of 37 games for the Nordiques, in the lock-out shortened 48 game season (remember those? Just kidding!)  before they moved him to the Islanders. Sure, he got a nice 30 points during those games, but that is not much production in exchange for Mats Sundin, future Hall of Famer.
Still, the Nordiques flipped Clark for Claude Lemieux and even if he's not comparable to Sundin, they then moved to Colorado and went on to win the Cup in 1996, so it's hard to be too hard on them.
As for Sundin, he only went on to have a Hall of Fame career and become the Leafs best player of all time. Plus, Wendel would later be re-acquired after only two seasons away, in what has to be Cliff Fletcher's and possibly the NHL's worst trade of all-time. In 1997  the Leafs sent the Islanders a draft pick that would become Robert Luongo as well as possibly their best home-grown player since Clark in Kenny Johnson.  Clark would score 30 goals the following season for the Leafs, but then after a disappointing 1997-98 he joined the Lightning as a free agent. Thus demonstrating once and for all that you should not make personnel decisions based on the whims of your fanbase.
Overall, getting Sundin was great, and trading Clark for him was really bold and, as it turned out, a great move. If only Fletcher hadn't ruined it by trading away Luongo and Johnson, Sundin might have been the first Leafs Captain to hoist the Cup over his head in the Modern Era. Still, you could play that game all day – what if, for example, Bryan Berard never got hit in the eye with a stick? That trade (Berard for Potvin) would have made this list and who knows, maybe he would have been a hall of famer too.
Anyways, despite not winning the Cup, Sundin did basically everything else.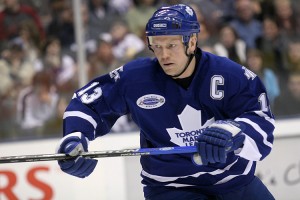 Sundin on the Leafs
It seems the whole time that Sundin was with the Leafs we were always saying how good he could have been if only he had a winger of his own stature.  The closest the Leafs ever came was when they got Alexander Mogilny, who, while great, was no longer the 76 goal sniper he was earlier in his career. The Leafs only had Mogilny for 3 years, and in one of them he did put up 33 goals and lead the team in points with 79, but I digress.
Outside of Mogilny, the Leafs provided Sundin with such classic wingers as Jonas (Hulk) Hoglund, Sergei Berezin and Darcy Tucker.  Still, Sundin was a machine, leading the Leafs in scoring in every year he played for them, except for the one year Mogilny beat him by 4 points.
In total, Sundin played 13 seasons for the Leafs and is their all-time leading scorer, both in goals  (420) and points (987  in 980 games played).  He put up a total of 1349 in 1346 games played in his NHL career, averaging a point per game despite playing through most of the leanest goal scoring years of recent times (aka the 'dead puck era').
In his 13 seasons with the Leafs, he put up ten 30 goals seasons and scored 41 twice. No, he didn't win the Cup, but he did take the team to two separate Final Four appearances. First in 1998-99 when they lost to the Sabres and then again in 01-02 where they lost to the Hurricanes.  On a personal note, I was almost fired from my job while working nights in a print-shop when I was caught attempting to watch the Leafs-Hurricanes series on a portable black and white TV three times in one night – and was only saved by the fact that my Dad worked there and they liked him (if not me). Good Times!
Though the Final Four was as close as Sundin could take the Leafs, and although they missed the playoffs all three times after the 04-05 lockout, he remains the best player in Franchise history as well as my personal all-time favorite player.  Sure, some less-than-intelligent fans hold a personal grudge for him refusing to waive his no-trade clause near the end of his career, but I applaud his loyalty.
In closing, this is the Greatest Trade in Maple Leafs history, Gilmour or not.  The fact is, Dougie only played a few seasons and Mats is an icon. I could literally go on all day about what a great guy he was for the city and community and how underrated he is, but I'll spare you as this post is long enough.
Thanks for reading.