Often in sports, the term 'mishandled' is used to refer to the development of prospects. Sometimes, however, we look at veteran players and wonder how their careers may have differed if they were handled another way – asking ourselves all sorts of questions. What if they were given the right opportunities? What if the team put more effort into building around these particular players – providing them with more confidence?
James Reimer is by no means a seasoned NHL veteran. In fact, his statistical sample size is hard to read having only played 140 regular season games. However, since the Leafs went out and traded for Jonathan Bernier prior to the 2013-14 season, Reimer's been the focal point for controversy and questions surrounding the Toronto Maple Leafs and their goaltending.
Dealing With Heartbreak
In 2012-13, predicting playoff contenders was difficult with the shortened 48-game season. The Leafs, having not made the playoffs since 2003-04, were not considered a threat in the NHL's Eastern Conference.
However, the Leafs finished third in the – now extinct – Northeast Division behind the Boston Bruins and the Montreal Canadiens and finished fifth in the conference standings. Finishing in the middle of the pack meant they didn't have home ice advantage and that they'd be taking on their division rival and conference powerhouse Bruins in the first round.
Now many expected the Leafs to rollover and take a pounding from the big bad Bruins. But it was James Reimer who stood on his head in a hard, physical series – one that the Leafs didn't deserve to be in at times.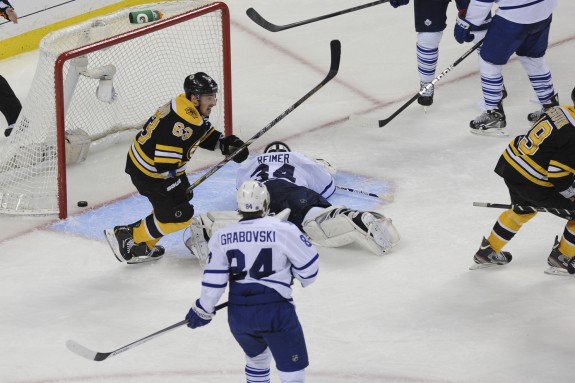 Reimer finished the seven-game set with a 2.88 goals against average (21 goals allowed) and a .923 save percentage – facing nearly 39 shots per game. In fact, had it not been for the defensive collapse in Game 7, Reimer would've been the Leafs' hero from their first-round series.
Instead, fans were left questioning what happened while the players and coaching staff were surely looking for answers. But after a long offseason, Reimer returned to Leafs net at training camp – seemingly determined and with his usual smile on his face. Only there was something different. He had a competitor sitting next to him on the bench – Jonathan Bernier.
Whether you agree or not, that's a shot to a player's confidence. He played his heart out the year before – bled blue and white for seven games and returned to camp to find that he would have to fight for the starting role. Yet, he was ready to compete – ready to fight. But it wouldn't be that easy.
James Reimer vs. Randy Carlyle
The battle was supposed to be between Bernier and Reimer in 2013-14 – the winner claiming the role of number one in the Leafs' net. Of course, head coach Randy Carlyle maintained his postion that it was a platoon – a 1A-1B system – rather than a number one and backup. But it soon became a battle of player versus coach – at least that's how it was made out to be.
Reimer played in 19 less games that his counterpart. He was pulled in six of his 32 starts. But it was interviews with Carlyle regarding Reimer's play that seemed to be the fuel under the fire.
That smile – the one that Reimer seems to wear everywhere – was gone. His future in blue and white was up in the air following another disappointing end to the season. Finally, it was reported that Reimer had asked the Leafs to explore other options rather than signing him.
But on July 25, just days away from an arbitration hearing, the Leafs and Reimer agreed to a new two-year deal worth $2.3-million per season. Dave Nonis' response to questions about Reimer signing should've settled the debate on whether or not he's happy in a Leaf uniform.
"First of all, we're happy in having settled on two goalies we are comfortable with," said Nonis in an article by Toronto Sun reporter Lance Hornby. "If there was any lingering doubt on Jame's part, he would've asked for a one-year deal. He asked for two."
Instead, more questions were raised. Can Carlyle and Reimer coexist? Does Reimer have a fair opportunity at the number one job? Can he ever be a starting goalie at the NHL level?
My Say: Don't Write Him Off
After signing his new contract, Reimer talked about his interest in staying with the Leafs as a guest on TSN 1050. He stated that there was no bad blood between him and Carlyle and that during a frustrating 2013-14 season, things were taken out of context.
Reimer also alluded to the number one job in Toronto – stating that he'll be fighting to take the job from Bernier in training camp. Every goalie wants to be a starter. For Reimer it's no different. He was given the job and had it taken away without actually losing it following the playoff collapse by the entire team. A demotion that wasn't exactly deserved.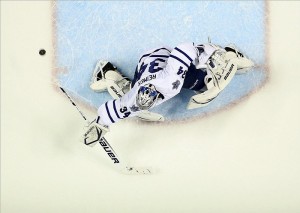 Now, many are going to argue that his statistical sample size isn't large enough to determine how good he can be. I disagree. Reimer's played in 140 regular season games. He's also played in the seven playoff games from 2012-13. But it's those games that gave him the most experience – more than anyone gives him credit for. They were hard fought and he literally kept the Leafs going when they were down and out in that Bruins series.
His regular season numbers are actually not horrible for a team that has allowed the most shot over the past few seasons. His record is 65-48-15-11 and he holds a career 2.85 goals against average. Bernier, on the other hand, has played in 117 regular season games. He's recorded a similar record at 55-39-13-7 and a 2.51 goals against average.
The problem has never been the goaltending. While it may seem that way, it's been the defensive play by the Leafs – unable to get the play out of their own end. While 2013-14 was certainly difficult and disappointing, Reimer seemed to take on the role of scapegoat for the teams failures leading to the speculation of a deteriorating relationship between himself and Carlyle.
So can Reimer be the starter? Sure he can. The biggest thing is having a defensive-minded team in front of him. One of Reimer's weaknesses has been his ability to control rebounds. If the team in front of him is able to clear those rebounds, that would save a lot of second chance opportunities. But his numbers, regardless of the sample size, exemplifies his ability to get it done in net. While a goalie platoon could still be the best thing for the Leafs, there's no reason why Reimer couldn't run away with the starter's job.
James Reimer had better even-strength SV% in 2013-14 than Antti Niemi, Jimmy Howard, Cory Schneider, Marc-Andre Fleury & Pekka Rinne. #Leafs

— Pete Jensen 🏒 (@NHLJensen) July 25, 2014
Why did he re-sign with the Maple Leafs? Only Reimer and the Leafs brass know the answer to this. Reimer stated that he wanted to remain a Leaf all along and just thought there wasn't a spot for him following last season. A statement that some referred to as back-pedalling on his part after asking Nonis to explore his options.
I think differently. I think his request was a way of simply dealing with his disappointment of his season. It wasn't about back-pedalling when he did sign rather explaining the difficult business decisions that he had to endure following the expiration of his contract. I do think that he'll have to fight hard for the number one job in Toronto, but with the addition of Brendan Shanahan, Reimer should have a fair opportunity to show what he can offer the Maple Leafs in 2014-15.
Regardless of the outcome, one thing is for sure. That Reimer smile will be back to start the 2014-15 season.
For more, follow Andrew on Twitter @AndrewGForbes or his Tape2Tape column @Tape2TapeTHW.