Mike Johnston has taken his fair share of criticism over the past two seasons since joining the Pittsburgh Penguins as Head Coach. After a fierce start to 2014-15, the Penguins hit a downward spiral that seems to have carried over into 2015-16. Despite the Penguins sitting at 12-8-1, they haven't played well. There has been little to no consistency throughout the first 21 games of the season, aside from Marc-Andre Fleury playing spectacularly. But, there's one issue that has plagued this team since Johnston came on board that isn't discussed nearly enough. His Penguins cannot beat their Metropolitan Division foes. Why?
Some have discussed that Johnston's Penguins are simply too easy to play against. They lack size and physicality in a division that boasts that kind of play. However, aside from the Columbus Blue Jackets, the entire division has practically unloaded it's grit in exchange for speed and skill. So, is that really an excuse? The Washington Capitals parted with individuals like Joel Ward and Troy Brouwer, while acquiring the likes of T.J. Oshie and Justin Williams. They're doing just fine.
Can it be attributed to Johnston being out-coached by those that see him the most? His schemes are often simple and easy to oppose. When he's dealing with key injuries, he often reverts to the simplest forms of dump-and-chase hockey, which then takes his best players out of the game by essentially taking the puck off their sticks. That has to be the culprit, right? Well, John Tortorella, recently hired as Head Coach of the Blue Jackets, isn't a frequent opponent just yet. He obviously has film and scouts to help assess the Penguins' style of play but still, that shouldn't prepare him for every adjustment and in-game decision that Johnston makes.
With that being said, I guess the real question becomes; Is the issue actually Mike Johnston?
The Penguins Were Once the Class of the Metro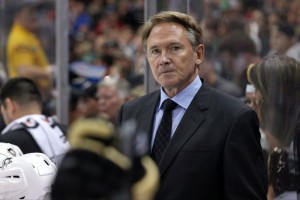 In 2013-14, the Penguins finished the season with a record of 20-8-1 against their division. They had a goal differential of plus-22 that season, recording 79 goals-for vs. 57 goals-against. One year prior, during the shortened lockout season in 2012-13, the Penguins went 17-7 within the Metro. Throughout much of the Sidney Crosby era, the Penguins were the class of the Metro and the so-called model franchise. They were the guys that everyone wanted a piece of. Since 2014, the Penguins have become a team that everyone wants to face for a different reason. It means they'll tally two points.
Gone are the days in which Penguins' fans anxiously await a battle of Crosby and Washington's Alex Ovechkin. The days of looking at the Carolina Hurricanes and Columbus Blue Jackets as easy points are behind us. And, the days of assuming the Penguins are a shoe-in for the playoffs are also gone. You have to win within your division to have success in today's NHL and the Penguins have been unable to do so for far too long now. And, while these struggles definitely align with the new coaching and management regimes in Pittsburgh, there's much more to these struggles. It can't be placed solely on Johnston's shoulders.
The Penguins Need More From Their Best Players
When I say that the Penguins are bullied in the title, I don't mean physically. Yes, Brandon Dubinsky cross-checked Crosby in the back of the head last night, forcing the Penguins' Captain to undergo concussion protocols to ensure he was ok. The Penguins responded well by upping their physicality and intensity where it matters, which is during game play. They didn't retaliate by taking a stupid penalty or sending someone to drop the gloves with Dubinsky, only for him to sit in the box for five minutes and return to his normal antics afterward. When I say they continue to be bullied, they're basically the little brother that can't beat their older siblings at hockey. It shouldn't be this way. And, it's really an indication of a much bigger problem with this team.
The Penguins need more from Crosby. Where was the emotion from him after the Dubinsky incident? Where is the player that can take over a game? Sure, he's getting older and likely isn't capable of putting the entire team on his shoulders each and every night but that clearly isn't what Pittsburgh is asking for at this point. Once in a while would be nice.
Pittsburgh also needs more from Pascal Dupuis and Patric Hornqvist if they're going to continue to play in a top line role. Hornqvist has played hard and there's no questioning his effort. But, he needs to produce. Dupuis, while still providing the leadership and intangibles that everyone loves to see from him, isn't up to par for top line duties anymore.
Those that asked who I'd scratch to get Sprong in there…. Dupuis fits the bill right now. Let the kid try to find magic with 87.

— Mike Necciai (@Michael29Angelo) November 28, 2015
It's time to infuse this lineup with the youth that Rutherford and Company spoke so highly of this past summer. It's time to let Daniel Sprong, the Penguins' second round pick in the most recent draft, get a shot at proving himself with Crosby and Hornqvist. Crosby needs skill around him and it's clear that Phil Kessel has performed much better with Malkin. What's the harm in giving Sprong a few games to find out what he can do in a true scoring role? Can it really lead to less production from that trio?
It's time for Pittsburgh to become the Metropolitan Division bullies again. It's time for this team to get it together, as we're now entering the time of year that makes or breaks potential playoff contenders. Not only is divisional play important to grabbing a playoff spot, they'll have to beat one of these teams to advance past the first round. That is, of course, unless the Penguins are content with disappointing post-season exits each spring.
Pittsburgh Penguins writer for TheHockeyWriters.Com and PittsburghHockeyNow.Com. Youth hockey coach, and student of the game.