The Pittsburgh Penguins played their worst game of the 2017 playoffs in Game 1 of the Stanley Cup. Although the Penguins won, they should feel as though they lost and then adjust accordingly.
The good news is under coach Mike Sullivan, the Penguins have been the king of adjustments. Sullivan has pressed all the right buttons this postseason, and it's made Pittsburgh a very difficult team to beat two games in a row. Following a playoff loss, the Penguins are 13-2 under Sullivan. That kind of ability to avoid consecutive losses is a big reason why Pittsburgh has won seven series' in a row.
So what adjustments should Sullivan make for Game 2? One simple one would be re-inserting left wing Carl Hagelin.
Hagelin's Speed & Energy
Nashville looked fresher and faster in Game 1 on Monday, thus dominating in just about every facet of the game. The Predators outshot the Penguins 26-12, and Nashville controlled 58 percent of the shot attempts in 5-on-5 situations.
The Predators were on the attack all night, which is quite a different style from the Ottawa Senators, who the Penguins just finished eliminating last Thursday. Sullivan re-adjusted his lines to feature one "north-south" physical player on each unit, but against the speedier Predators, Pittsburgh will probably have to go back to what worked last season and feature its own speed game if the Penguins are to win this series.
Mike Sullivan generally makes the right line up decision, but I would love to have Carl Hagelin's speed right now.

— JB (@JBSportsTalk9) May 30, 2017
That means Hagelin should absolutely play in Game 2. It's unclear how healthy the 28-year-old truly is, which will obviously play into Sullivan's decision. But if he's close to 100 percent, Hagelin is one of the faster members of the Penguins. His speed will be a great asset versus Nashville.
As pretty of a skater the 28-year-old is, he is also a grinder. Pittsburgh lost nearly every board battle and was completely outworked in Game 1. Hagelin could provide a spark and get things going in the bottom six. He will certainly be hungry.
Carl Hagelin on being scratched in game one. pic.twitter.com/WtQzFEeKzj

— Jonatan Lindquist (@Lindquistik) May 30, 2017
Pittsburgh's Penalty Kill
The Penguins have been strong while shorthanded this postseason, but the penalty kill, just like everything else, was pretty awful Monday. Nashville came into the game having gone just 2-for-26 on the power play in the last seven games, but the Predators man advantage scored twice Monday.
In the 12 games prior to Hagelin suffering a lower-body injury on March 10, the Penguins posted a 86.3 penalty-kill percentage. Including his 11 playoff games, Pittsburgh has a killed 85.6 percent of its penalties in the last 23 games in which Hagelin was in the lineup.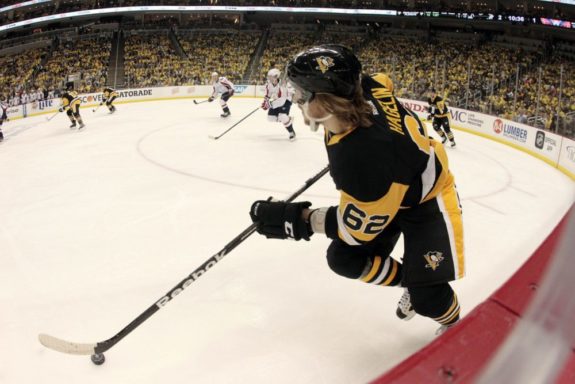 In games without him since March 11, that penalty kill percentage drops to a whopping 74.6 percent. To put it another way, without Hagelin, the Penguins are allowing one additional power-play goal for every 10 opportunities than they are with him.
Even if Hagelin doesn't add much offensively, he's an important cog to the Pittsburgh penalty kill, which all the sudden needs mending after Monday.
Who Comes Out of the Pens Lineup?
The reasons to dress Hagelin are not new; Pittsburgh just has some of the best forward depth in the league. That, and his late season injury, has caused the 28-year-old to go in and out of the lineup throughout the playoffs.
Choosing a player to take out in favor Hagelin for Game 2 will not be easy, but the most obvious choice is forward Scott Wilson. The 24-year-old was a great physical presence against the Ottawa Senators, but again, Pittsburgh needs more speed versus the Predators.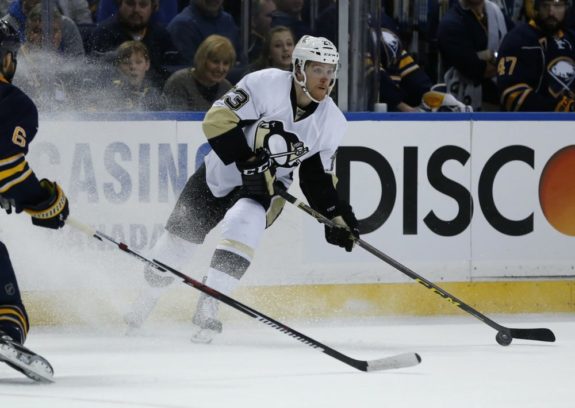 Coach Mike Sullivan reportedly considered scratching Jake Guentzel instead of Hagelin for Game 1, but Guentzel broke his eight game goalless streak Monday, so he needs to stay in the lineup. Conor Sheary spent a couple games in the press box recently, but he's heated up with a goal and an assist in the last two games.
That really leaves Wilson as the only logical choice to scratch. Pittsburgh needs to be far better in all areas, but Hagelin could provide some much-needed speed and energy in Game 2.