The day that most hockey fans anxiously await is finally upon us. The Pittsburgh Penguins have already made one move, acquiring Justin Schultz from the Edmonton Oilers in exchange for a third round pick. Of course, that was a very minor trade in comparison with a lot of other action that took place this weekend.
Monday could be fairly uneventful in Pittsburgh. General manager Jim Rutherford isn't seeking a blockbuster deal and it's highly unlikely that something will arise that's impossible to pass on. That doesn't mean they're done, just that they likely won't make any major moves.
In fact, while the Penguins aren't sellers by any means, they could be in the market for picks. One name that was floated was Sergei Plotnikov and, surely enough, he was moved to Arizona for a draft pick and a prospect.
According to recent reports, he isn't the only name that's been getting shopped, though.
Chris Kunitz Being Shopped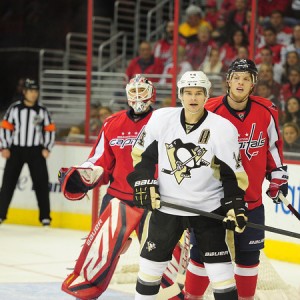 Bruce Garrioch of the Ottawa Sun is reporting that Pittsburgh is looking for a third round pick in exchange for Kunitz. The 36-year old has 11 goals and 29 total points through 58 games this season.
So far, we've seen Mike Weber, Teddy Purcell and Justin Schultz field third round picks as compensation, so when you consider Kunitz's recent production boost, that asking price isn't far-fetched. Whether or not Rutherford can find a taker remains to be seen, as nothing is rumored to be in the works at the moment. However, the Penguins are a bit more protective of their picks these days, so after they forfeited a third for Schultz on Saturday night, I imagine Rutherford will pursue this pretty aggressively.
Backup goaltender Jeff Zatkoff is also up for grabs, so we could see a package deal with any combination of those names. It's definitely something to keep an eye on.
Carolina Hurricanes are in Full Seller Mode
The Penguins currently sit in the final wild-card spot for an Eastern Conference playoff bid. They're trailed by a logjam featuring the Philadelphia Flyers, New Jersey Devils, Ottawa Senators and Carolina Hurricanes. Technically, the Hurricanes are only four points behind Pittsburgh right now.
However, Hurricanes' GM Ron Francis made a tough but necessary decision and began selling off assets. Francis understands that while the Canes are technically still in the playoff race, Pittsburgh's four point lead with four games in hand is simply too much to overcome.
Carolina traded longtime captain Eric Staal to the New York Rangers, then moved Kris Versteeg to Los Angeles shortly after. The fire sale is officially on for the Canes.
Pittsburgh Dodged a Bullet
The Penguins were rumored to be one of the few teams bidding on Kris Russell's services. It's highly unlikely that they're still interested after acquiring Schultz and that's a good thing for Pittsburgh.
Russell is highly endorsed around the league but similar to former Penguin Rob Scuderi; most of his reputation is based on false narratives and overrated intangibles. Russell is a skilled skater and puck-mover but from a defensive standpoint, he's a liability. Below, you'll see a comparison between Russell and Schultz.
It's interesting that Schultz, considered a reclamation project and struggling young defenseman, has outperformed Russell in most areas but Russell continues to be highly touted. Thankfully for Pittsburgh, someone else will overpay for his services this season.
Penguins Might Carry Three Goalies for Remainder of Season
It looked as if things could get interesting after Pittsburgh recalled goaltender Matt Murray from their AHL affiliate in Wilkes-Barre/Scranton. It's rare for an NHL team to carry three goalies, especially with the looming trade deadline, a period that you'd like to have as much cap flexibility as possible. It's widely assumed that a Zatkoff trade is imminent but that may not be the case.
Josh Yohe, Penguins' beat writer for DkPittsburghSports.Com reported that while Rutherford is open to moving Zatkoff, he's also fine with keeping three goaltenders on the roster for the remainder of the season.
Pittsburgh wants Murray available down the stretch as they face the most grueling portion of their schedule. If Zatkoff isn't moved, he can also be waived but from the sounds of it, they may stand pat and keep all three at their disposal. An interesting approach, for sure.
Thanks for reading. If you aren't already, follow me on Twitter at @Michael29Angelo for all the latest regarding the Pittsburgh Penguins and everything NHL.