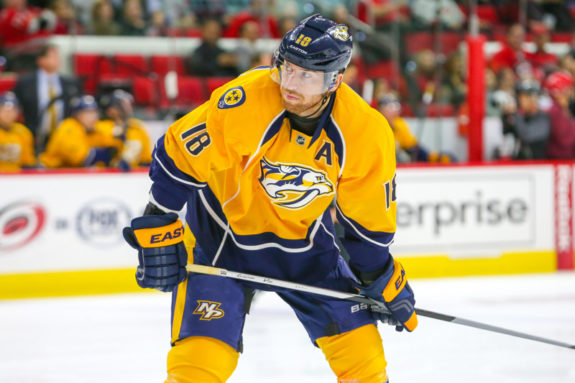 Patric Hornqvist has been a fantastic addition for the Pittsburgh Penguins.
He joined the team from Nashville last summer in a draft day deal that sent he and Nick Spaling to Pittsburgh for James Neal. It was a trade that allowed both teams to address their needs. Nashville needed a top-flight scorer and Pittsburgh needed a hard-nosed physical forward.
The trade accomplished exactly that, but I'm still not sure I'd make the deal again if I were Penguins GM Jim Rutherford.
Pittsburgh dropped to #19 in the NHL in goals scored this year, averaging just 2.65 goals per game. That's down from 2.95 and a #5 ranking last year.
Part of that has been the result of coach Mike Johnston's renewed emphasis on strong defensive hockey. Another big factor has been the absence of Neal. The Penguins simply have too many forwards playing exactly the same way: crashing the net hard but unable to finish quality scoring chance opportunities.
When Neal was in Pittsburgh, he scored a number of goals each year off a faceoff play designed to utilize his big shot and quick release.
It unofficially became known as the 'James Neal Faceoff Play'.
Teams scouted it. They knew it was coming. That didn't matter.  Neal scored over and over and over again.
The play looks fairly straight-forward (see the diagram to the right).
We broke down all the responsibilities — and the eventual tweaks — in this in-depth article a few years ago (James Neal Faceoff Play Is Tormenting Opponents)
The unsung hero on the play was #14 Chris Kunitz. His simple pick of opposing defensemen gave Neal an extra split-second to get off his shot and also provided a multi-body screen for the goaltender.
Mike Johnston still has wingers that can play the Kunitz role, but he doesn't have any wingers that can be James Neal.
Without a big-time sniper, Johnston had to adapt.
Johnston likes to have his wingers rotate and set picks off the faceoff to create shooting opportunities. He's also been utilizing the bigger shots of newcomer defensemen Christian Ehrhoff and Ian Cole.
Let's dig into this faceoff example from a few weeks ago against San Jose.  Fortunately, it's the first clip in this postgame highlight reel (no need to watch after 8 seconds):
In yesterday's Penguins Playbook, we emphasized Johnston's interest in fast and flawless execution all over the ice.
That faceoff play is about as quick as it gets and it might be tough to see all the moving parts at first.
Instead of Chris Kunitz, we see Daniel Winnik (#26) playing on the right wing.  He sets the same pick and then positions himself to screen San Jose goaltender Alex Stalock.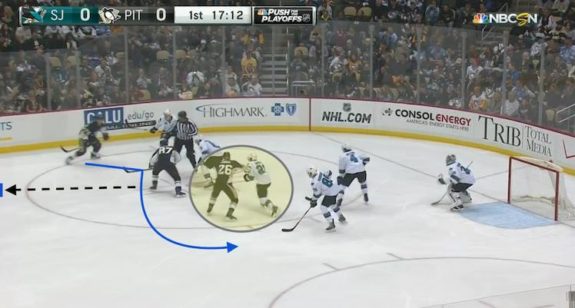 Patric Hornqvist is on the left wing and makes an initial stride toward Sidney Crosby the center.  Once the faceoff is won cleanly back to the left defenseman, Crosby sets a second pick on the player next to Hornqvist. This allows Hornqvist to roll off the pick and head to the net alone.
A quick pass from the left defenseman and Ian Cole (#28) is teed up to crank a one-timer on net.  Here's a look in slow motion:
Winnik is positioned perfectly for a screen and Hornqvist is in motion on his way to the net as well.  Hornqvist eventually ends up tipping Cole's shot off the post.
If you think it wouldn't be hard tracking this play as a goalie, check out Stalock's perspective and the bodies he has to look through:
And how about San Jose youngster Barclay Goodrow (#89) diving head-first into Cole's slapshot?
Expect to see a lot more of those unselfish (insane?) efforts as the playoffs get underway.
And expect the Penguins to keep trying for goals off the faceoff — even if they'll be without James Neal.