It's been nearly two months since the Pittsburgh Penguins won the Stanley Cup and fans dawning the black and gold are up in arms. They aren't upset at their local hockey team but instead, it's the baseball team that plays just across the river from Consol Energy Center in a beautiful setting known as PNC Park.
And it should give hockey fans some much-needed perspective on their team's success.
My goal isn't to discount the Pirates in any way. However, yesterday's MLB trade deadline exposed their plan for the rest of this season and it's safe to say they've packed it in. It was a perplexing day to say the least.
https://twitter.com/MikeAsti11/status/760229838309433344
When's the last time the Penguins were sellers? When was the last time you felt as if a Penguins general manager conceded and approached the trade deadline with a rebuild in mind?
Baseball is a different business and there are plenty of variables, mainly the salary cap, that goes into these decisions and outcomes. Still, it's worth sitting back to appreciate the hockey team in this town and the attitude which stems from ownership down.
A Winning Mentality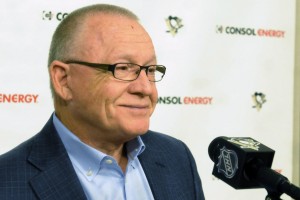 When you consider the Pirates' struggling pitching rotation, it's easy to compare that group, as well as Pirates' general manager Neal Huntington's approach to that of Jim Rutherford and the Penguins' blue line in 2015-16. Question marks upon question marks that possessed a high probability of failure. There was one huge difference though…
Rutherford wasn't satisfied to sit back and accept defeat. In fact, you can paint Ray Shero's tenure with the same brush.
No matter the adversity staring the Penguins in the face, they never fold. Both Shero and now Rutherford are willing to take chances, spend to the cap and go for it year-in and year-out. You can criticize their moves, as some of their decisions have been quite worthy of such things. You can't criticize their intent, though. I'm not sure the same can be said for the Pirates, as well as many other professional sports franchises across the three major sports.
The Penguins want to win and anyone who considers themselves a fan should appreciate that.
I won't pretend to be an expert on baseball. I'm actually the exact opposite of that. However, I do know a team that finished with 98 wins just one season ago should be working toward contention. After an early playoff elimination in 2014-15 the Penguins' front office went to work in order to improve. They didn't settle for yet another playoff berth, their ninth in a row at that point and the second longest active playoff streak in the NHL, but built on it and went for their tenth.
Their tenth consecutive playoff berth turned out to be pretty special.
I won't debate how the Pirates spend their money, nor will I discuss whether or not they're spending enough, despite both topics being a major concern among their faithful. I've already mixed enough baseball with hockey, but it's August so I'm sure you can excuse me for that.
I simply want make a request of Penguins fans as we limp through the dog days of summer.
Be Grateful for What You Have
Ten consecutive playoff appearances with only one first-round exit. Oh, and two Stanley Cup Championships in that span.

(Courtesy of HockeyReference.Com)
The Penguins deploy names like Sidney Crosby, Evgeni Malkin, Kris Letang and Phil Kessel on a nightly basis. They're playing an exciting brand of hockey with head coach Mike Sullivan at the helm and have been a pleasure to watch since early January. Maybe most impressive is that they've remained in tact, boasting what is essentially the same exact lineup that just won a championship with the ability to do so for a few more seasons.
When the season begins and struggles occur, as they always do, criticize away. But do so while also recognizing that within the marathon that is an NHL season, they'll continue to work toward winning. They'll continue to work toward entertaining you as a spectator and providing reasons to attend and cheer.
Sometimes, it takes another professional sports team's mishaps to put things like this into perspective.
Pittsburgh Penguins writer for TheHockeyWriters.Com and PittsburghHockeyNow.Com. Youth hockey coach, and student of the game.