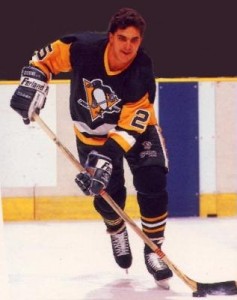 The Hit that Dimmed a Penguins' Star
In 1993, the Pittsburgh Penguins ruled the NHL world.
Fresh off of two impressive Stanley Cup runs, the team was poised to become a dynasty in the early 1990s. At the conclusion of the 1992-93 regular season, Pittsburgh had earned the President's Trophy due in large part to an NHL-record 17-game winning streak, boasted the League's top scorer in Mario Lemieux who also survived a two-month bout with Hodgkin's lymphoma, and produced four 100-point skaters.
After ousting Herb Brooks' New Jersey Devils in five games, the Penguins faced another Patrick Division rival in round two…the New York Islanders. The teams traded punches throughout the series, and split the first six games. On May 14, 1993, during game 7, the career of perhaps the best power forward in the game at that point was altered  early in the first period by a devastating high-speed collision with Rich Pilon. Kevin Stevens, who led all scorers in the second-round series with nine points, rammed his face into Pilon's visor while attempting to finish a check. The dominating left winger lost consciousness, landed face-first onto the ice, and never returned to the game.
Stevens was a budding hockey superstar. The 6'3″ 215-pound Boston College product landed checks and scored goals at an unparalleled pace alongside Lemieux and Jaromir Jagr, which made Pittsburgh's top line the most dangerous in the NHL.
Already regarded as one of the nicest, most well-liked players in the locker room, Stevens on-ice performances and 1991 playoff guarantee firmly established him as a fan favorite in the blue-collar town.  "Artie" erupted for 390 points in his first four full seasons with the Penguins, and added 87 more in the playoffs which included 61 during the two Stanley Cup runs.  During the 1992 season, he set an NHL record by recording over 50 goals, 100 points and 250 hits — all in one season. If you're curious, that record still stands.
Many Penguins fans often wonder what could have been had Stevens avoided the check. Would Pittsburgh have taken a third consecutive Stanley Cup? Imagine the match-up: Lemieux versus Gretzky at the center of the playground for all the marbles. The story had a different ending, however, as David Volek ripped a one-timer past Tom Barrasso from inside the right circle in overtime and propelled the Islanders into the Eastern Conference Finals.
The Aftermath and Demons of Stevens-Pilon
Stevens underwent a 4-and-a-half hour facial reconstruction surgery following game 7, and returned to the ice to score 88 points in 83 games in 1993-94.  Though, many spectators and analysts alike believed that, despite his point total and the fact that he participated in every game, he was not quite right.  He kept from engaging in some of the physical battles for which he was known, but who could blame him?
After the 1994-95 season, Stevens, along with Shawn McEachern, was shipped off to Boston for Bryan Smolinski and Glen Murray.  The former 4-time 40 goal scorer spent the next seven seasons with four different teams (BOS, LAK, NYR, PHI), breaking the 20-goal plateau only once, and the 40-point mark twice.
In January 2000, while with the New York Rangers, Stevens fell into his hardest times.  He was arrested in a Collinsville, IL hotel room for drug possession and solicitation of a prostitute after a game in St. Louis.
According to a 2000 Sports Illustrated article, Stevens told the booking officer that he dealt with an on-again-off-again crack cocaine problem.  Also, his agent Jeremy Reich explained he was a "binge-drinking addict."
In recent years, the more and more former NHL enforcers have come forward about brain issues stemming from repeated shots to the head.  In several cases, those issues led to bouts with depression and substance abuse.  Last year, former Penguins power forward Ryan Malone was arrested on DUI charges after police found him inebriated in his car with 1.3 grams of cocaine.  Tragically, since 2011, four players in the NHL alone — Derek Boogaard, Rick Rypien, Bob Probert, and Steve Montador — passed away before they could get help.  All of these men were known for heavy hits and/or brutal fights.  Each one had trouble controlling his depression.  Police officers did not find them in time.
Stevens was luckier than most, however, as his arrest might have been his saving grace.  His support system included two hockey legends: Lemieux and Wayne Gretzky.  Both were part of the first wave of people to show support and visit their troubled friend.  Stevens entered the NHL's substance abuse program, then returned to the ice for two more seasons.  He finished skating alongside the same guy with which he started, Mario Lemieux, in 2002.
What Could Have Been?
Kevin Stevens game certainly changed after the hit that likened his face to a "stepped on potato chip."   He averaged 178 penalty minutes and 273.4 shots-per-season over a five-year span from 1989 to 1994.  He surpassed 100 PIM only once over the next eight seasons, and never got past 175 shots.  Also, in that timeframe,  he only played two full seasons.  Sure, most NHL players peak at 29-years-old, which was coincidently Stevens' age when he played his last season in Pittsburgh, the first time around.  Though, his drop-off was too significant to blame aging legs and failing hands.
"Artie" finished his NHL career with 726 points and 1470 penalty minutes in 874 games.  Not bad for a sixth-round LA Kings draft pick who was traded to Pittsburgh before even lacing up his skates in California.  I'd venture to say that if Stevens told the story, he'd hit Pilon again because that was his identity as a player.  It's what made him great.  The placement might change but, you can be sure that the hit would still happen.  Had the hit not made such a lasting impact, Stevens might have finished amongst the highest scoring American hockey professionals to ever play at the NHL level.  Any, who knows, the Penguins might have completed another cup run or two.
Many readers might believe that the title "what could have been" pertains to the scoring and championship potential fueled by the impact of Kevin Stevens.  The reality is that "what could have been" goes along with the demons and turmoil that seemingly set in after that fateful May night at the Igloo.  Stevens could have produced more points and launched himself into opponents, but he didn't.  It's not crazy to believe that altering that style actually saved him from further longterm damage — though, it's never been confirmed that it led to any damage in the first place.  Furthermore, what if those Illinois officers did not apprehend him in January 2000?    The drug use and depression could have forced him into the same fate of his fallen brothers.  That's "what could have been?"  He survived…that's "what was."
Stevens has been eligible for the Hockey Hall of Fame since 2005, but a spot dedicated to him may never appear within its walls.  His name is engraved in the Stanley Cup twice, and he has two championship rings as tangible evidence of a great career.  Most importantly, he's got his family and his life.  A hall-of-fame nod could never replace that.
I am a seasoned journalist with an incredible love for hockey. I grew up near Pittsburgh, Pa., thus my childhood revolved around Ron Francis, Kevin Stevens, Jaromir Jagr and, of course, Mario Lemieux. I aim to inform readers with my insight and analysis, and give a little more than just stats.