The Penguins did not receive satisfactory secondary scoring last year. This has been analyzed and harped on, both inside the organization and by the fanbase. After failing to three-peat in 2017-18, GM Jim Rutherford has made it a priority to secure an abundance of NHL-capable bottom-six forwards. This decision has prompted some interesting decisions regarding high-potential prospects.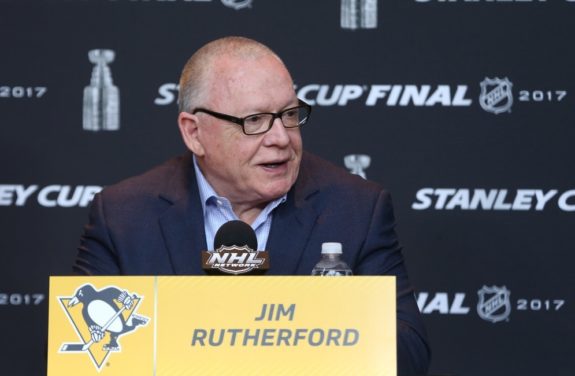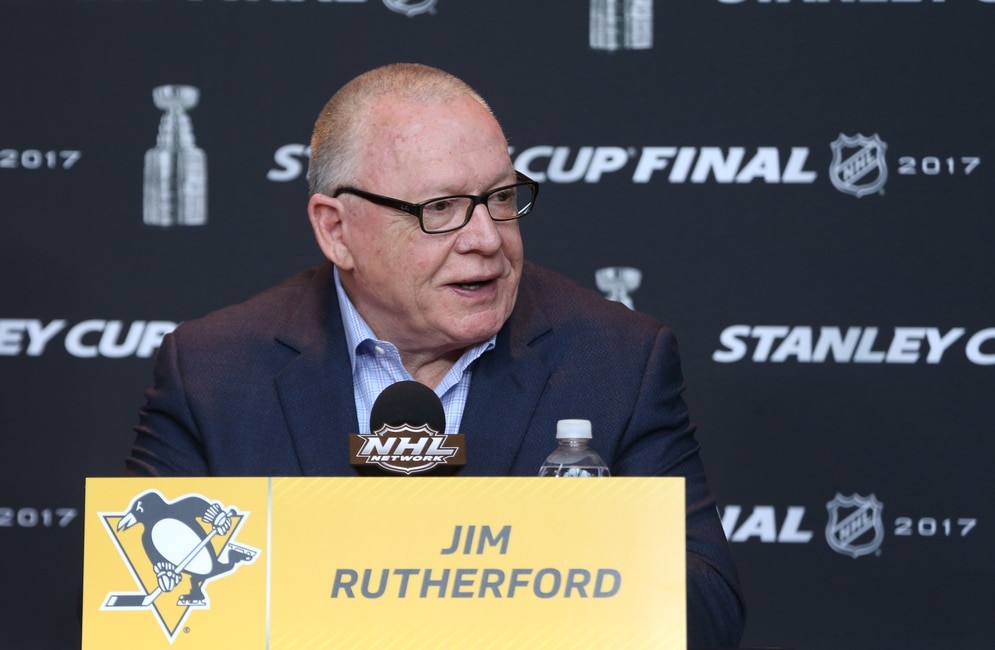 Wilkes-Barre Regulars
Firstly, Jean-Sebastien Dea was claimed off of waivers today by the New Jersey Devils. Devils GM Ray Shero has a long history with the 24-year-old and considering his solid (if unremarkable) pre-season showing, where he cycled well, the loss was at least partially anticipated. Dea played only five games last season with the big squad, scoring a goal, but he tallied 50 points in the A. He would have been an assistant captain for the team, as one of the top 10 in Wilkes-Barre franchise's games played. It's difficult to quantify his loss, but it does allow players like Ryan Haggerty (just awarded an NHL/AHL contract) to see greater ice time and power play opportunities.
Joseph Cramarossa looks to be a sufficient replacement for lost offense at the minor level but he was underwhelming throughout camp against NHL-calibre competition. He seems an unlikely candidate for a call-up at this juncture, but he has played 59 NHL games over the years.
Thomas Di Pauli had solid bursts of energy and forechecked to great effect in his exhibition showcases, but my impression is he is behind others in terms of ascension order. He has only had one full pro season due to injuries and I'd imagine the organization would like him to pay his dues a bit and excel offensively in the AHL before becoming a regular.
Linus Olund and Sam Miletic both showed flashes of upside in exhibition games but the newbies will undoubtedly serve a considerable amount of time developing in the middle of the WBS roster. Miletic impressed me particularly with his size and craftiness in tight spaces. Garrett Wilson is expected to be named the captain of the team, and will likely serve that duty for most of the year. Tobias Lindberg and Jimmy Hayes both underperformed relative to their pro experience and will need to prove their worth before seeing a promotion.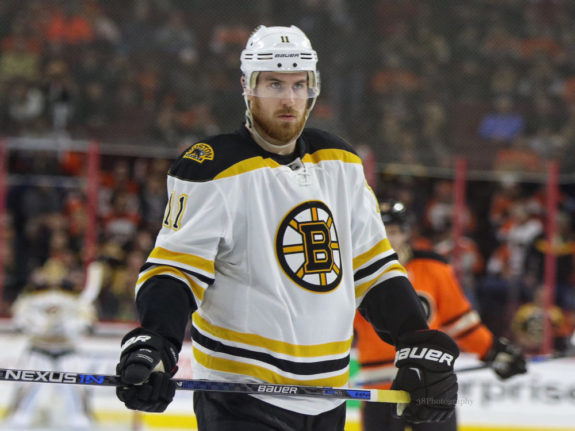 The Bottom Six + Spare Forward
Teddy Blueger is a unique sort of two-way player, who thinks the game at an NHL level. At every Wilkes-Barre game I've attended, he's struck me as precise in his movements and quick to respond to the transition game. For his age, he makes defensive (and occasionally offensive) reads generally executed by cagey veterans. Unfortunately for Blueger, signing Derek Grant will delay his promotion until injuries strike.
There are multiple players who can thrive at the center position, but there are only four slots on any given night. Matt Cullen, re-signed for his leadership and penalty killing, will likely shift to the wing to allow Riley Sheahan to remain in the faceoff circle. He was the Pens' best last season. The duo has looked promising throughout exhibition matches, using speed and quick passing to create opportunities on the rush and off the cycle. However, it remains to be seen how much ice time they will receive from head coach Mike Sullivan. Last year, the fourth line was such an analytics nightmare that the forwards routinely saw less than 10 minutes of ice. Expect an uptick there to spare the star players from burnout and to spread scoring across the lineup.
Adam Johnson had a fine preseason and his skating has improved yet again. He's blindingly quick in acceleration and may have surpassed Carl Hagelin in that category. Considering it is Hagelin's last year under contract, I expect he's being groomed for that tweener penalty-killing role. I anticipate his offensive capability at the minor level will make him an attractive option once injury strikes.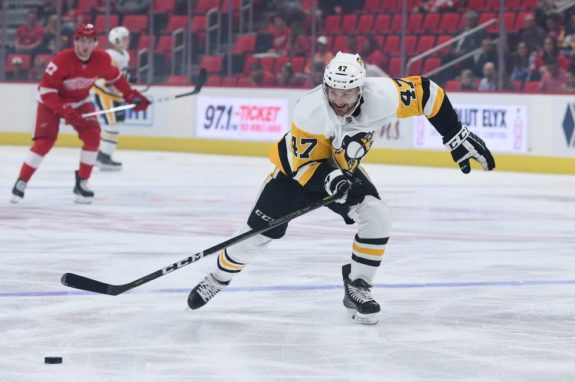 Derrick Brassard was rumored throughout the summer to be tested on Evgeni Malkin's left wing, but outside a shift or two, this has not materialized. Depending on how Hagelin produces on the second line with Malkin and Phil Kessel, this experiment may or may not be taken back off the shelf.
Until the shift is made, Grant (and Blueger) will remain on the outside looking in. Dominik Simon seems to have cemented his position on the third line alongside Bryan Rust and Brassard. He is no older than Blueger, Aston-Reese, or Di Pauli but his speed and creativity have impressed Sullivan going back to last year. His impact on Crosby was a net positive in terms of scoring chances for and against when situated on his line, and he has been responsible in all three zones. His flexibility to move up and down the roster seamlessly is also highly valued internally.
The Prospects: Sprong & Aston-Reese
Consequently, our most interesting stories are those of Daniel Sprong and Zach Aston-Reese. Rutherford was uncharacteristically critical of their performances this summer, discussing his disappointment with The Athletic's Josh Yohe in a very public manner. I actually disagree with Rutherford's early assessment, although it could be an effort to pry some extra gumption from the two. Sprong did not light the lamp as we grew accustomed to seeing last season in Wilkes-Barre, but he was a difference-maker on both offense and defense.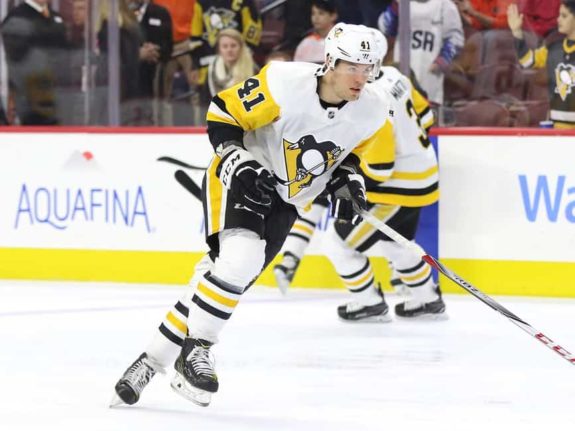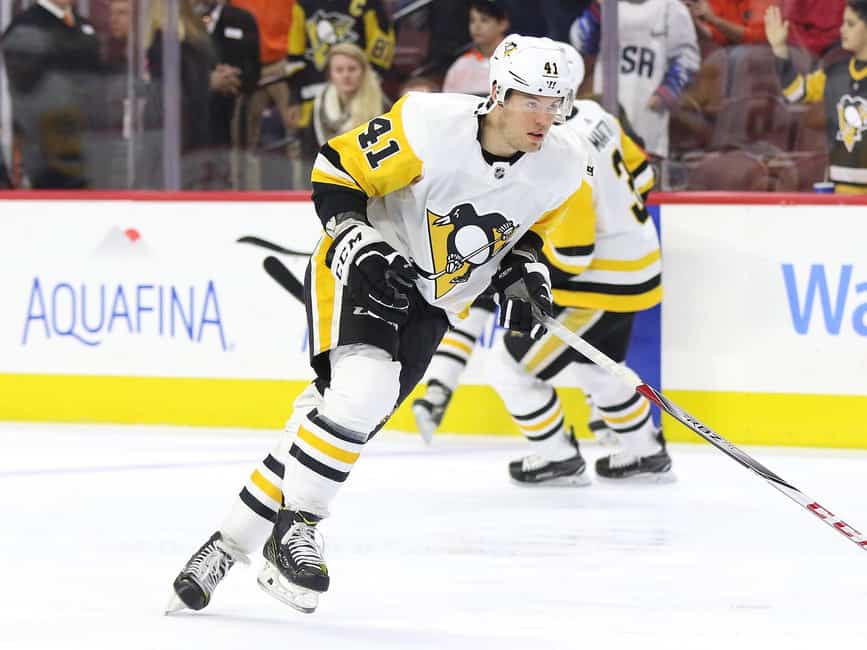 He backchecked far better than ever and deferred (perhaps a bit too much) to his linemates with crisp passing, thereby creating grade A opportunities. The crafty winger has done everything asked of him in terms of process, even if the production hasn't been eye-popping. The worst thing that could be said about him is that he was physically dominated on a few sequences, one hit causing a slight injury that kept him from the final pre-season match.
Aston-Reese has had a difficult summer, spending weeks without solid food following a very questionable Tom Wilson hit to the jaw in the playoffs. Throughout that, he's maintained his weight and looks spry and willing to engage physically. Unfortunately, he's showed a lack of discipline and hasn't inspired anyone with his minimal finesse. He is certainly NHL capable, but he would be served by additional conditioning and playing time after such a tumultuous offseason.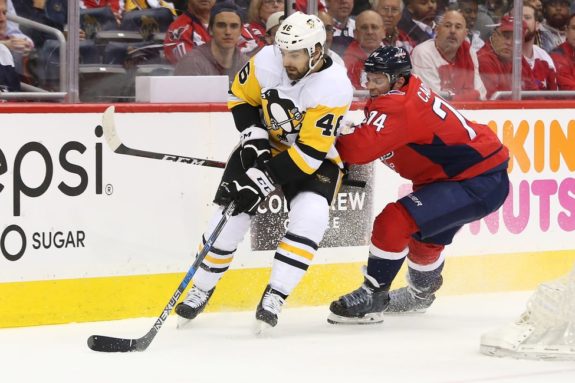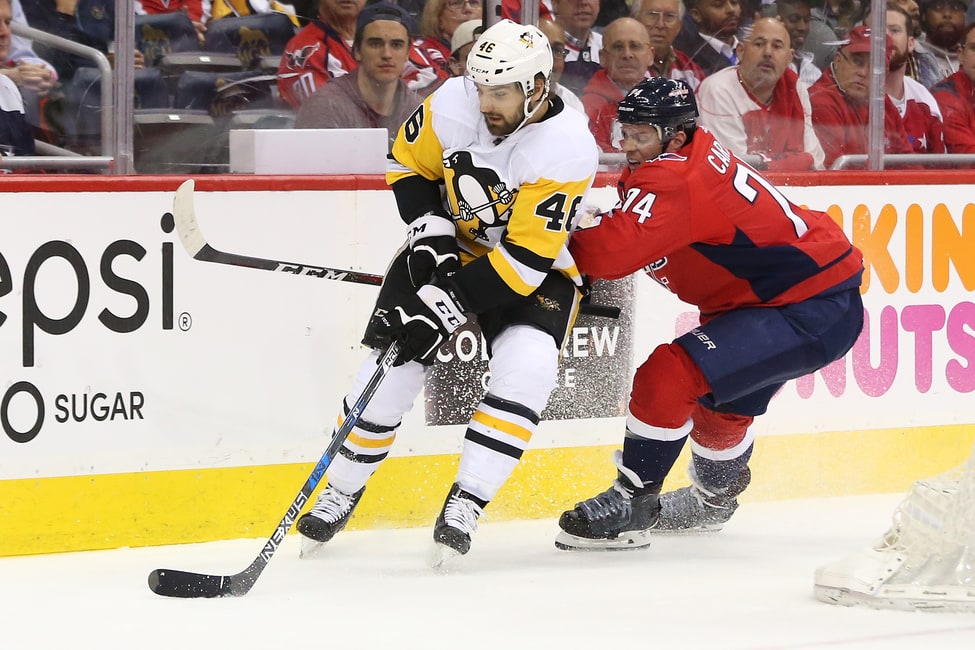 The logjam, in conjunction with the comments of Rutherford, suggests to me that one of Sprong and Aston-Reese will be sent to Wilkes-Barre to begin the season while the other could be among the bottom six. Both primarily play the right side, but Aston-Reese has shown a little more flexibility in shifting. Neither needs to clear waivers to report to their affiliate and considering how the Pens just lost a player to the wire, they will likely be wary of losing Grant who netted 12 goals last season in Anaheim.
Grant has been largely unnoticeable when inserted into the lineup, but his large frame and modest scoring touch could be useful going forward. Whether this is a deserved demotion for Sprong/Aston-Reese is up for debate, but there are worse problems than depth. Last year at this point, the bottom six included Greg McKegg, Carter Rowney, Scott Wilson, and Tom Kuhnhackl.
2018-19 Forward Projections:
Guentzel / Crosby / Hornqvist
Hagelin / Malkin / Kessel
Simon / Brassard / Rust
Cullen / Sheahan / Sprong
Grant
First Call-Ups: A. Johnson, Aston-Reese, Blueger
Devout Penguins follower since birth. Highly interested in prospects, analytics, and systems. Former writer for ProHockeyRumors.