It's not typical for a player to come in on a Professional tryouts (PTO) and earn an NHL contract by the time the season begins. However, this is the case with Slovakian defenseman Michal Cajkovsky, who has just signed a 1-year, 2-way contract with the Carolina Hurricanes worth $650,000 at the NHL level. Cajkovsky entered camp as an obscure player, but will begin the 2018-19 campaign with his first NHL contract.
At 26, Cajkovsky is no longer a prospect but he has proven to be valuable nevertheless. He has a very unique style, he has plenty of drive to improve, and he's earned one of 50 allotted contracts amongst the competition he faced on the stacked 'Canes' blue line. So, what made Don Waddell and company sure that they want Cajkovsky in the fold?
Big Man with Big Skill
Listed at 6-foot-4, 214 pounds, he is one of the bigger guys on the Hurricanes roster and his size was a factor in the preseason matches he played. He was able to close gaps quickly with his reach and rub off attackers with his strength, as many players of his size are able to do. However, what struck me most about Cajkovsky was his ability to handle the puck. Oftentimes, along with skating, puck-handling can be a bane for large players but he seemed competent in my assessment.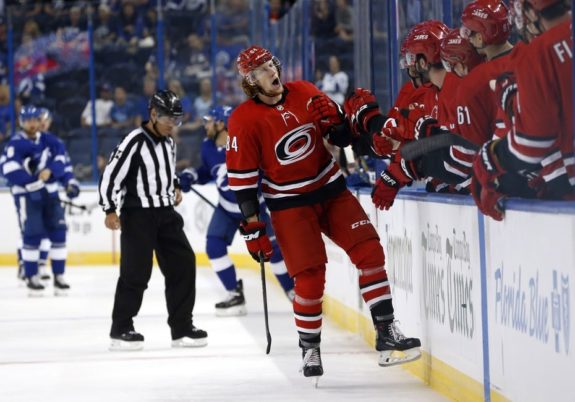 Cajkovsky looked both comfortable and driven when he was on the ice. While not the most fleet of foot guy on the team's blue line, his shortcomings were less noticeable given the way he played to his strengths and refrained from over-committing himself. I don't mean to say that he's the next great defenseman on the stacked Hurricanes back end, but he earned his contract and some NHL minutes if one of his counterparts is unable to play, whether that's due to performance or injury.
Came to camp on a PTO. Signed to an @NHL contract.

Welcome to the squad, Michal Cajkovsky! pic.twitter.com/VwdcIcvk4r

— Carolina Hurricanes (@Canes) September 27, 2018
Head coach Rod Brind'Amour's message was clear coming into camp, as Chip Alexander of the Raleigh News and Observer reported, that every Hurricane would have to earn their place on the team ('How will numbers game shake out for Hurricanes' forwards?' The News & Observer – 9/25/18). Well, he was true to his word. The way he welcomed Cajkovsky to the club, surrounded by teammates who witnessed Brind'Amour's message lived out, put a huge smile on my face. It helps a team bond and makes it easier for everybody to buy in, which is crucial for a first-year head coach.
'Canes Leaving Their Options Open
The next question on everybody's mind is how Cajkovsky will be deployed. Playing well in NHL preseason action is encouraging but is that a precursor to regular season success? The short answer is 'no.' Cajkovsky hasn't played in a single NHL regular season game. In fact, he hasn't played in North America since the 2014-15 campaign, during which he split time with the Hersey Bears of the American Hockey League and the South Carolina Stingrays of the ECHL. That's to say, he needs reps with the Charlotte Checkers to help season him back to the North American game.
The beauty of this situation is that Cajkovsky doesn't need to play in the NHL anytime soon. As of Sept. 28, it appears that the top seven available defensemen for the Hurricanes will be Dougie Hamilton, Jaccob Slavin, Brett Pesce, Justin Faulk, Calvin de Haan, Trevor van Riemsdyk, and Haydn Fleury. That is a tough defense corps to jump into, not to mention the fact that their current available extras, Roland McKeown, Jake Bean, and Trevor Carrick, are also competent defensemen looking to crack the lineup.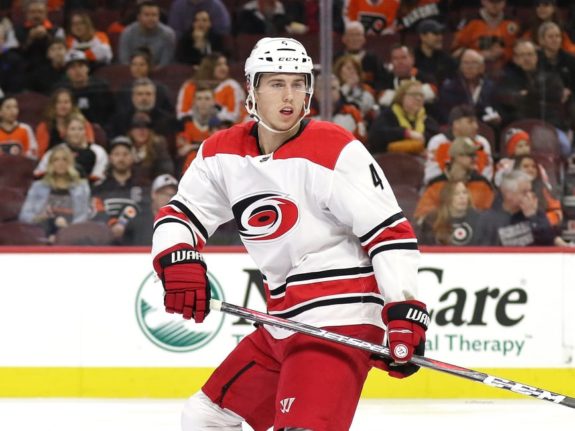 A realistic projection for Cajkovsky, therefore, is a role down in Charlotte, at least for now. It isn't necessarily an indictment on his abilities as much as it is proof of how deep the Hurricanes defense is coming into the season. This gives Brind'Amour plenty of options to cycle guys in and out and respond to injuries if they arise. I can say that the Hurricanes boast at least 9 or 10 defensemen in their system that could realistically play NHL minutes this season. It is the main strength of the club, and Cajkovsky is only a boost.
At the end of the day, Cajkovsky becomes another option, another potentially impactful player, whether in the AHL or NHL. For a guy who originally came in for free on a PTO, it's nothing but gravy for the Hurricanes.