With just under three weeks until training camp opens, the Pittsburgh Penguins don't have many positional question marks.
Barring injuries or sudden trades, their skaters are set. It's a nice spot to be in a year after beginning camp without a third or fourth-line center. Although they do have one position with an opening, and it's for the backup goalie spot.
The post-Marc-Andre Fleury era began in the crease last season, and it didn't go as planned. Starter Matt Murray struggled with injuries, as well as the death of his father in January. In addition to the health struggles and family tragedy, Murray didn't perform up to the lofty expectations around him when he was on the ice, with a .907 save percentage (SV%) and 2.92 goals-against average (GAA) in 49 games.
Antti Niemi was signed to be Murray's backup in July but found himself on waivers after allowing 16 goals in three starts. Niemi's futility and Murray's bumpy season opened the door for Tristan Jarry and Casey DeSmith to earn NHL time.
Once Murray returned to full health for good, the club decided to roll with DeSmith as the backup goalie in March and throughout the playoffs. While DeSmith may have finished the season as the backup, both he and Jarry will enter camp with the chance to make their case for the role.
The Case for Jarry
Drafted in the second round (44th overall) in 2013, Jarry may not be the best goalie in the organization, but he may be the most talented one. He previously made his NHL debut during the final game of the 2016-17 season, where he stopped 22 of 25 shots in the Penguins' 3-2 loss to the New York Rangers.
Jarry was called up from Wilkes-Barre Scranton for the first time last season on October 30 and stuck around until a slight rough patch in January caused him to lose his roster spot to DeSmith. Overall, in 26 games (23 starts), the 23-year-old went 14-6-2 with a .908 SV% and 2.77 GAA with two shutouts. On the surface, those numbers aren't overly impressive, so what if they're broken down?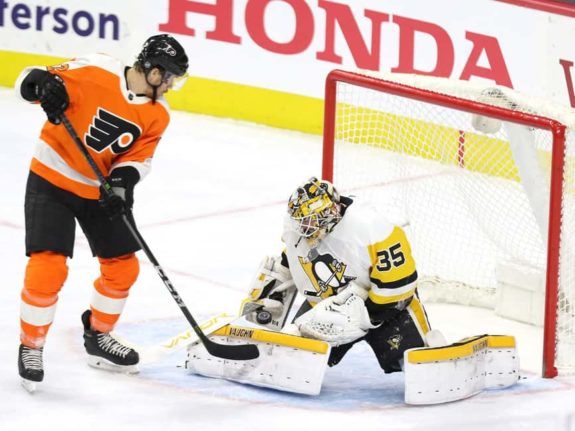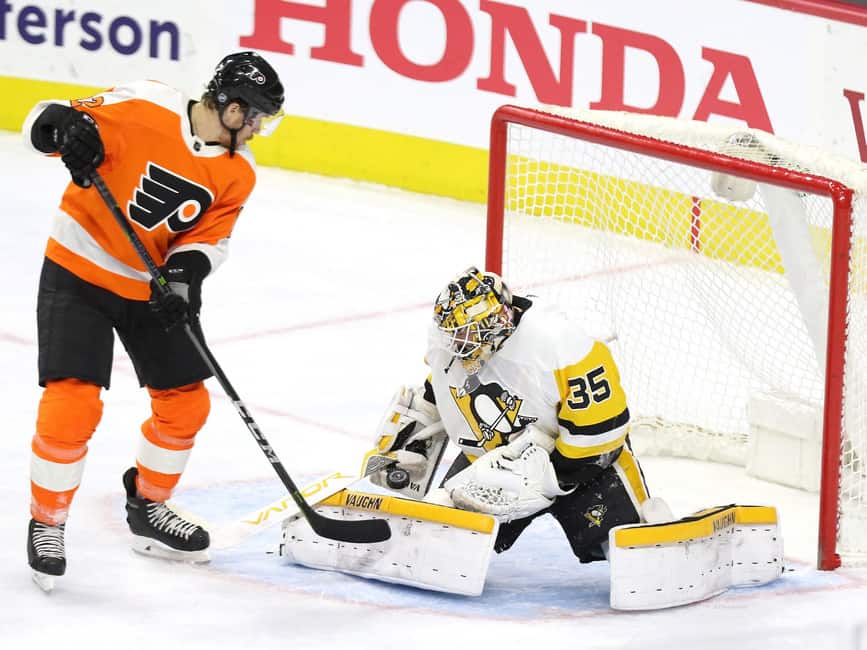 In 18 games before the All-Star break, Jarry went 9-4-2 with a .919 SV% and 2.44 GAA. Both his shutouts came during this period as well. His performance dropped off after the break as he went 5-2-0 with a .884 SV% and 3.50 GAA in eight games.
Jarry was at his best against Metropolitan Division rivals, posting an 8-2 record with a .925 SV%, 2.21 GAA and one shutout over 10 games. When the Penguins play 28 games a season against their own division, performances like this are important. As for the other division in the Eastern Conference, Jarry struggled. While he posted a 5-2 record and one shutout in 10 games, his SV% of .889 and GAA of 3.51 leaves a lot to be desired against the Atlantic.
The Toronto Maple Leafs and Boston Bruins gave him the most trouble, as he combined to post a 0-2 record with a .789 SV% and 6.75 GAA in four games. Both of these teams made the playoffs, and as a whole, in 13 games against playoff teams, he wasn't at his best, posting a 5-4-1 record with a .883 SV% and a 3.56 GAA.
What About His Advanced Numbers?
At even strength, Jarry posted a SV% of .910 compared to his expected save percentage (xSV%) of .916, so some bad luck may have been involved. Although Jarry's high-danger mark of .785 and goals saved above average (GSAA) of -3.82 is worrisome. Though even strength goaltending was something the Penguins struggled with all season, as he, Murray and DeSmith combined for a .914 SV% at ES.
A big positive though was his shorthanded SV% of .894, good for 14th among goalies with at least 120 minutes of PK time. An important number as the Penguins spent an average of five and a half minutes shorthanded per game last season.
Overall, his all situations xSV% of .907 and GSAA of .9 was disappointing considering the hype surrounding him since 2013, but he showed occasional flashes of what made him a top prospect in the past.
Going against Jarry is the fact he's exempt from waivers and the two-year, $1.35-million contract the Penguins signed him to in late July is a two-way deal for the first season. He also didn't show he's too good to return to the AHL, as he stumbled to a .901 SV% in 16 games with Wilkes-Barre.
A good camp performance could earn him back some the hype which had our Julie Stumbaugh wondering back in January of 2017 if Jarry could become similar to Matt Murray.
Jarry's rise to the top won't be as immediate as Murray's. This is the regular season, not playoffs, and games are a lot less urgent now for the Penguins. Nevertheless, this could be the start of a similar rise if he is able to step up to the NHL level.
Jarry is young, and goalies tend to improve as they age. So expecting him to be better in 2018-19 isn't unrealistic, but will it be enough to claim the backup spot?
The Case for DeSmith
DeSmith had a different path to the NHL than Jarry. He wasn't drafted and signed as a college free-agent in 2015 and worked his way up the organizational ladder from the ECHL.
At 26 years old, DeSmith made his NHL debut during the 2017-18 season. More specifically, on Oct. 29 against the Winnipeg Jets.
"A dream come true even though it wasn't a fairy-tale game for me," said DeSmith. "It's an NHL game and it was a blast anyway."
Overall, in 14 games, he went 6-4-1 with a .921 SV%, 2.40 GAA and one shutout. Impressive numbers, but what if they're broken down a bit?
In six games before the All-Star break, he was 3-2-0 with a .927 SV% and 2.08 GAA. In eight games after the break, DeSmith was 3-2-1 with a .917 SV% and 2.67 GAA with one shutout, coming in the final game of the season against the Ottawa Senators. Still, above average but prior to the Senators game, he was 2-2-1 with a .901 mark and 3.16 GAA during the second half.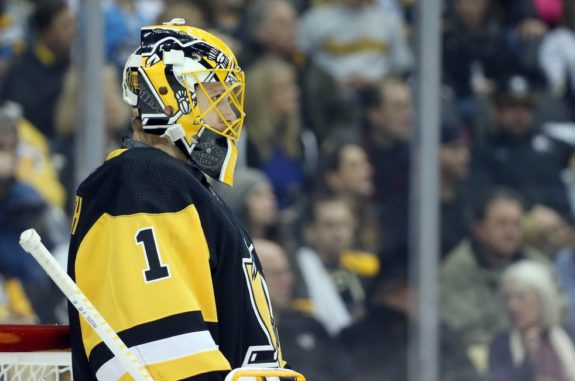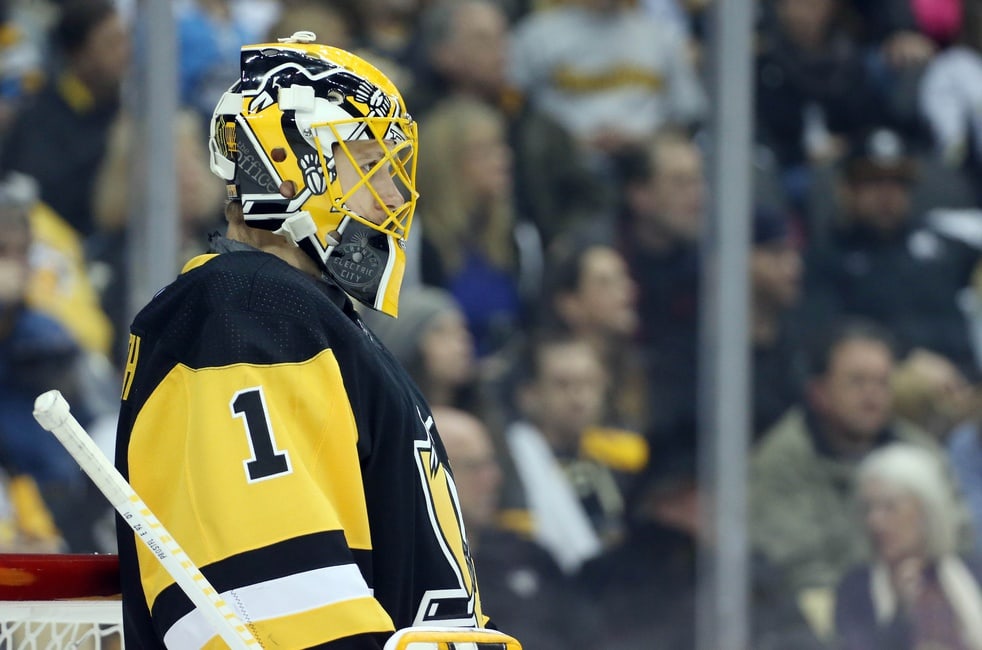 Much like Jarry, DeSmith wasn't overly impressive after January.
Also like Jarry, DeSmith was great against Metropolitan division foes. Going 1-2-1 with a .924 SV% and 2.76 GAA in four games. But he struggled against the Central division, going 2-0-0 with a .881 SV% and 2.60 GAA in three games. DeSmith fared better against playoff teams than Jarry did, going 2-4-0 with a .910 SV% and a 2.88 GAA, but neither number is much better than league average.
Now, What About Desmith's Advanced Numbers?
At even strength, DeSmith had a SV% of .933, well above his xSV% of .914, meaning he performed better than he was expected to, unlike Jarry. His GSAA of 5.28 was the best among all Penguins goalies, as was his high danger SV% of .817.
He struggled when the Penguins were shorthanded, recording a .833 SV% and xSV% of .804 in 56 minutes while the Penguins were down a man. For a team like the Penguins who were 11th in the league in times shorthanded (265), it's something DeSmith has to improve on.
Overall, in 700 minutes, DeSmith had an all situations xSV% of .900, so his .921 mark could be a sign of some luck. His all situations GSAA of 7.78 was far and away the best among goalies who played fewer than 710 minutes, Oscar Dansk of the Vegas Golden Knights was second with a mark of 3.45 in 168 minutes.
DeSmith doesn't have much working against him, as his age (27), the fact he'd have to clear waivers and his minuscule cap hit of $675,000 for a cap-strapped Penguins team should help him in his quest for the backup role.
The Verdict
It will likely be the final camp decision the Penguins make, but it's going to be an interesting choice either way.
Both goalies started strong but fell off after the break. Neither goalie stood out against playoff teams, but it's not a big concern to the Penguins because on most nights Murray will be in goal against the better teams. Though Murray does have some durability concerns, so which goalie could handle the workload of a starter if needed?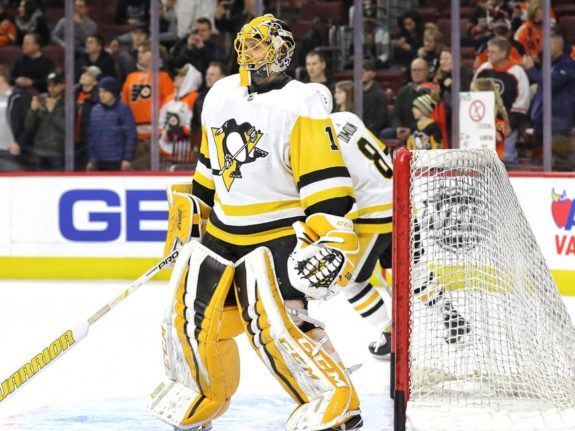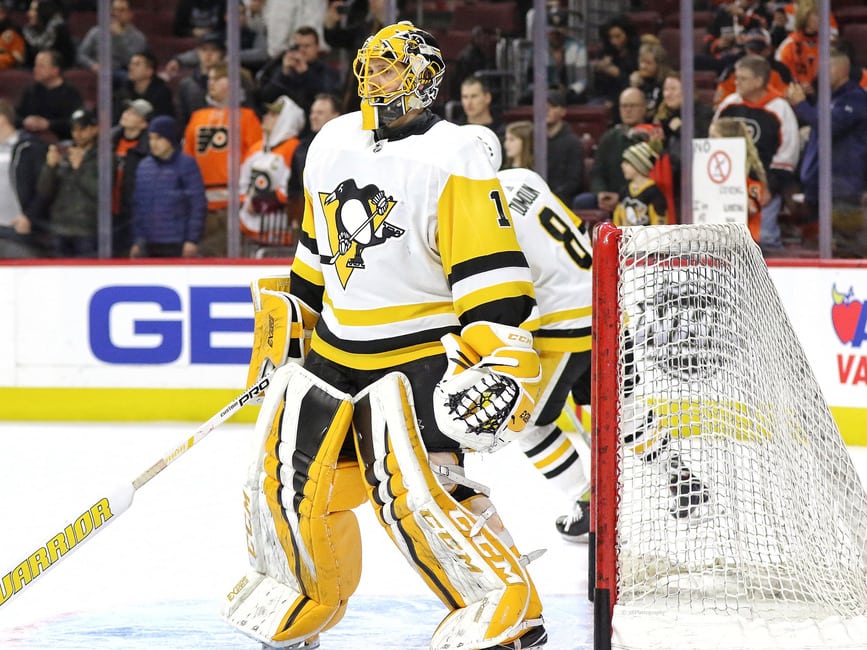 Jarry had a 14 game stretch from Dec. 1 to Jan. 17 where he handled the number one role due to Murray's health and family matters. During this, he was 7-4-0 with a .923 SV%, 2.32 GAA and two shutouts, showing he has the ability to handle the role if called upon.
DeSmith's sample size as a starter was smaller, but impressive nonetheless. He went 3-1-0 with a .944 SV% and 1.77 GAA in four games from Jan. 18-25.
If the Penguins want to go with talent, Jarry is the clear winner. For a team in win-now mode, the floor and stability DeSmith brings would be a wise choice, and it appears the team is going to go with the second option.
"It's likely – though general manager Jim Rutherford maintains there will be a competition in camp – Jarry will get the bulk of the starts for Wilkes-Barre/Scranton in the American Hockey League." –Jason Mackey, Pittsburgh Post-Gazette
It isn't unheard of to give a goalie ample time to develop, but at some point, Jarry is going to have to finish his development at the games highest level.
It's likely DeSmith enters the season as the backup, with Jarry taking over in 2019-20.
Note: Advanced statistics from Corsica Hockey.
Conner McTague is a recent graduate of the Journalism program at Durham College. He covers the Pittsburgh Penguins for The Hockey Writers. He hopes to make a career out of sports reporting.