If I was asked to define the overall mood in Pittsburgh regarding the Penguins in one word, I'd say vexed sums it up perfectly. Fans are frustrated at how the Penguins are struggling to stay afloat in a season that was so highly anticipated and brought so much excitement to the city. At this point, after a 12-8-2 start that has already put most of the Penguins' faithful through an emotional rollercoaster, everyone is looking to point fingers. Everyone wants to know where the answers are to Pittsburgh's struggles. The fans simply want to know, who's to blame and why is this team currently in this predicament?
Most of the blame has fallen at the feet of Penguins' head coach Mike Johnston. From day one, Johnston was looked at as a junior level coach that's in over his head at the NHL level. And, that may be true. I've written about Johnston on numerous occasions and I continue to stand by my assessment of him, which is that he's a smart hockey guy with a lot of knowledge for the game but may not fit this team. For whatever his reasoning, he has changed his approach in a big way since the beginning of 2014-15 and it shows in the production of Pittsburgh's potentially highly potent offense. The focus is defense first, which is hard to criticize in today's NHL. But, at what point do you let guys like Sidney Crosby, Evgeni Malkin, Kris Letang and Phil Kessel do what they do best?
That leads me to my first question about how much blame Jim Rutherford should carry for the Penguins' lackluster opening quarter of the season. Unfortunately, though, I don't have the answer to this question, which is what communication breakdown occurred this summer between management and the coaching staff? Rutherford's most memorable quote from the offseason, at least for me, was that the Penguins would look to become "younger and faster". They wanted an offensive juggernaut that no longer fell victim to the scoring issues they recognized in the final four months of last season. Instead, we're watching a team that sits at 27th in the NHL for goals and a head coach that continuously stresses the importance of everyone playing a 200-foot game. Maybe Johnston didn't get the memo?
Rutherford Making Progress in Role of Janitor With Penguins Roster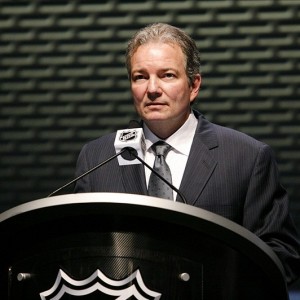 Remember Ray Shero? If you don't, he's the GM that's doing great things so far in his short tenure with the New Jersey Devils. However, his last few seasons in Pittsburgh were exactly opposite of the job he's doing in New Jersey and it put the Penguins in a very tough situation after the team decided to part ways with him.
You can call it the Shero curse, or you can simply look at the dismay within the Penguins locker room last summer as a challenge for Rutherford. Either way, it wasn't good and left a lot of cleanup duty. So, in order to fairly assess how much blame we should be placing on Rutherford for the 2015-16 Penguins, we have to take into account what he's still dealing with in the aftermath of the last management regime.
When you consider what this team looked like in 2013-14, there's no question that Rutherford has improved their offensive depth by leaps and bounds. Shero's final rosters were filled with bottom-six forward talent and were heavily reliant on Crosby and Malkin to carry the offensive load. And, his contract extensions for Chris Kunitz, Pascal Dupuis and Rob Scuderi have strapped the Penguins with costly veterans that aren't able to perform as needed.
Despite those challenges, Rutherford was able to add Phil Kessel from the Toronto Maple Leafs while only forfeiting Nick Spaling from his NHL roster. He also turned Brandon Sutter and his $3.3 million cap hit into Nick Bonino and depth defenseman Adam Clendening, while upgrading a third-round pick to a second and clearing cap space at the same time. The cap space he was able to shed afforded the Penguins the ability to sign Eric Fehr. Add the addition of Matt Cullen into the mix and you have what is arguably the deepest offensive group the Penguins have had since their 2009 Stanley Cup run. Of course, then there's that Penguins defense and the fact that Rutherford is the one that hired Johnston to begin with.
Multiple Mishaps Impossible to Predict for Rutherford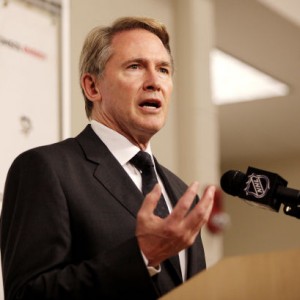 Lets start with the hiring of Mike Johnston. Remember that Johnston's mantra was playing an offensive puck-possession system. The Penguins were off to an extremely fast start under his direction and saw the likes of Crosby, Kunitz, Malkin, Dupuis and Letang hitting on all cylinders. Throughout the first two months of the 2014-15 regular season, the Penguins were unstoppable. That was the coach that Rutherford thought he was getting in Johnston. But, then the injuries started and we watched as Johnston abandoned the philosophies that helped him recognized such early success in the NHL. He began dumping and chasing, trapping and relying on his high-end forward talent to play a lot of minutes below their own hash marks.
Also, consider that the Penguins ownership group had ample time to make a decision on Dan Bylsma prior to hiring Rutherford. It was a foregone conclusion that Bylsma had coached his last game in Pittsburgh. And while I can understand wanting the eventual GM to have his say in who his coaching staff would be, the Penguins passed on a lot of tenured NHL coaches that fit their needs while waiting out their GM hiring process. When Rutherford finally had a crack at interviewing coaches, the list was fairly picked over. My biggest gripe was his passing on John Hynes, who was coaching the Penguins' AHL affiliate in Wilkes-Barre at the time.
Some have also brought up his willingness to go with a young, inexperienced blue line while spending so much time revamping the Penguins' forward lineup. However, I don't share in that criticism. The Penguins have a promising Derrick Pouliot that arrive at camp and disappointed everyone in a big way, which landed him in the AHL. Also, Ian Cole played quite admirably after arriving in Pittsburgh via trade last season but hasn't been able to reproduce that play so far in 2015-16. And, need I mention the poor play of Letang? All of these issues were impossible to forecast after what we had seen from these individuals down the stretch last season.
It isn't often that I let a General Manager off the hook when a team has a multitude of issues like the Penguins right now. And, Rutherford has certainly made mistakes, most notably allowing Hynes to leave the organization and trading Simon Despres for Ben Lovejoy. But, in my opinion, most of the fingers pointing in his direction are doing so on the basis of dislike for him rather than actual failures since taking over the Penguins. Would you rather go back to the days of Brian Gibbons, Tanner Glass, Chuck Kobasew and Craig Adams?
Pittsburgh Penguins writer for TheHockeyWriters.Com and PittsburghHockeyNow.Com. Youth hockey coach, and student of the game.