Pittsburgh has won six straight games and is well on its way to a sixth consecutive postseason berth after beating Phoenix 2-1 in a sluggish Monday evening contest. The Pens have won their first two games this month by a combined scored of 7-2, bringing their mark against Western Conference opponents to 12-2-3 and their points total to 83, second-most in the Eastern Conference.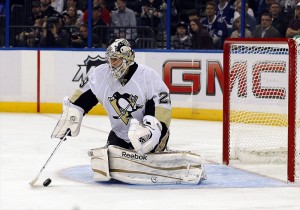 The constant in those wins—in nearly all of the Penguins recent wins—has been the play of Marc-Andre Fleury.
"He was our best player tonight," head coach Dan Bylsma said Monday. "He makes it look pretty easy with his mobility and then being solid and square to the shooter…Tonight (he) is probably what made the difference in the game."
March is hockey's home stretch. The playoff herds are thinned and first-round matchups come more closely into focus. It's the part of the season where a franchise goaltender like Fleury is indispensable.
"Flower" is already off to another good start with a 2-0-0 mark this month, numbers that have helped to pad his gargantuan March career and have helped him to become the fourth tendy in NHL history to win 35 or more games in four consecutive seasons (2008-09—present).
Martin Brodeur, Miikka Kiprusoff and Henrik Lundqvist are the others.
Here are those gargantuan numbers: in 70 March games, Flower is 45-16-9 with a .738 winning percentage, 2.33 GAA and .917 save percentage. Include seven shutouts and March is Fleury's best month in terms of appearances (73), starts (71), minutes played (4177), wins, winning percentage, goals against average, save percentage and shutouts.
It's exactly the kind of production the Penguins need.
Pittsburgh's remaining schedule for March features 13 games in 22 days—six against Atlantic Division opponents, nine against teams currently in a playoff seed and all but one against Eastern Conference competition.
Combined, those 11 clubs have a .579 winning percentage, an average that's good enough for playoff position in either conference. Pittsburgh's in comfortable position in the top eight, but the at-large bid for home ice will still be a tough get as Philadelphia, Ottawa and New Jersey continue to play good hockey.
Pittsburgh needs those wins. Brad Thiessen is green as grass and Brent Johnson's number have fallen off a cliff, but Flower's already on pace for career-highs in starts and appearances.
Rested goaltenders, as Boston and Vancouver can attest, are playoff weapons.
So Fleury can't get the start in every game this month, though the coaches may be tempted to make it happen. The team's current six-game streak is being matched by Flower's personal six-game streak. Fleury has won each start since the special teams bonanza in Philadelphia two weekends ago, allowing ten goals in that span (1.66 GAA, .950 save percentage).
On this pace, Fleury can also pass a few of Tom Barrasso's franchise records this year. Eight more wins will give him the franchise records for wins (227) and single-season wins (44). One more shutout (23) would give him the standalone record in that department as well.
With Sidney Crosby still out and Kris Letang's status once again up in the air, the burden to carry the team weighs more heavily on everyone. Evgeni Malkin and Jordan Staal will be expected to continue scoring. Paul Martin and Brooks Orpik will have to play their best hockey of the season.
Mostly, the load will have to be shouldered by the goaltender. Fleury was sensational in helping the Pens land the fourth seed last year in the absences of their best skaters.
If he keeps up his level of play again this Spring, Malkin's bid for league MVP may be clouded by whether he's even the most valuable player on his own team.