The playoff series featuring the most goals through four games in NHL history might also feature the most special teams goals through any four games in NHL history.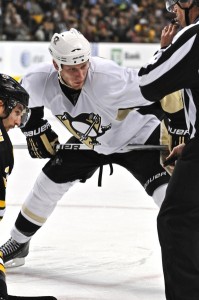 The Pittsburgh Penguins (22 goals) and Philadelphia Flyers (23) have combined for 45 goals through four games, recalling memories of the high-scoring 70's and 80's to coincide with the returns of the triple-digit penalty minutes and commonplace brawling of the era.
"Special teams are always big in the playoffs," Sidney Crosby said after Wednesday's 10-3 win in Philadelphia. "They've proven to be here in this series."
Special teams have indeed been huge in this series, something many expected before the puck dropped on Game 1.
They were huge again Wednesday, as the Flyers scored three power play goals (their only tallies of the game) while Pittsburgh rung up four.
It was the first time in the series Pittsburgh scored more special teams goals than they allowed, and it led them, without coincidence, to their first win of the series.
Through four games, Philadelphia has derived 12 of its 23 goals from the power play or penalty kill units. Their power play is clicking at a terrifying 60 percent clip (9-for-15), while the PK has manufactured three shorthanded goals.
Over half of Philadelphia's offense has come on special teams (52.2 percent).
Likewise, Pittsburgh's power play unit has been very effective, if not record-setting. The Penguins have seven power play goals on 21 chances, a 33.3 percent clip that would have led the league by a mile in the regular season.
In these playoffs, Philly ranks first in PPG scored (9) and PP percentage (60.0), while the Pens are second in PPG (7) and fourth in PP percentage (33.3).
Pittsburgh has benefited from their power play lately despite being torched for three SHG in the first three games of the series, and it seems like the most minor of offenses is going to create ruts to the penalty box from here on out. Referees seized control of Game 4 early on, issuing 14 minors and 100 PIM in the follow-up to last Sunday's brawl and perhaps as a league-mandated response to violent, nihilistic play that has taken hold in nearly every series in the first round.
If such small offenses will be called with similar regularity in Game 5, Pittsburgh's only chance to win is to keep their game cleaner than clean.
After all, Philadelphia's power play is nearly doubling the Pens' units in terms of success rate, and Philadelphia's offense has often resulted from the havoc of special teams situations.
The Flyers have derived only 47 percent of their goals during even-strength play. Conversely, Pittsburgh has 15 of their 22 goals in even-strength situations, or 68.2 percent.
As big as special teams have been for Philadelphia, Pittsburgh's even-strength effectiveness is something to be taken advantage of in equal proportion.
Despite all the PIM this series has featured (282 so far), the greater portion of any 60 minutes is spent at even-strength.
Pittsburgh has to take steps to make sure they keep the Flyers' power play off the ice. If these teams engage in another special teams battle Friday night, Pittsburgh is unlikely to see Game 6.
But all things being equal, the Penguins seem to have a distinct upper hand.
James was a Penguins contributor at THW and SB Nation Pensburgh and owns the Pittsburgh sports blog Slew Footers.