The New York Rangers and the Ottawa Senators have created a smackdown of a series with taunts, brawls and misconduct that has not been so favorable. While the playoffs raise emotions to high levels, the antics become distracting and dangerous.
Coming in as a tough No. 8 seed, the Senators have not backed down despite an unfortunate loss of their captain Daniel Alfredsson at the elbow of rookie Carl Hagelin in Game 2. Alfredsson suffered a concussion causing him to miss the past two games. The Ottawa captain will not make the trip to New York for Game 5. Despite the absence of Alfredsson, the Sens have rallied to even the series.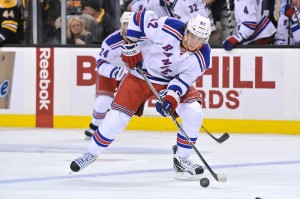 Prior to Game 2, forward Zenon Konopka was fined $2,500, for "verbal abuse" directed toward a Rangers player while the said player was doing a live pre-game interview on television. The Senators organization was fined an additional $10,000, for Konopka's actions. Still no speculation on whom the rant was directed at, but it lit a fire under Ottawa to take Game 2 in OT, 3-2.
The Senators were without defender Matt Carkner for Game 3, who served a one-game suspension for using Brian Boyle as a punching bag in Game 2. Lundqvist made 39 saves for a 1-0 win and a 2-1 series lead.
Then came Game 4, with an another overtime loss for the Rangers after blowing a 2-0 lead.
The Rangers have had seven straight playoff overtime losses for Henrik Lundqvist and the Rangers since 2007. Allowing a 2-0 lead lapse goes beyond the ability to win in overtime. Ryan Callahan, Marian Gaborik, Henrik Lundqvist and Brian Boyle seem to be the Blueshirts who are playing to win. The Sens apparently shocked the New York crew into a malaise. Considering that New York took 33 shots, had 8 shots blocked, and 8 misses, for a total of 49 opportunities lost in Game 4, pumping up the team concept is a good place to start.
New York isn't surprised by the momentum swing for Ottawa. The tumultuous series returns to Madison Square Garden Saturday night, but will the New York team who clinched the Eastern Conference be ready to turn the tide back in their favor?
The Game 4 explosion of the Senators evening the series was food for thought for defenseman Marc Staal, "We've had good starts and they're a good team, but we just need to find a way to win in overtime. That's what it comes down to."
Staal had a close call in Game 4 when he appeared to knock Spezza off balance with a slash to his hands. Spezza's head came down and into Staal's body and Staal leveled Spezza who went to the ice holding his neck. No penalty was called after the incident. Luckily, Spezza returned to start the third period and is expected to play on Saturday. Rumors abound that Spezza felt the hit was "a little dirty." There has been no word on suspending Staal for the hit.
The Senators beat the Rangers three out of four times in the regular season, and they can do so in the playoffs, but Coach Tortorella isn't concerned facing a pivotal Game 5. "It's about trying to find a way to win. They have done that. We've got another opportunity to go about our business and see if we can get it done." Torts stressed playing as a team rather than naming names of those players who fell short in Game 4.
No matter who is on the ice, it's the Rangers game to win or lose. Ottawa has come as a formidable opponent and the Rangers must pass this test to become representatives at the Stanley Cup Final. Enough with the rough stuff, let's play some hockey.
Heidi has been a Rangers fan since the Gretzky years. While focusing on The Blue Line and hockey's stalwart defenders, Heidi also connects with the human side of hockey. Follow her on Twitter, Facebook, or at her blog Don't Cross My Blue Line.