On Jan. 25, Ian Cole knocked Matt Hunwick off the Pittsburgh Penguins' roster with his return from a seven-game stint as a healthy scratch. In the eight games since, he's had four assists and is a plus-8. His performance in this past stretch is evidence enough for the Penguins that Cole, and not Hunwick, should be the defender to crack the lineup going into this crucial last stretch of the season.
Cole, Hunwick and the Cap
Based purely off of their position in the Penguins' cap space, Hunwick would be the player a GM would find a roster spot for. Both of them have similar cap hits at just over 2 million per season, but Hunwick is signed on through 2020 whereas Cole is an unrestricted free agent after this season. If the Penguins aren't planning on re-signing Cole, then the optimal choice would be to try and get a return for him prior to the looming trade deadline rather than just letting him walk for nothing over the summer.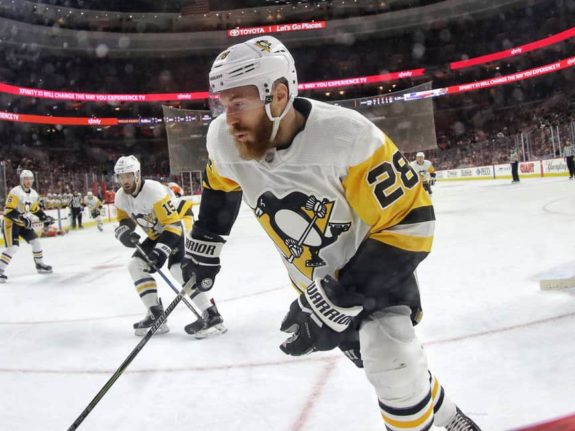 But that might not be the right choice for the Penguins. Now eyeing the Washington Capitals' first-place spot in the Metropolitan Division from three points behind, the team is looking at another playoff run this year. What's more, for the third year in a row, they could have a real shot at making it deep. This window of competitiveness won't last forever.
If the Penguins think they have a shot this year, they should take the risk of retaining Cole, even considering his UFA status. When breaking down the two players' role on the team, it's clear that Hunwick isn't a full replacement for Cole, and that keeping Cole for another playoff run this year would be worth the possible loss of what they could get for trading him mid-season.
Related: Ian Cole Belongs in Penguins' Top-Six
Production and Possession
Cole has four points in his last eight games; Hunwick has just one in his last 18. But as bottom-pairing defensemen, neither are being put on the ice to put up huge numbers; they're being put there for other factors, like limiting the other team's possession time and minimizing chances against as penalty killers. Cole is significantly stronger than Hunwick in each of these areas, especially on the penalty kill, where he's one of the Penguins' first choices to put on the ice, even in desperate 5-on-3 kills.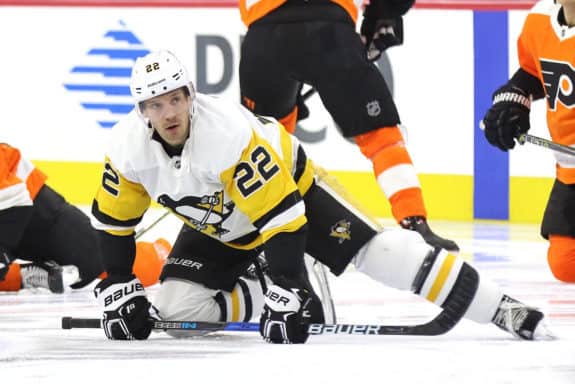 In terms of possession metrics, Cole has a Corsi-for percentage of just under 50 percent, the same as fellow defenseman Justin Schultz. That's the third-best possession percentage of any active defensemen on the Penguins. Hunwick, on the other hand, clocks in at a less dominant 48.7 percent. And on the penalty kill— in which both players average over two minutes per night— Cole has a positive plus-2 relative Corsi, whereas Hunwick is deep in the negatives at minus-5.1, meaning on average, teams are dominating on their power play against Hunwick and being held back further against Cole.
Cole the Penalty Killer
Most significant to each of these two defenseman's game is their impact on the penalty kill. Both Hunwick and Cole are both used heavily to kill off penalties. For the Penguins, who spend an average of 10 minutes on the man disadvantage as one of the top-ten most penalized teams in the league, that's a crucially important job. And Cole is much more effective than Hunwick in limiting opportunities against when the Penguins are down a man.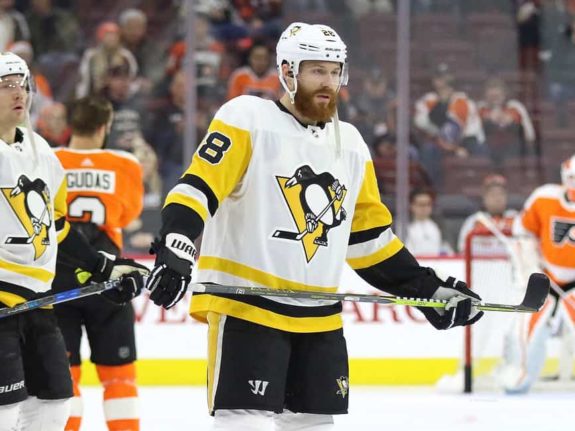 As we can see visually on shot charts from Hockeyviz, opposing teams aren't able to get shots off close to the next when Cole is on the ice during the penalty kill, getting their best opportunities from a distance, right where the Penguins would like to keep them. On the other hand, teams get a significant amount of chances right at the front of the net when Hunwick is in over Cole. Cole impacts the penalty kill positively; the same cannot be said for Hunwick.
Related: Ian Cole Trade Scenario for the Penguins and Oilers
Cole and the Trade Deadline
It makes sense given their respective contracts why the Penguins would want to be making Hunwick work over Cole. But no matter how it may feel to a fanbase that hasn't lost a playoff series in three years, this window of competitiveness won't last forever. The Penguins need to eke everything they can out of what is shaping up to be another playoff run, and that might mean keeping Cole past the trade deadline despite the risk of losing him as a UFA. Putting Hunwick in as a replacement would not effectively replace his production values, possession statistics or effectiveness on the penalty kill.