A long, hard winter.
The Olympics.
More than 500 man-games lost to injury.
Has it been six months already? The end of the NHL's 2013-2014 regular season has come. For 14 teams and their fans, it's time to hit the links (or whatever other summer activities they have planned). But for 16 teams and their fans, notably the Pittsburgh Penguins, this coming Wednesday Morning will have a feeling of Christmas Day. It's the Stanley Cup Playoffs. It's by far the best sport to watch at any time of year, and it's certainly the best playoff tournament going today.
I'm not gonna drag this out any longer. Let's get to your questions:
This season was a like a tale of two coaches: the pre-Olympics Dan Bylsma who did a masterful job of coaching amidst a ton of injuries. Especially when the top four defensemen were all out at the same time. And the post-Olympics Dan Bylsma who seemed completely disinterested in really doing much of anything, let alone coaching an NHL franchise. Who is the real Dan Bylsma? Which one will we see in the Playoffs? And how far must this team go in order for him to keep his job?
TJ – Pittsburgh, Pa.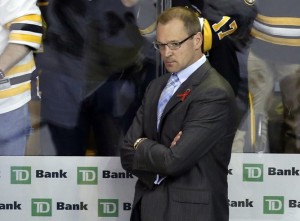 Well TJ, my best guess is the answer to your first question lies somewhere in the middle of what you described above.
I've maintained for the past several years that "Disco" Dan is a tremendous regular season coach. But in the playoffs, his arrogance in refusing to match lines and adjust his system to what the opponent is trying to do to shut down the Penguins is beyond baffling.
After the two-goals-in-four-games performance that Pittsburgh put on against the Boston Bruins in the East Final last season, I was shocked that Bylsma and his staff were all granted extensions. I had suggested that the extension did not come without a talking-to by GM Ray Shero. Through the regular season, Bylsma seemed to implement new strategies for his team to employ in the face of adversity. Before the Olympic break, as you said he looked like a runaway Jack Adams Trophy (coach of the year) winner.
But the losses in the medal round during the Sochi Games seemed to bring out the old, egotistical Bylsma, which carried over into the resumption of the NHL season.
As for the real Dan Bylsma, at this point in his coaching career his coaching decisions come off as arrogant and stubborn. Which one will we see in the playoffs? Hopefully the one that wants to go into the 2014-15 campaign defending the Cup once again. And it will take nothing short of a competitive series in the conference final that lasts at least six games for him to keep his job. Thanks for the questions.
Tannor, the Penguins finished with the third-most man-games lost to injury in NHL history this season. Is this a black mark on the team's medical staff, or just really bad luck?
Alissa – Henderson, Nv.
Alissa this is a great question, and thank you for reading out there in the desert. I don't believe that all of the injuries suffered this season can leave a black mark on the Penguins' medical staff. These things happen, especially over the course of six months.
Take for instance Kris Letang's situation: here is a guy who, by all accounts is in tremendous physical condition. Yet as we are all born with a hole in the lining of our heart, some don't ever close up. From what I read and people that I spoke to, this was one of the causes of the stroke Letang suffered. There is no way for the medical staff to prevent this ahead of time. Furthermore, prior to his return this past Wednesday night, Letang had been cleared by team doctors for full-contact practice and game action for a full three weeks. It was at his discretion when he felt comfortable to return.
It is an interesting question though, because just two years ago the Penguins completely cleaned house in terms of their medical staff. So read into that what you will. But my answer to your question is its just pure dumb luck.
Is it just me, or does it seem like Dan Bylsma just doesn't really care who is on the third and fourth lines? Maybe I'm crazy, but the guys playing on those lines don't really seem to fit the mold of what a third or fourth-liner should be. Your thoughts?
Kyle – Monaca, Pa.
I've actually often wondered this myself sometimes, in light of some the injuries the Pens have suffered through this season. At times I've wondered why guys like Jayson Megna and Brian Gibbons, both of whom possess excellent speed, weren't on a line with Brandon Sutter.
Trust me, its not that he doesn't care. He has said more than once this season that he wants to find a third line combination that can score. And he'll continue that search into the postseason.
Probably what strikes me as most surprising about some of his bottom-two line combinations is seeing Gibbons or Megna on a fourth line. That to me is inexplicable. Neither of those two players is a fourth line-type of forward. At least not by my thoughts of what a fourth line should be.
Based on a totally healthy lineup, and with this roster as it is presently constructed, my lines would look something like this:
Kunitz-Crosby-Bennett
Jokinen-Malkin-Neal
Goc-Sutter-Stempniak
Glass-Vitale-Adams
I like the idea of Goc on the third line as a winger because A) he's a versatile-enough player to handle moving from center to wing, and B) he's a higher percentage faceoff guy than Brandon Sutter. Plus he's a leftie, while Sutter is right-handed. In the playoffs, faceoffs become a HUGE part of any game, especially in the defensive zone, and you want a guy on the ice who draws at over 50%.
Not to get ahead of ourselves here, but I follow junior hockey fairly closely and am curious as to your take on who the Penguins might be looking at to draft in the first round?
Richard – Erie, Pa.
Rich, if you follow junior hockey closely then I'm sure you've had the pleasure of watching the number-one overall pick in the 2015 NHL Entry Draft up close in Connor McDavid up there in Erie.
First let me begin by directing to our draft page here at The Hockey Writers. Chris Ralph, Ryan Pike, Shawn Reznik, Anatoliy Metter, and Shane Sander are our resident draft experts so I'll default to those guys somewhat here. Be sure to also check out Shane's 2014 Mock Draft: April Edition.
But as I've looked over the NHL Central Scouting's most updated report of the top prospects, and based in part on where I think the Penguins will finish in terms of draft order, three names jump immediately off the page at me:
Josh Ho-Sang – RW – Windsor Spitfires (OHL) ranked 22 by CSS
Nikolay Goldobin – LW – Sarnia Sting (OHL) ranked 24 by CSS
Brendan Lemieux – LW – Barrie Colts (OHL) ranked 28 by CSS
This is all said with the idea in mind that the Penguins may not have a first round pick this year. If the rumors come to fruition, then Pittsburgh's first rounder will end up in the hands of the Vancouver Canucks, when Ryan Kesler is shipped to the 'Burgh.
How much of a window do you see the Penguins still having to win The Cup? Crosby will be 27 by the start of next season, Geno 28, and Fleury will almost be 31. With the mix of older players on this roster, I think the window is closing pretty quickly.
Alex – Trafford, Pa.
Well Alex I'm inclined to disagree with you. This roster will look much different come next season I suspect.
Brooks Orpik will most definitely be gone (I don't see him accepting a massive pay cut, plus a diminished role with the team). I know this seems like a long shot right now, but Paul Martin could potentially be a compliance buyout before July 1 (unlikely given how well he's played each of the past two seasons, but should we ever doubt Ray Shero's ability to make things work?). And this is going to open up opportunities for some of the younger D-men that we keep hearing so much about.
Add in the rumor of Shero going hard after Ryan Kesler at the draft and I think you've got at least another two seasons where the Penguins will be considered heavy Cup favorites.
That's it for this edition of the Mailbag. I'd like to run it more frequently during the playoffs, so if you've got a question that you want to see answered here on The Hockey Writers, email me at TDTorraoTHW@gmail.com.