The Pittsburgh Penguins are 2-1-1 through four games and already, despite how unpredictable hockey can be in early October, folks are calling for change.
Let's take a step back, please.
The Penguins and head coach Mike Sullivan have plenty of issues to address in this young season. Splitting up the ever so popular and very successful HBK line shouldn't be something on the agenda. Not yet, anyway. Were the Penguins expected to go undefeated in October with no signs of a Stanley Cup hangover? Shuffling is necessary but the last thing Pittsburgh needs is a knee jerk reaction and the dismantling of one of the most dangerous lines in hockey.
We often see teams begin to panic far too early, which leads to overthinking and more chaos. Sullivan knows how these individuals fit together, considering they're all returning from last season. However, they need to build some momentum and that can only happen by playing through their early season struggles. After last season's humiliating start, it's understandable that tension is high but these aren't Mike Johnston's Penguins.
Plus, they have reinforcements on the way.
Welcomed Additions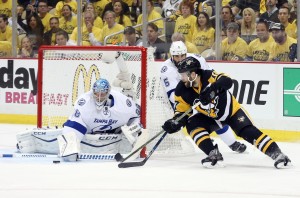 A healthy Bryan Rust is very important to this lineup. While hopes were high after a tremendous preseason, Scott Wilson isn't fitting the bill for top-six wing just yet. He could in the near future but for now, Rust needs to rejoin Malkin. The results from their short history together are impossible to ignore.
Malkin, Rust, and Chris Kunitz played nearly 126 minutes together at even strength throughout the 2015-16 postseason, according to Corsica.Hockey. They averaged 3.82 goals-for per 60 minutes of ice time, netting eight goals and only allowing three against. They boasted a whopping 68.42-percent score-adjusted Corsi-for percentage, which led all Penguins' trios in that time frame.
In other words, they owned the puck.
At his age, Kunitz's puck skills are diminishing but he's playing an aggressive game, forechecking hard and hounding loose pucks. The combination of Kunitz and Rust provides a tenacious forecheck and lets Malkin do what he does best. I trust that Sullivan knows what's best for his lineup and so I'll assume we'll see more of those three sharing the ice.
Of course, Sidney Crosby's eventual return can't be overlooked either. The Penguins are surviving without their captain but for how long?
The good news is, Crosby could return fairly soon. Sullivan, Jim Rutherford, and Crosby himself have remained adamant that his absence shouldn't be lengthy but with concussions, you never know. Pittsburgh is missing one-third of their extremely dangerous three-line attack and they're obviously worse off because of it. You can only double shift Malkin so often and increase Nick Bonino's minutes so much.
I'm not sure I have to elaborate much more on how much the team misses the best player in the world.
---
Complete Penguins Coverage From THW
---
Ignore the Numbers (For Now)
Two big factors play a role in the success of Sullivan's Penguins: Their ability to pin opponents in their own zone, which creates offensive zone pressure and scoring chances, and their quick transition game, which eliminates an opponents' opportunity to do the same to them. Because of their ability to escape their own zone so quickly and efficiently, they limit shot attempts against and when you look at the underlying numbers, beginning when Sullivan took over, Pittsburgh is one of the best shot suppression teams in the league.

(Top 15 Teams From January 1 – April 10, Sorted by Score-Adjusted Corsi-for Percentage. Courtesy of Corsica.Hockey)
Unfortunately, that isn't the case so far in 2016-17.
The good news is, it's too early to put any sort of stock in these numbers. The sample size is too small and, just as the Penguins proved last season, it can all click very quickly. It's important that Pittsburgh addresses a few shortcomings – most notably the uncharacteristic disciplinary issues they've displayed – but still remain confident in their approach.
High event hockey suits this team. It's how they won the Cup four months ago and will remain a reason for any future success. They're built for it, so don't sweat this season's possession numbers just yet.