The last time the Pittsburgh Penguins and Tampa Bay Lightning squared off in the postseason, it marked one of the many disappointing exits Pittsburgh has suffered in recent years. The teams split Games 1 and 2 in Pittsburgh, only for the Penguins to take a 3-1 series lead after sweeping Games 3 and 4 in Tampa.
Then, the Lightning erased that deficit and eliminated Pittsburgh in seven games.
The Penguins were without both Sidney Crosby and Evgeni Malkin. If they had played, there's a good chance the outcome would have been much different. This time around, they're healthy and so are the rest of the high-flying Penguins. They're coming off a 4-2 series win over the President's Trophy winning Capitals and seem to be hitting on all cylinders right now.
The Lightning, though overlooked by a lot of the hockey world right now, are also playing potentially the best hockey of their 2015-16 campaign. They're 8-2 in the postseason and boast the two leading scorers from a points per 60-minutes standpoint in Tyler Johnson (13 points, 10 games) and Nikita Kucherov (12 points, 10 games).
They also have the best goaltender through two series in Ben Bishop. Through Tampa's 10 games, he has a .938 save-percentage, slightly higher than Pittsburgh's Matt Murray (.935) and an impressive 1.89 goals-against average.
Both teams play with speed. Both are packed with talent and enjoy solid goaltending. This should make for an entertaining series but how do they matchup against each other?
2015-16 Season Series
The Penguins and Lightning faced off three times throughout the regular series with Tampa the victor in all three. If regular season play is any indication, we're in for a treat as they combined for 24 goals in those three games. Unfortunately for Pittsburgh, the Lightning offense outpaced them.
Interestingly, especially considering all the conversation around who should play goal for Pittsburgh, Marc-Andre Fleury was victimized the most by Tampa. He allowed nine goals in two of those games, which resulted in getting pulled once. He hasn't been particularly good against the Lightning as of late.
MAF vs. TB last two seasons… 4 games…pulled twice…GAA 4.87…SVP .829.
Just a match-up you don't like for whatever reason…

— Tab Douglas (@fantabulous937) May 12, 2016
Zatkoff started the other contest and allowed four goals. Matt Murray, Pittsburgh's current starter, has yet to face the Lightning.
At the other end, Bishop has been tremendous so far this postseason. Of course, you have to consider that the Lightning faced the Detroit Red Wings who were the only team to make the playoffs with a negative goal differential in the regular season and an Islanders team that struggled to create offense outside of some heroic play by their captain John Tavares.
Bishop played two of three contests versus Pittsburgh this season, allowing five total goals. He had a .928 save-percentage and 2.50 goals-against average. While those aren't stellar numbers, it was enough to get the job done. And, goaltending was a major storyline in Tampa's success. Or maybe it was Pittsburgh's lack of goaltending?
The Penguins out shot the Lightning 76-56 at even-strength throughout their season series. They also out chanced Tampa 70-58. When playing five-on-five hockey, the Penguins were the better team. Below is a chart that reflects Corsi events. Everyone above the red line finished with a positive shot-attempts differential.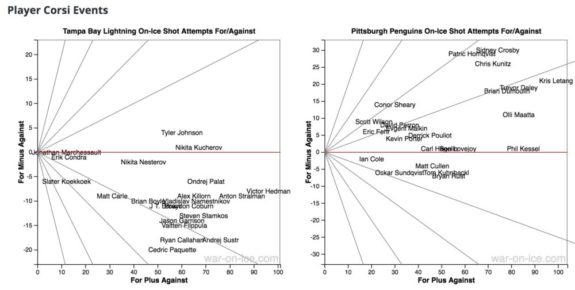 (Courtesy of WarOnIce.Com)
Outside of Johnson and Kucherov, Tampa had a tough time with Pittsburgh from a possession perspective. Meanwhile, Crosby and company had their way with the defensive pairing of Anton Stralman and Victor Hedman, accounting for over 70-percent of shot attempts in over 20-minutes of ice time. That's good news for Pittsburgh since it's likely the matchup Jon Cooper will be looking for in this series if Stralman returns.
The playoffs can be a different animal altogether but based on how these teams matchup, despite the Penguins dropping all three regular season games, Pittsburgh should be set up for success in this one. Goaltending and special teams was the difference throughout the regular season. Murray's performance and Pittsburgh's ability to stay out of the box will be major deciding factors.
Pittsburgh Penguins vs. Tampa Bay Lightning – Prediction
There's a very good chance this series plays out similar to Pittsburgh's recent battle with Washington. Both teams will be trading chances and if Steven Stamkos returns for Tampa, they'll be a tough team to keep off the score sheet.
My official prediction for this series is Pittsburgh in six games.
However, from a Penguins' perspective, this is eerily similar to the 2009 Conference Finals when the Penguins met the Carolina Hurricanes. They too were a team that was viewed as a good matchup and like Tampa Bay, had a fairly easy road to this point in the postseason. The Penguins rode their momentum from a hard-fought series against Washington that year and swept the Canes.
Can they do the same thing again?
I'm sticking with six but if Pittsburgh were to completely dominate this series and win in four or five I wouldn't be shocked.
One last prediction, expect Malkin to break through his scoring slump in this one. He isn't satisfied with a two-point performance last series and while I also expect a more productive Crosby, I expect Malkin to take things to a new level beginning tonight.
Pittsburgh Penguins writer for TheHockeyWriters.Com and PittsburghHockeyNow.Com. Youth hockey coach, and student of the game.