Fire Dan Bylsma.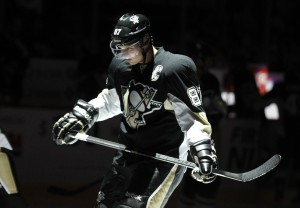 Trade Evgeni Malkin and Kris Letang.
Undo the Jordan Staal/Brandon Sutter trade.
And for the love Pete (Taglianetti) can someone PLEASE find me Ty Conklin?
Chill out, Penguins' fans. The sky is NOT falling. You do not need to jump off the Ft. Pitt Bridge (or any of the city's other 100-plus bridges).
This is simply a hiccup, a bump in the road that is the NHL's 82-game season.
Need I remind you all that this team made the playoffs in the 2010-2011 campaign after losing their two best players (Crosby and Malkin) to injuries half-way through that year? Or crank the old time machine up and go back even farther to January/February of 2009 when they were on a nasty skid that saw Michel Therrien lose his job? Yeah, all they did that season was win the Stanley Cup for the third time in franchise history.
It's certainly not ideal for a team to have won (prior to Monday night's game with the Anaheim Ducks) five of their previous twelve games. Not to mention that in four of the previous five games (again, prior to Monday night) they had scored just one goal. But the fact remains that this team is simply too talented to not come out of this current bad spell.
A Few Questions for You, if I May:
1) Did any of you really think Sid was going to continue on the two-point/game average all season long? No one in the NHL has even sniffed 160 points in the last decade. He was bound to come back to Earth (or at least it's stratosphere) at some point, and that point is now.
2) Do you truly believe that the Metropolitan Division is really as bad as most of it's teams started this season? Mark my words, the Penguins, Capitals, Islanders and Rangers will all make the playoffs come April of 2014. The Pens, for that matter, should be one of the top two seeds in the East (in other words, they'll win the Metro Division).
3) Can any of you imagine Evgeni Malkin NOT scoring 20 goals this season? Sure I know that it seems like a tough mountain to climb right now, but we all know that Malkin possesses supreme ability, and is capable of taking over games when he puts his mind to it. He's simply gripping the stick too tightly right now. He'll come around, and I bet you that Beau Bennett will have something to do with it.
Reason to Panic?
The Penguins are not scoring at the same clip they were in last season's abbreviated campaign. In fact, they're scoring is down nearly half a goal per game.
Is this a legitimate reason to lose your mind? No.
In my humble, yet astute opinion, the West is a far better conference than the East. Sure the Western Conference boasts the lowly likes of the Edmonton Oilers, Calgary Flames, and Winnipeg Jets. But the East features two of the worst teams in the NHL in the Buffalo Sabres and Philadelphia Flyers. Top to bottom, the West is much stronger with the likes of the St. Louis Blues, Minnesota Wild, L.A. Kings, Phoenix Coyotes, and a much-improved Colorado Avalanche team running in the middle of the pack. All of the aforementioned Western Conference teams have more points than all but one Eastern Conference team, the Tampa Bay Lightning (the two teams are currently tied with 28 points, and Colorado holds a game in hand).
My point: the Pens have faced better competition by playing the West again. Which is something that didn't happen last season due to the lockout-shortened schedule. In short, last year they beat up and bullied the weaklings of the NHL. This season, not so much.
Keep Calm and…
Sure, scoring less goals than a season ago is not something to be proud of. But I'll tell you what is: in addition to scoring less themselves, the Penguins are giving up LESS goals than a season ago as well.
Take into consideration my argument for facing better competition with the Western Conference teams, and that's a pretty remarkable feat. Actually, a feat that I'd rather have than scoring more goals.
Add to all of this the Penguins scorching 7-1-0 start and you'll see that it was simply a matter of time and the law of averages that they come back to the pack.
One last reason to step of away from the edge of the bridge of your choice: injuries. No James Neal for the first 15 1/2 games of the season (he left roughly half-way through the season opener against the Devils and didn't return). And likely the most significant injury: no Rob Scuderi for the past 10 games, and he is out for the foreseeable future with a broken ankle that required surgery.
Penguin-March on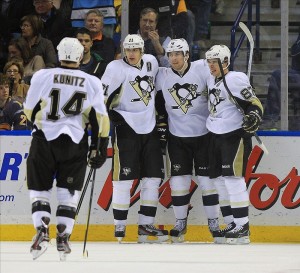 This team is simply too talented to be as bad as what Pens Nation seems to think they are at the present time. Are there flaws? Of course there are. No team is without them.
The fact is, the Penguins lost a lot of what the mainstream hockey media refers to as "glue guys." Guys like Brendan Morrow and Jarome Iginla (despite their short stays here in the 'Burgh), Matt Cooke and Tyler Kennedy.
Couple those absences with the injuries to the above-mentioned guys, and you have a recipe for what you're getting right now: above-average hockey that – because of recent successes and overall talent – has become unacceptable in not only the fans' minds, but the franchise's as well.
Folks, if Sidney Crosby, Evgeni Malkin, Chris Kunitz, James Neal, Kris letang, et al, forget how to play hockey, then go ahead, panic.
But Evgeni Malkin will find that scoring touch and erupt.
Rob "The Piece" Scuderi will come back and significantly help defensively.
And Crosby will continue to do what he is doing now: lead the league in scoring.
The Pittsburgh Penguins are coming due for an eight or nine-goal game in the near future.
Then all will be right in the world.
Your thoughts are always welcome, and the Pens-THW Mailbag is ALWAYS open!! Submit your mailbag questions to:
TDTorraoTHW@gmail.com
And of course, please follow me on Twitter:
Pittsburgh, Pa. Class of 2000 graduate from Robert Morris University with a B.A. in Mass Communications. Full-time objective sports fan.