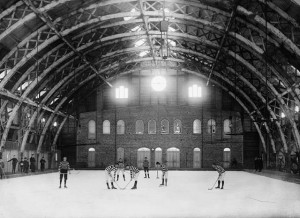 What does it say about Canada that the Prime Minister has written an extensively researched book about the beginnings of hockey?
Perhaps it reveals that the sport is our great levelling-out mechanism.  A love for hockey erases notions of class and creed.  Stephen Harper, a member of the distinguished Society For International Hockey Research and author of "A Great Game: The Forgotten Leafs & the Rise of Professional Hockey
", could sit in a bar (albeit, a well-secured and rehearsed public appearance) and talk hockey with the locals and have common ground.  As the New York Times put it: "It is part of a larger annual outpouring of Canadian scholarship and art that flows every fall, analyzing, celebrating, imagining, complaining about and telling the story of hockey".  At least, that might be the perception as Harper rides this populist vehicle into Canadian academic hockey writing.
Though how populist can a book about the triumph of professionalism over amateurism in hockey be to a Canadian audience who has observed the PM lustily serve the interests of the business world over universal concerns like the environment?
Entrepreneurial Ethos
Other reviews of this book suggest that this historical venture into the annals of hockey in Upper and Lower Canada lacks analysis and commentary.  That the PM would keep his opinions on hockey to himself would surprise no one.  But I would argue that amongst the relentless trotting out of names and dates and whom-begat-whom, there is obvious pleasure taken on the author's part in praising professional and entrepreneurial ethos over that of the amateur.
The setting is turn-of-the-20th century Canada and the conflict between Puritans, like John Ross Robertson (newspaper publisher, philanthropist, president of the Ontario Hockey Association) who championed amateur sports, and entrepreneurs and "freelance" hockeyists like Alex Miln and Bruce Ridpath who ran the early professional Toronto hockey clubs.  According to Harper, professional hockey players were viewed as socially disreputable much in the same way that we now view athletes who partake in performance-enhancing drugs.  Getting paid for "play" was nonsense to supporters of amateurism whose only other experience with pro sports, at the time in Toronto, was bare-knuckle boxing and cock-fighting.
In the text, one learns that pro hockey players were once perpetual free agents, sometimes playing for more than one team within the same season.  Though amateurs and professionals alike were driven, even then, by a common goal: the Stanley Cup.  But soon, amateurs would only compete for the John Ross Robertson Cup or the more-renowned Allan Cup which is still awarded today to amateur hockey champions in Canada.  Allan Cup winners used to represent Canada at the Olympics and, in fact, were one of the first victms of the ascendancy of Russian hockey before the 1972 Summit Series.
History Nerds Rejoice
A Great Game is certainly full of enlightening, if not minute, details about the infancy of hockey.  We learn about Robertson and the OHA recognizing the subtleties of the game and evolving its rules accordingly.  Under him, the game adapted delayed penalties, goal nets, team captains, and dropping the puck for a faceoff.  Harper provides some detail on the rise of the Patrick family and their remarkable influence on the sport, with such innovations as reducing the number of players on the ice from seven to six aside and introducing larger rosters and on-the-fly line changes.  Today, Craig Patrick, a descendant of that line, was just recently relieved of his job as an assistant coach for the Florida Panthers.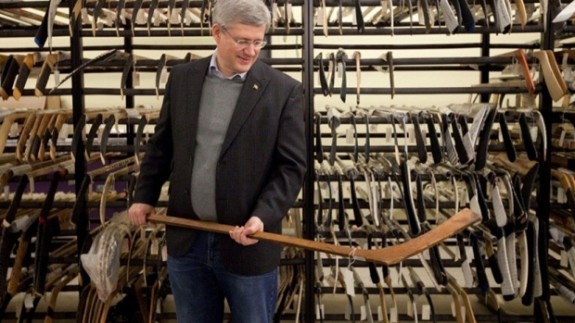 There are moments that will make the reader smile, like the title for example.  A Great Game should not be confused with The Game or Home Game, both by Ken Dryden.  Nor should one confuse it with Home Team by Roy MacGregor or The Game of Our Lives by Peter Gzowski.  Who said Canada was a series of small towns?
As well, the nicknames for hockey players back then were ceaselessly funny, for the most part.  For all the unimaginative nicknames of today like "Ovi" for Alex Ovechkin, or "Kaner" for Patrick Kane, there was still evidence of this a hundred years ago.  The famous Bruce Ridpath was simply "Riddy".  But gone are the days of "Newsy" Lalonde (at one time employed by a newspaper) who would score the first goal in Montreal Canadiens history – or the aptly named "Uncle" Gross.  The conception of this book alone would make for obvious yet hilarious cracks.  From sportswriter Scott Feschuck: "Governing Canada: now almost a full-time job".
Not-So-Hidden Agenda
But for all the populism, light-hearted historical lessons, and genuine hockey-nerdery, Harper does in fact wish to tell the reader of the superiority and inevitability of professionalism over amateurism.  He particularly aims to criticize Robertson as hypocritical and dogmatic in his dealings with the professional ranks.  He calls it the Athletic War, one that is fought and lost by amateur hockey: "Gradually (post – 1970), even the Olympic movement – by then an unholy alliance of European elitists and Soviet Communists, who were really marketing nationalism more than amateurism – came to terms with the inevitabilities of paid sport".
He goes further by contextualizing the Athletic War as "the victory of Ontario's leading city over Quebec's…Montreal went from being the leaders of Canada's largest centre to an isolated elite within a largely French-Speaking hinterland".
Surely the amateur ranks had its share of hypocrisy and corruption and it is important for hockey fans to learn of this dichotomy in sport.  Still, it would be useful for Harper to at least humour the reader with more views on why a concept like amateur sport might appeal to Canadians.  Could it be honourable and what values might it profess?  Given the current environment of labour negotiations, work stoppages, and elevated player salaries, it is odd to hear a writer extole the virtues of those who would make business out of sport.
The game has become too expensive for the average Canadian family – most notably detailed in Ken Campbell's and Jim Parcels' book, Selling The Dream – and to put it simply and briefly, prices are high because, historically, the demand is there.  But recent developments from Hockey Canada have perhaps suggested that enrollment in minor hockey is down in recent years due to rising costs.  The Subban family, of which brothers P.K., Jordan, and Malcolm are all NHL draftees, has developed a grant program to help children who can't afford to play the nation's most beloved sport.  More and more, children who can afford to play the game to its fullest, come from wealthy, professional backgrounds.  "It's a great game", says P.K. Subban in one of the ads for his program, "but it's an expensive game".
Stephen Harper has written an informative book on early hockey in Canada – with a particular focus on Toronto – and natives of the city and fans alike will take pleasure in the small details here.  Readers will likely be fascinated to hear that there is a forgotten Stanley Cup victory in the city's history, awarded exactly one hundred years ago to the Toronto Blue Shirts in 1913/14, before the establishment of the National Hockey League (1917~).  Yet the author cannot help but make his primary point clear, again and again.
From the Acknowledgements section, he gives thanks to another home-grown author: "Roy MacGregor, who once again demonstrated the superiority of the consummate professional to that of the aspiring amateur".
What does it say about Canada that even the PM will find time to write about hockey?  It says that the game is a touchstone to our national identity.
A Great Game is another chapter in our "annual outpouring" and it's got Harper's fingerprints all over it.