I'm ready to opine about David Desharnais. I realize I'm late to the show. Most have already substantially covered his lack of performance, in print and in all media. Including Montreal's newly elected mayor.
I promised myself I would wait until the quarter mark of the season to provide comment. We've arrived.
Many have provided scathing reviews of the money he's paid, and the quality of his game. Some in the fan-base are ready to run him out of town. A Francophone hockey player to boot.
The fact is, Desharnais hasn't scored a regular season goal that shows up in his stats sheet since April 25th, 2013 against the Winnipeg Jets. Aside from his shootout winner last week, that's a goalless span of 20 games. 25 games if you include his going scoreless in 5 playoff games against the Senators.
Desharnais Game Winning Shootout Goal Versus Columbus Nov. 15th, 2013
Is he going to find the back of the net again this season? Yes, of course he will. The regular season is 82 games long. Is he going to turn it on, shoot the lights out, and end the season with 40 goals? No, he won't.
My article is different. I'm going to accentuate some of the positives. But first, a look at why the current Desharnais backlash is severe.
Comparisons Being Made to "That Guy"
Canadiens fans are all too familiar with non-scoring, well-remunerated hockey players. All the more reason the 'Desharnais fiasco' is front and center in hockey-mad Montreal. A familiar story seems to be repeating itself. But it's not.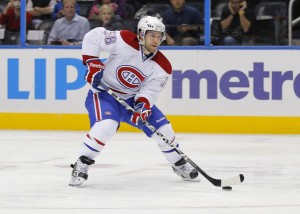 Yes, on paper Desharnais and his 20-game scoreless drought looks very similar to a player now in Florida. Scott Gomez, who the Habs paid $6.6M to score 2 goals for San Jose in 39 games last season, continues to fail to find the back of the net with 1 goal in 15 games for the Panthers.
The similarities end after the performance issues though. Desharnais is 27 years old, determined, and able. There are many other players league-wide who have been criticized for their struggles coming out of the starting gates. I honestly believe he can perform at the NHL level.
Marc Bergevin did as well, giving him a 4-year contract extension. It's signed and filed away. That contract is for a fraction of the money ($3.5M per year) that was being doled out to Gomez as a Hab.
Good Things Have Come Out of the Desharnais Slump
How about we take a different look at the situation. What good has come out of the Desharnais slump?
Desharnais' poor performance has allowed the Kid line to flourish and gain considerable experience. Eller, Galchenyuk, and Gallagher have carried the offensive production of this team through the quarter mark.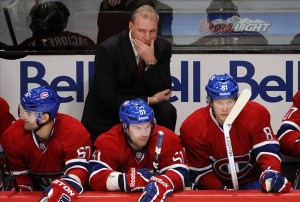 They likely would not have had the chance if Desharnais had 25 points in the bank through 21 games. Strangely, today's line combinations and successes owe credit to his lack of performance in October.
He's also taken the spotlight off of Pacioretty's and Bourque's scoring woes. Little mentioned in the blogosphere is that Max Pacioretty and Rene Bourque are both paid more than Desharnais.
Pacioretty's 4 points in 12 games and Bourque's 6 points in 21 games, while earning $4M each per year, have received a fraction of the scrutiny that Desharnais has faced. Pacioretty himself struggled through an 11-game goalless drought to open last season.
Best case scenario for all 3 players and the team is for everyone to get their game back on track. But how?
Why the Slump?
If anyone knew then Michel Therrien and David Desharnais would love to talk with them.
What now for David Desharnais?
The next 10 games will be critical for Desharnais. Therrien is currently playing him a generous 17 minutes per game (including PP time) since his return from press-box exile.
That's a calculated move to give a struggling player a chance to put up some better numbers, and get the critics off of his back.
That offer has a limited lifespan though. Therrien will be hard-pressed to keep playing him 15+ minutes a night while he still fails to put up points and help his team.
Unless Desharnais can put up more than a handful of points in the next 10 game stretch, then he'll likely see his ice time drastically clawed back. Perhaps never to return.
I believe he can do it. He at least deserves the chance to make it to mid-season before the calls to run him out of town become deafening.
Check out our partners at TiqIQ for the best deals on Montreal Canadiens tickets for all 2013-14 games.
Lead Writer for the Montreal Canadiens at TheHockeyWriters.com. Also, tracking man games lost data for pro sports at ManGamesLost.com. PhD in cell biology from McGill University. Lifelong Habs fan.