The Ottawa Senators and Pittsburgh Penguins will meet in the playoffs once again, for the fourth time in the last seven years ('07, '08, '10, '13). Ottawa, by way of dispatching a clearly over-matched Montreal Canadiens squad in five, and Pittsburgh by surviving the young New York Islanders in six games.
Their season series ended with Pittsburgh winning all three games played, the first of which went into a shootout. The Penguins outscored the Senators 8-4 in regulation play (9-4 including the once goal credited to the team for winning a shootout).
And there are plenty of storylines surrounding this series. Namely the Matt Cooke/Erik Karlsson/Eugene Melnyk saga. But that issue, for the most part, should not be played out on the ice. So with that in mind, lets take a look at the five burning topics that will affect the outcome of this Eastern Conference Semifinal matchup.
Goaltending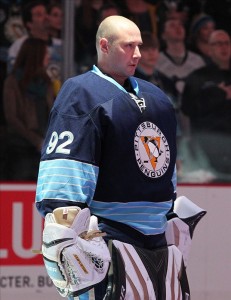 Sure this is an easy topic to go with. The goalies in hockey are like quarterbacks in football. They'll take much of the credit when a team wins in the playoffs, and most of the blame when they lose. You needn't look any further than Marc-Andre Fleury and the Pens' ever-fluid goaltending situation now.
Tomas Vokoun was inserted into the Pens' lineup in Game Five against the Islanders, then went on to win the series-clinching Game Six. There has been much debate over who Dan Bylsma should start in net to begin this series, and the answer, announced today, will be Vokoun. Most agree that at some point, the Penguins will need the Marc-Andre Fleury of 2009, but for now, Bylsma will ride the hot hand.
Ottawa, on the other hand, has Craig Anderson. Had he not missed so much time due to injury this season, the Senators could have won the Northeast Division, and Anderson would be a shoe-in for the Vezina, if not the Hart Trophy.
Physicality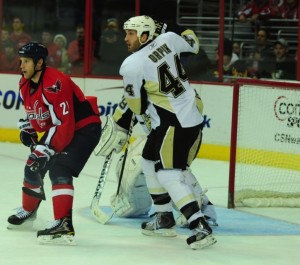 These are two teams with big bodies throughout their lineup that like to hit. Brooks Orpik, Douglas Murray, Brenden Morrow for the Penguins. While Ottawa has guys like Chris Neil, Jared Cowen, and Eric Gryba. The key here will be which guys can walk that fine line of a good, clean hit vs. taking a silly penalty. Not to mention making that hit while still in position to play sound defense in his own end.
This series will without a doubt leave each of these teams feeling the effects even after it ends. The winner will be banged up for sure.
Special Teams
Another easy topic to pick, but it stands out. Pittsburgh's power play clicked at a 33% rate during the Islanders' series. That number will most certainly be lower, thanks in large part to Anderson for Ottawa, plus their stout penalty-kill.
Ottawa's power play, meanwhile, welcomed back Erik Karlsson in the last week of the season. The Senators boast two very skilled puck-moving defensemen on their points, and the Pens know how key Sergei Gonchar is to a successful power play. Pittsburgh's PK will have to be just as good, if not better, than it was against New York in the first round if they want to advance in this series.
The Injury Bug
For the most part, outside of typical bumps and bruises, the Penguins enter this series seemingly healthy. James Neal and Brooks Orpik returned to the Pens lineup in Game Four against the Islanders after missing the beginning of the series with lower body injuries.
Ottawa, on the other hand, seems poised to welcome back star center Jason Spezza to their lineup sooner rather than later. Spezza had back surgery nearly two and a half months ago, but returned to practice over the weekend, a promising sign for a Senators team that struggles to score.
While there has been no timetable set for his return, it seems likely that he'll make an appearance on Sunday in Game Three in Ottawa.
The Penguins' Depth
In relation to the injury topic, Pittsburgh's depth came into play during the first round. Needing a spark, Dan Bylsma inserted energetic winger Tyler Kennedy, and speedy center Joe Vitale into his lineup for Game Five against the Isles. The move immediately paid dividends, as Kennedy registered a goal in Game Five, and had the primary assist on Orpik's series-winning goal in overtime of Game Six.
Vitale, meanwhile, provided a spark with his tenacity, and was able to win 70% of the faceoffs he took in the final two games of the series.
By no means does Ottawa boast such depth. Should anyone else get injured or not be able to go for Ottawa, especially up front, they could be in real trouble.
Bonus:
CSI: Ottawa
Okay, so maybe this should be the "En Fuego Six." Enjoy a bonus hot topic:
Yes, this ongoing (thanks media) soap opera of Matt Cooke vs. Erik Karlsson and Eugene Melnyk, the Sens' enigmatic, Barbados-based owner, will continue. And most likely pick up steam. In their final regular season game, nearly two months after Cooke's skate blade supposedly severed through 70% of Karlsson's Achilles' tendon (I say supposedly 70% because Karlsson recovered awfully quick from an injury that typically takes anywhere from 6 months to a year from which to recover), the Senators couldn't stop shooting themselves in the foot seeking retribution. More than any other headline in this series, if Ottawa can't put the past behind them, the only headline that will matter is the one on the front page of the Ottawa Sun after a speedy Sens' exit.
And as for Melnyk, I'll simply say that by the end of this series, Pens' fans will feel very blessed to have Mario Lemieux and Ron Burkle as their team's owners.
There is going to be a lot to pay attention to over the next two weeks. These teams, though not in the same division, do not like each other. They say that rivalries are born in the playoffs, and you won't have to look very far to find that truth when it come to these two hockey teams.
I quoted him before, and I'll quote him again. The Ol' Two-Niner sums it up best: "Buckle up Baby!"
Keep up with me on Twitter for all of the latest from me, as well as all of The Hockey Writers' staff. Please do so here: Follow @TDT_Pens4Life
Pittsburgh, Pa. Class of 2000 graduate from Robert Morris University with a B.A. in Mass Communications. Full-time objective sports fan.