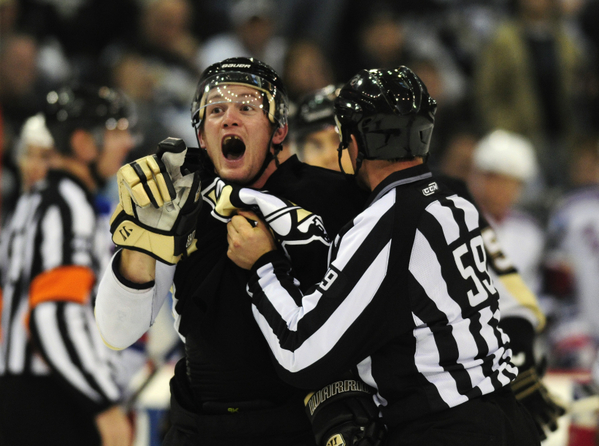 With Benoit Pouliot making his way from 1909 Avenue des Canadiens-de-Montreal to 100 Legends Way, and earning at least a modicum of disdain and negative sentiment from the B's faithful – I got thinking about the players who B's fans would absolutely and unequivocally reject in the spoked-B sweater.
What makes a player so disdained by a fanbase (or a franchise) that any possibility of reconciliation with let alone movement to that team is negated? Would B's fans accept contrition from their once-hated nemeses and rivals – or would they be forever blacklisted? Would dirty/cheap and unsportsmanlike play incur their undying wrath? PED use? Legal Troubles?
Benoit Pouliot has not had an extraordinarily impressive career to say the least. His number one achievement to this point is going number four – in the 2005 NHL draft to Minnesota. In parts of five seasons, he has yet to score more than 30 points or 17 goals. His "effort" has long been wanting, as consistent grumblings about his work ethic and desire have dogged the enigmatic Pouliot for much of his career.
In 2011, in a first-round playoff series which would see him dress for only 3 games, Pouliot earned the ire of many Bruin fans for his high, reckless and dangerous charge/elbow on Bruin defender Johnny Boychuk.
Not exactly Cooke-on-Savard, but given the animosity between the Bruins and Canadiens, this sort of cheap shot could make him less than a popular character in his move to the spoked-B.
After glancing at some of the most egregious cheap hits and general "enemies-of-the-state" per se, I conducted a wholly unscientific poll in a thread on the Bruins' HF Board page to determine Bruins Nation's feelings on the issue. One player drew a vast majority of the contempt of B's fans – Matt Cooke.
Cooke, as I'm sure you'll all remember, is responsible for delivering the blindside headshot to B's All-Star playmaking center Marc Savard, causing a major concussion, the after-effects of which have significantly impacted Savard's hockey capabilities and are directly or indirectly responsible for Savvy missing over 100 games in the past two seasons. Additionally, Cooke's hit may have been the last straw causing the League to begin a much stricter headshot policy.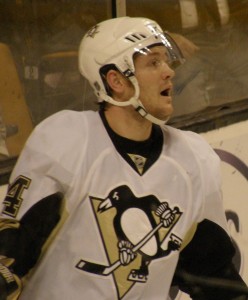 Over 80% of the well-over hundred-plus respondents affirmed Cooke's persona non grata status, besting the second-"best", Maxim Lapierre, by over thirty percent. What did the Bruins Forum have to say about Cooke? Here are some of the most print-friendly (and least nasty) comments from posters:
"I would turn in my [season tickets] if he was ever on the B's." – Ladyfan
"[Cooke is] this generation's version of Ulf Samuelsson" – Lam7825
"I can't stand Cooke in any uniform, let alone the thought of him in Boston's." – Artemis
"My outright hatred of Matt Cooke knows no bounds." – SeattleBruin
Cooke has apparently earned near unanimous loathing among Bruins fans. But surprisingly, Phil Kessel managed to escape relatively unscathed. Boston fans are still none too happy about his (perhaps forced) exit from the Hub, but when it comes to being a persona non grata, fewer than fifteen percent of respondents felt he had burned all his bridges with the city and organization. Phil the Thrill is apparently redeemable in the eyes of a significant portion of Bruin fans, said one poster: "I hated the way Kessel left but if he was in shape and bought into the system, I'd take him back in a heartbeat."
Mike Ribeiro, responsible for one of the most famous (or infamous) acts of criminal embellishment received an unexpectedly low 31%, as did former Milan Lucic punching-bag, Mike Komisarek. Randy Jones, the player responsible for Patrice Bergeron's life-threatening concussion received a scant 16%. Agitators Steve Ott and Patrick Kaleta, both of whom have earned the disdain of the Bruins' and fans from around the league were also surprises at 25 and 16 percent, respectively.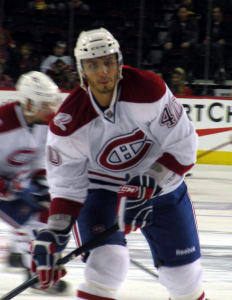 The only other individual that a majority of Bruins' fans rejected was Vancouver Canucks' Max Lapierre. Lapierre had done enough to warrant a spot on the poll before taking his talents to the West Coast. However, his play in the Finals turned the hate dial all the way up to eleven. His smug yapping, rampant diving, and shameless embellishing in the Cup Final that really sat poorly with the B's faithful, and earned him just a shade above 50% at the time of publishing.
Bruins fans apparently can and will hold a grudge. It will be a hot day in Yakutsk before Matt Cooke or Max Lapierre see a warm welcome in Beantown.
To my readers, I ask: Who would you wholeheartedly reject as a member of your team? What reasons are valid to "blacklist" an individual from your team of choice?
Bob is a Boston Bruins Correspondent for The Hockey Writers. He lives in the Boston Metro Area with his wife, Amanda and their five-year-old son, Cormac.