Jim Neveau, Senior NHL Correspondent
With the dearth of NHL activities during the dog days of summer, some writers are turning to the tried and true method of generating lists to help pass the time. Whether it's grading the quality of the work done by NHL general managers this off-season or discussing the finer points of arena cuisine, these lists are usually entertaining and are quite good for distracting fans from the fact that we are still looking at nearly 10 weeks before the first games of the season take place.
One list that generated some serious discussion was the list of the top-25 centers in the league created by Yahoo NHL editor Sam McCaig put together on Monday. The center position is one of impressive depth in today's league, so the task of whittling that talent pool down to 25 names was surely difficult, and was bound to result in some snubs. In addition, the ranking itself provides some great fodder for debate, as several players are above or below where hockey fans would have placed them.
Overall, the list is very solid from top to bottom, but there are five changes that could be made to the list (which can be found here) that would make it more accurate to the current NHL climate. Of course there will be people who will disagree with the changes made here, but that again is the beauty of a ranking: it is always open for debate.
Change One: Eliminate Dave Bolland (number 24) and Tomas Plekanec (number 23), and add in Joe Pavelski and David Krejci
The first change that should be made to the list is actually two changes. Bolland is by all accounts a very solid third-line center when he is healthy, but that is the rub: he isn't healthy often enough. He missed a chunk of last season with a concussion, and he also suffered a back injury that robbed him of part of the team's championship run in the 2009-10 season. In addition to that, he isn't a reliable scoring threat, so his role is mostly that of a pest and defensive guy, which shouldn't warrant inclusion with these players.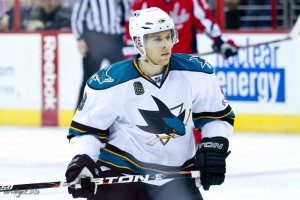 As for Plekanec, he may have been the highest scorer on the Canadiens last season, but his inconsistency in his career should be held against him. He had 57 points in 2010-11 after a campaign that saw him rack up 70. In the 2008-09 season he only had 39, and in the season before that he had 69. That kind of fluctuation in scoring doesn't lend itself to being a solid argument for a guy to be considered a top center in the league, and although he is very good at staying healthy, he still shouldn't be ahead of two guys who were put on the honorable mention list.
Joe Pavelski doesn't get a lot of publicity for his exploits in San Jose, especially considering that Joe Thornton (number nine on the list) and Logan Couture are considered more dynamic players, but he should definitely be on the list. He's proven to be a solid power play guy, with 11 tallies on the man-advantage last season, and he is widely regarded as a very responsible defensive center as well. If he can keep up the offensive punch he showed last season while averaging nearly a point per game, he will definitely catapult onto more people's radars this season.
Krejci was instrumental in helping the Boston Bruins win their first Stanley Cup in nearly 40 years, and had a very respectable regular season as well. He scored 13 goals and dished out 49 assists in 75 games for Boston, and in the playoffs he had 23 points (12 G, 11 A) in 25 games. At 25 years old, he could potentially keep this kind of pace up for many years to come, and Boston will definitely be hoping he can so that he can form a potent 1-2 punch at the center spot with Tyler Seguin.
Change Two: Anze Kopitar Should be Higher

At number 19 on the list, Kopitar has potentially the biggest beef with his spot. He has been an elite-level point producer the last two seasons, racking up 154 points (59 G, 95 A) in those campaigns. He has also generated some Selke buzz with his responsible defensive play, averaging over two minutes per game in ice time during penalty kills, and he also led the Kings in plus/minus last season, finishing with a +25. He also had 62 takeaways and 95 hits, both respectable numbers for a guy playing top-line center minutes.
With that type of resume, there's no reason to think that guys like Mikko Koivu and Jeff Carter should be ahead of him on this list, and he may very well find himself angling for a spot in the top-10 if he can have a good 2011-12 campaign.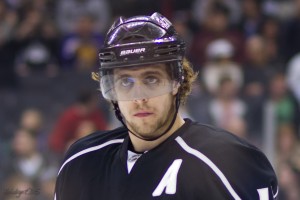 Change Three: Jonathan Toews Should be Lower
Toews may be best known for his serious persona on the ice, but he definitely has some serious game. He had 76 points (32 G, 44 A) in 80 games for the Blackhawks last season, and he is a top-tier guy when it comes to the face-off dot, winning 56.7% of his draws last year to finish as the 8th best center in the league in that category. Factor in that he finished second in the league in takeaways, and you have a guy who is certainly worthy of the attention he has gotten in recent years.
The only thing truly working against Toews' high position (3rd) on this list are the centers that are behind him. You have 2010 Hart winner Henrik Sedin in the fourth spot, and Steven Stamkos, arguably one of the most dynamic players in the league, at fifth. Even Ryan Getzlaf, who is criminally underrated for the great mix of physical play and scoring touch that he possesses, is only ranked seventh, and all three of those players have legitimate arguments to be ranked ahead of Toews. He may have a Stanley Cup and an Olympic gold medal to his name, but truthfully he should either be barely in the top five, or potentially just outside of it. Putting him third seems like it's too high.
Change Four: Vincent LeCavalier Should be Lower
Ranked #11, few players have generated the type of controversy with their position on the McCaig list that Vinny has. Coming off a season in which he missed 17 games and only had 54 points and a -5, LeCavalier unquestionably has something to prove, but the real question is whether or not he will be able to recapture the magic that he has shown throughout his career.
In terms of players who should conceivably be ahead of LeCavalier on the list, there are several viable candidates. Brad Richards is coming off of a good season in Dallas and should have another quality year with Marian Gaborik on his line, Henrik Zetterberg plays for a team that will consistently enable him to perform at a high level, and Nicklas Backstrom was dragged down somewhat last year by a linemate in Alex Ovechkin who had an off-year in terms of putting the puck in the net. There is no guarantee that any of the three will outproduce LeCavalier, but the odds are that at least one if not more of them will. It will be interesting to see whether or not Vinny still has the ability to play at an elite level.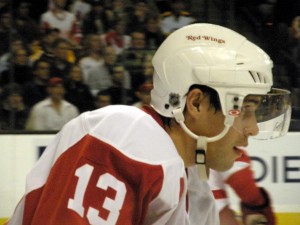 Change Five: Pavel Datsyuk, Not Sidney Crosby, Should be Number One 
After the start that Crosby got off to last season, a lot of folks in hockey circles came to the conclusion that he had finally established himself as the undisputed top player in the game, ahead of guys like Ovechkin and teammate Evgeni Malkin. When he suffered a concussion at the beginning of January and failed to return for the rest of the season, the question once again came back to the forefront.
In McCaig's list, he has Crosby listed in the number one slot, and while it can be argued that Crosby will be number one if he's healthy, the reality is that we have no idea as to whether or not he will be. McCaig's exact quote from the piece was that he felt compelled to put Crosby at number one because "the alternative (to Crosby making a full recovery) is too awful to acknowledge". While his sentiments are certainly shared by a good number of NHL fans, the fact of the matter is that until Crosby can prove that he is fully recovered, he shouldn't be considered the top center in the game.
Datsyuk's case for the top spot on this list is a good one. Not only is he consistently a point-a-game center, but he is also widely regarded as one of the top, if not the top, defensive forwards in the game. His three Selke awards may be more a product of his reputation than his actual play, but it goes without saying that it is a well-earned reputation. He also won nearly 55% of his face-offs in the 2010-11 season, so he is arguably the most complete player on this list.
Centers That Also Could Have Been Included: 
Logan Couture, San Jose Sharks: 
Couture had an outstanding rookie season for the Sharks, racking up 10 power play goals on his way to 32 overall on the season, and he also won 53.4% of his face-offs. He was a finalist for the Calder Trophy, and he has given fans in San Jose high hopes that they will be set for the future when Joe Thornton rides off into the sunset.
Mikhail Grabovski, Toronto Maple Leafs: 
Grabovski is also a solid power play guy, scoring 10 goals on the man-advantage. He scored 29 goals overall and also dished out 29 assists for the Leafs, and his plus/minus of +14 not only led the team but was one of only six marks in positive territory on the squad. He will be an unrestricted free agent at the end of this coming season, so he could be in line for a good payday if he can maintain this type of production.
Mike Riberio, Dallas Stars:
Riberio's exploits may have been overshadowed both by Brad Richards' stellar season and the in flux ownership situation in Dallas, but he is certainly worthy of inclusion on this list. He is one of the better passers in the game, dishing out 52 assists last season (including 16 on the power play), and he is also capable of scoring 20-25 goals a year. Now as the number one center in Dallas, he should get even more chances to succeed now that the spotlight is on him.
Jeff Skinner, Carolina Hurricanes: 
The 2011 Calder Trophy winner may only be 19 years old, but he already plays a very solid game. He scored 31 goals in his rookie season with the Hurricanes, and with a solid center in Eric Staal to look to for advice, Skinner's skill level should only go up from here.