"He's still a pretty dynamic player.  Looking at what we're trying to do – which is improve our power play – he's a guy that can potentially help us there. He's a right-hand shot that plays the off side and can play up high as well. He's got really good speed and is a very smart player. He can play with good players as well."
That's what Pittsburgh Penguins General Manager Ray Shero had to say about Steve Sullivan after signing the free agent forward on July 1.
Shero didn't call a press conference on Tuesday after signing Jason Williams to a one-year contract, but he probably didn't need to.  The quotes would have been almost the same.
 "When you sign guys on July 1, there's lots of risk. The risk with Steve Sullivan is that he's coming off a year where he played basically half a season (44 games). But he played at the end and he played well. We look at it as a fit for us. Right now he's healthy and ready to go and could play tomorrow if he had to."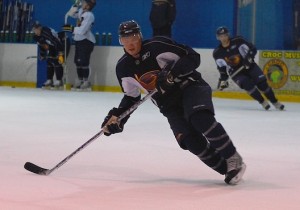 Ditto Jason Williams: Power play asset. Right-handed.  Hard shot.  Good skater.  Versatile.  Capable of playing with good players. Risky and injury-prone, yet ready to go.
Sullivan, 37, can't wait to put on a Penguins jersey and thinks next season could be the best of his career, but his age and injury history make him a high-risk, high-reward signing for Shero.
Williams, 30, will be given every opportunity to make Pittsburgh's NHL roster out of training camp, but with 12 forwards on one-way NHL contracts it won't be an easy lineup to crack.  Instead, he'll serve as a cheap insurance plan in the event that Sullivan fails to stay healthy.
Williams' two-way contract will pay him $600,000 at the NHL level and reportedly $105,000 in the American Hockey League.  With ten seasons and 225 points on his résumé, Williams will also be a veteran, top-line scoring threat for the Penguins' AHL affiliate in Wilkes-Barre/Scranton.
Fans of the AHL know that all teams are not created equal.  Some clubs like the Hershey Bears are willing to throw big money at AHL stars, while others merely serve as prospect incubators.  In our feature on the AHL Penguins back in April, CEO Jeff Barrett and GM Jason Botterill said that winning at the NHL level is the first priority with any signing in their organization.
"When we bring in a college free agent or an NHL veteran," Botterill said, "we're not selling them on the idea of winning a Calder Cup.  We're bringing them in to help us and give us depth for the National Hockey League and who knows what may happen."
Steve Sullivan expects to play on Pittsburgh's top three lines this season as well as on the left point or half-wall on the powerplay.  If he's injured and Williams is recalled, head coach Dan Bylsma knows he'll be getting an NHL veteran capable of playing in Sullivan's spot on the powerplay or even on the wing with Sidney Crosby.
Williams won a Stanley Cup with the Detroit Red Wings in 2002 and scored 58 points alongside Robert Lang and Steve Yzerman in 2005-06.  He also showed head coach Mike Babcock that he could add value with the man-advantage, averaging 3:56 in powerplay time that season.
In 2007-08, Williams' linemates with Chicago were Robert Lang and Patrick Sharp.  He also manned the point on the top powerplay unit with Sharp, Jonathan Toews, and Patrick Kane at forward.
Williams split time between Atlanta and Columbus in the 2008-09 season.  He played big minutes next to Erik Christensen and Ilya Kovalchuk with the Thrashers, and on a Blue Jackets line with Antoine Vermette and RJ Umberger.
But a return to Detroit in 2009 was short-lived for Williams after he broke his fibula in a November game:
http://www.youtube.com/watch?v=Yy6mipLizJo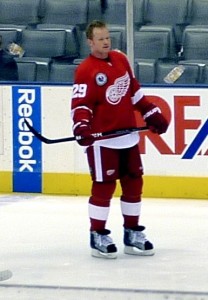 Williams missed 38 games with the injury and is still working to re-establish his game the NHL level.
He'll try to prove himself and get his career back on track with the Penguins organization this season, much like Mike Comrie attempted last year.  Comrie signed a league-minimum contract in September but re-injured his hip in only the second game of the season before being shut down for surgery in December.
The risky signing cost Shero very little money against the salary cap – unlike 2008-09 when the ineffective Miroslav Satan ($3.5m) and Petr Sykora ($2.5m) served as dead weight – but it also added nothing to the team once the gamble failed.
The Sullivan-Williams combo reveals a bit of a different approach Shero and his staff have taken this summer to building organizational depth.
If Sullivan manages to stay healthy and can score at a point-per-game pace like he did a few years ago, his $1.5m salary will look like a steal.  If Sullivan suffers an injury in the second game of the year and heads into retirement like Comrie, the Penguins can use the long-term injury exception on him and call-up a diet version in Jason Williams.
On defense, Pittsburgh convinced Alexandre Picard to sign a two-way deal and likely start the season in Wilkes-Barre despite the fact he hasn't played in the minor leagues since 2007-08.  Picard is smart defenseman who plays with poise, but fans looking for more insight on his skillset can go back to Shero's scouting report on Paul Martin after signing him last July 1:
Paul is a really smooth skating defenseman, great stick, good defensively, offensive production might be a little bit better than what he's had in the past. He's a real solid all-around player. An effortless skater.
Ditto Alexandre Picard.
______________________________________
Follow @MikeColligan on Twitter or contact via email at MJColligan@gmail.com
______________________________________