Michael Del Zotto
I'll start with Del Zotto because it is by far the most baffling situation of them all, he is the posterchild for the bad coaching decisions that have plagued the Flyers. Del Zotto proved to be one of the Flyers most effective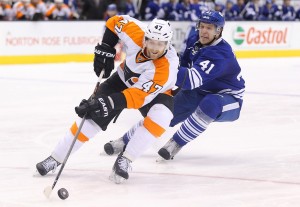 defenseman early on in the season, yet for some reason in mid Novemeber, Craig Berube decided to put him in the dog house and scratch him. No rhyme, no reason. Scratching him for one game may be somewhat understandable, because maybe the team needed a wake up call, but that proved not to be the case. Del Zotto has now been a healthy scratch for seven games this season, and has played in just two games in the month of December. Despite the lack of play, Del Zotto is still second among Flyer defenseman in points and time on ice per game. Aside from that, the play of Luke Schenn, Andrew MacDonald, and Nicklas Grossmann has been noticeably subpar. Aside from a few offensive rushes from Grossmann, there is no breakout, and the Flyers look like a bunch of decapitated chickens in the defensive zone around the net. The Flyers have too many defensive defenseman in the lineup, and Del Zotto brings much needed offense to the blue line. Scratching him is a very efficient way to neutralize production from defenseman. Here's Craig Berube's justification of benching Del Zotto via the Courier-Post:
"When I made that change with Del Zotto to come back out of the lineup, at that time I wanted a bigger player in there," coach Craig Berube said. "I wanted Luke Schenn back in for size and physical ability and since then I've liked the way the defense has played."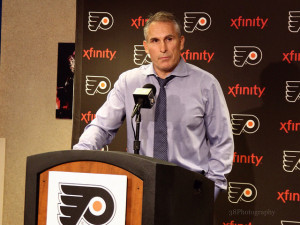 There's just one problem with Berube's expectations, size and physical ability doesn't outweigh speed in today's NHL. Big, slow defenseman are a thing of the past, and I can't tell you how many times I have seen Luke Schenn get beat to the outside this season, just flat out burned.
The Flyers have enough big, physical, stay at home defenseman on their roster. Sacrificing one for a puck moving defenseman that gets the play going cannot hurt at this point, especially at the rate the offense has (or hasn't) been producing.
I'm not saying Del Zotto is the Flyers savior on defense, but he is undoubtedly better than some of the guys the Flyers are putting out there night in and night out. He shouldn't be benched.
Poor Shootout Decisions
As I sat in the Wells Fargo Center on Thursday night and watched the clock wind down in overtime, all I could think to myself was "Please, no. Not  another shootout". As the ice was being scraped though, I found myself thinking maybe the Flyers could win this one.
Craig Berube elected to put Vincent Lecavalier in for the first shot. Once again, I sat there stunned. Lecavalier had played under 12 minutes, had no shots on goal, and was coming off being scratched for a multitude of games. Why are you throwing him out there to set the tone?
Lecavlier has been scratched the past five games and he goes first in the shootout?! What in the christ Berube figure it out

— Dylan Podbielski (@Dill_pickles22) December 19, 2014
realize Berube is trying to get Lecavalier going & get what they can out of him, but ZERO reason for him to shoot first in shootout#Flyers

— Ray Moffo (@RayMoffo) December 19, 2014
Jump ahead to the fourth round of the shootout, where the Flyers finally are presented the opportunity to win the game on a silver platter, and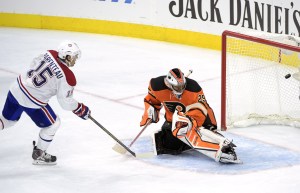 Berube elects to put in Matt Read. The third liner who has been relatively quiet for most of the season, was put out over Wayne Simmonds and Scott Laughton with the game on the line (Incase you weren't sold on Laughton's hands, watch this).Laughton and Simmonds both were in the mix all game, registering 2 shots each. But no, Matt Read was put in with the game on the line.
The Flyers ultimately lost the shootout to the Panthers in six rounds. Wayne Simmonds and Scott Laughton did not get to shoot. I realize that Simmonds hasn't taken a lot of shootout attempts lately, and that Laughton only has one under his belt, but they were a lot more involved the whole game than Couturier, Lecavalier, and Matt Read. A lot of times that fire carries over from the game and into the shootout. Instead, four Flyer players lost control of the puck. I don't even know how to put that into words.
#Flyers had four of their shooters lose control of the puck in the shootout. Berube says team practices it, and that it's a "mental thing."

— Sam Carchidi (@BroadStBull) December 19, 2014
Lack of Fire
There isn't really any stat you can pin to this phenomena, but it's completely evident. I have been to countless games over countless seasons, and I have never seen Wells Fargo Center so dead, and so lifeless, and it is a direct product of what is on the ice.
There's no big hits, a battle in the corner gets lost and players mosey their way to the bench instead of back checking, there's no sustained offensive pressure, and nobody gets angry. It's the same old ballad after every loss, "We'll get better".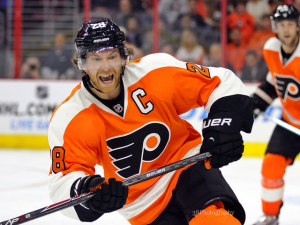 It's a hard sell to say that the Flyers don't have the talent to compete. This is largely the same team that finished with 103 points in 2012, and that team arguably had a goaltender that was nowhere near on the level Steve Mason has been all year. They also took the Penguins to church in the first round of the playoffs.
This same team is the one that was one of the best in the second half of the season last year, and came back from an abysmal start to make the playoffs.
Now they just look lost. Players aren't getting chances to form chemistry, especially on defense. Scratching a new defenseman every game isn't going to help develop any sort of chemistry between pairings. The Flyer's third line just looks lost. There are no set plays, no breakout, just a random assortment of passes gone awry and some occasional zone entries. I chronicled it before, the Flyers systems are failing them, and they have yet to change in the slightest bit.
The team the Flyer's had in 2006-2007 lacked talent. That team was bad, but they still came out every night like they wanted to win. As I said, you can't pin it to any type of stat, you just tell by watching the games. There's no anger, no fire, and to top it off, the decision making has been a head scratcher all season long. The 2014-15 Flyers may be a product of severe mismanagement and lack of effort.
Matt is a contributor for the Philadelphia Flyers at The Hockey Writers. He has previously covered the Flyers for GrandstandU. He enjoys playing hockey and making music in his spare time.