The 2014-15 NHL season has become a trying one for the Arizona Coyotes. The Coyotes have won only two games this month and both came at the expense of the Edmonton Oilers. However, Arizona has seen some positives come out of the first half of the season in their rookies. The Coyotes have seen a handful of their young players make their way to Glendale this season, including Tobias Rieder. Here is a look at some other players that could one day be making their home in Arizona.
Portland Prospects
The Coyotes have gotten a look at a handful of their prospects from Portland this season. Arizona made the move last weekend to bring up Alex Bolduc who, at the time of his call-up, was leading the Pirates in scoring with 20 points. By comparison, Antoine Vermette is the current scoring leader for the Coyotes with 21. Including Bolduc, Portland has seen five of their top six scoring players join Arizona at some point this season (Brendan Shinnimin, Jordan Martinook, Lucas Lessio, and Justin Hodgman are the others). While these five players have not seen much playing time with Arizona so far, they are still getting rewarded for their work in the AHL by getting an opportunity to play at the NHL level. Depending on how the rest of the season unfolds for the Coyotes, fans might get to see more of these young players in 2015.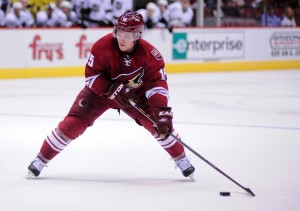 Junior Watch
Meanwhile in London, Ontario, two Coyotes prospects are excelling this season with the Knights. Max Domi, Arizona's first-round pick in 2013, has been having another stellar year in London as he is second in scoring with 58 points in 27 games this season. Right behind Domi is Christian Dvorak, whom Arizona selected in the second round in the 2014 draft. The 18-year-old Dvorak has 55 points through 31 games with the Knights and recently earned OHL Player of the Week honors. It will be some time before Domi and Dvorak are ready for the NHL, but Arizona hopes that these two will be putting up big numbers in Glendale in the near future.
Charles Woodall-Pike is a journalist who writes about the Arizona Coyotes for The Hockey Writers.