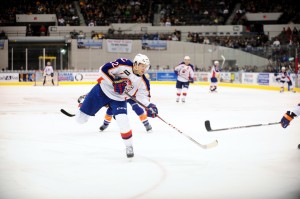 Norfolk Admiral Peter Holland was the lone Admiral named to the 2013 AHL All-Star Team. The offensively talented center will compete on the Eastern Conference Team along with 23 other players from the 15 teams which make up the Eastern Conference. The All-Stars invade the Dunkin Donuts Center in Providence, Rhode Island on January 27th and 28th.
Peter Holland was chosen to represent the Norfolk Admirals for all the right reasons. The left-handed center has 12 goals and 19 assists totaling 31 points this season.  "Petey," as he is known to his teammates, has 94 shots on goal to his credit thus far. Four of his twelve goals have been scored on the power play.  The 1st round draft pick made his NHL debut last season while the Ducks were on the road competing against the Detroit Red Wings.  The Guelph Storm alumnus scored his 1st NHL goal on 11/11/11 against Vancouver's Roberto Luongo.
With Holland's success in the AHL this season the Toronto, Ontario native was rewarded by the Anaheim Ducks. Holland was one of the seven Admirals to take part in the mini-training camp before the start of the regular 48 game season.  The 6'2" center survived the last wave of cuts and was named to the Ducks opening night roster where he remains active with the club.
The All-Star celebration opens with a skills competition on Sunday, January 27th consisting of a puck control relay, fastest skater, rapid fire, hardest shot, accuracy in shooting, pass and score, and a break away relay.  The AHL Hall of Fame Induction and Award Ceremony will take place Monday, January 28th prior to the game.   Join in the excitement by viewing the skills competition and the All-Star game on your local sports cable network starting at 7 o'clock each night.
THW's own Ted Warren will be live in Providence, Rhode Island reporting on all of the weekends events. Make sure to follow him on Twitter @bauerhockeydude