"Well if there's one area (where) I would say that our depth is extremely good, it's on defense." This is a quote from Boston Bruins coach Claude Julien from Monday afternoon. Reports indicate he wasn't smirking or showing any signs of sarcasm at the time.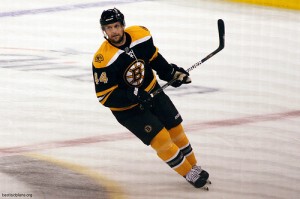 In game #2 of the Bruins season, their second-best defenseman Dennis Seidenberg was ruled out with a lower body injury. Seidenberg was spotted with an ice pack taped to his thigh/hamstring area in the locker room after the team's home opener Saturday night, but word has it that today's move is most likely a precautionary measure. Julien noted that the club is "very, very hopeful" that Seidenberg will return to action Wednesday night.
The Bruins opted for Aaron Johnson to fill in for Seidenberg in today's game, given the defenseman's NHL experience (over 280 games). Post-game, Julien noted Matt Bartkowski (9 NHL games played), Torey Krug (2 NHL games), and David Warsofsky (0 NHL games) as defenseman that could be called up from Providence should Boston find itself struck by the injury bug.
Not the most comforting of lineups considering the fragile history of Andrew Ference and Adam McQuaid. In a shortened season, injuries and depth can play important roles in determining a team's success.
Long-term, yes, the Bruins do appear to be in good shape. Highly-toted prospect Dougie Hamilton has played an average of 18.33 minutes per game in his first two NHL starts, and hasn't looked out of place playing alongside either Seidenberg or Zdeno Chara. Chara, the long-standing foundation of Boston's defensive core, is under contract through 2018. But, for a team looking to capture its second Stanley Cup in three seasons, the lack of experience towards the lower end of the depth chart must be a bit concerning.
Surely, general manager Peter Chiarelli will be looking to acquire blue liners as the season progresses, and until then the younger players Julien calls upon can gain experience at the NHL level. But in assessing the Bruins defensive corps, some interesting plot points arise.
Andrew Ference
The 33-year old defenseman has really come into his own in the past three seasons, earning an alternate captain's "A" on his jersey and becoming a fan favorite. But prior to the Stanley Cup year of 2010-2011, Ference was often playing at less than 100% (59 GP in 2007-2008, 47 GP in 2008-2009, 51 GP in 2009-2010). For the past two season, the Bruins have been lucky enough to have Ference's services for 144 of 166 games.
Now in the last year of a three-year, $6.75 million deal signed in 2010, rumor has it that Boston is looking to sign #21 to an extension before the end of the year. However, that could change should Ference return to his former, chronically-injured self.
Adam McQuaid
In 2009-2010, McQuaid appeared in 19 games, and showed signs of becoming a solid bottom-pair defenseman who had a tough, stay-at-home style not dissimilar to former Bruin Mark Stuart. In the following two seasons, the 26th year old took his game to the next level, and earned a three year extension with an annual cap hit of $1.56 million.
However, from a health perspective, there have been some concerning moments for #54. McQuaid seems to have made an unfortunate habit of falling dangerously, head first into the endboards. More seriously, McQuaid had major surgery to remove a blood clot (which required the removal of his entire rib, and part of his neck muscle), which may have in fact been caused by, of all things, whiplash.
With an affordable cap hit, and a skill set many teams around the league would be happy to have, there's the outside chance that McQuaid could be seen as expendable should his name come up as part of a trade offer.
Johnny Boychuk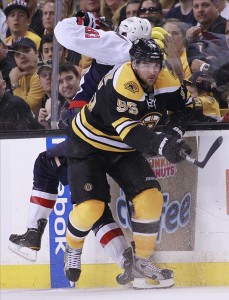 Often paired with captain Zdeno Chara, Boychuk was the breakout defensive star of 2009-2010, and has been a solid #3 defenseman since then. His signature slap shot and devastating hip-checks have left an impression on Bruins fans, and the 29 year old has quickly become a fan favorite in the Hub. However, with a not-too-high, not too-low cap hit of $3.36 million, and with Boston needing to shed some salary to get under next year's $64.3 million salary cap, it's possible Boychuk could be moved at the trade deadline.
However, Boychuk has given Boston little reason to warrant such a move, and unless he is part of a package deal that brings a high profile player to the Bruins roster, it's more likely that Boychuk will be with the black and gold as they enter the playoff hunt this spring.
–
On paper, few teams match the blue line talent Boston has in terms of lineup mainstays, but once you begin exploring options beyond the top six, it becomes evident the Bruins will need to bring in reinforcements if they want to continue to supply Tuukka Rask with an elite defensive group in front of him.
—