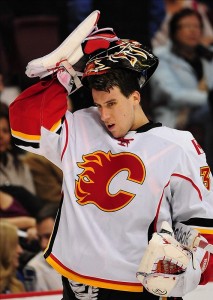 The Chicago Blackhawks have acquired goaltender Henrik Karlsson from the Calgary Flames in exchange for a 7th round draft pick in 2013 NHL Entry Draft (previously acquired from the Ottawa Senators) and have assigned him to the Rockford IceHogs.
Karlsson, 29, is a towering 6′ 6″ goaltender that is a victim of a logjam in Calgary after they decided to stick with Leland Irving over their former Swedish back-up. In addition, they have a plethora of goaltending prospects coming through the pipeline which made very little room for Henrik in their organization.
Over the last two years, Karlsson has played in 26 games for the Flames behind #1 netminder Miikka Kiprusoff and complied a 5-9-8-0 record along with a .905 save percentage and a 2.79 goals against average. Although those statistics don't seem too inviting, he hasn't really had an opportunity to play with the Flames relying on Kiprusoff for over 85% of the workload coupled with poor goal support up-front.
With Ray Emery slotted as the back-up in Chicago, this is more of an insurance move in case of injury more than anything. Karlsson will most-likely will get an opportunity to start for the Rockford IceHogs rather than playing a role in Chicago anytime soon. It is assumed that current Rockford starter, Carter Hutton, will be suspended for leaving his crease to engage in an altercation against the Grand Rapid Griffins, so Karlsson will be a huge help depending on how hard the AHL wants to bring their hammer down.
Karlsson is a prototypical butterfly Swedish goaltender that has tremendous size and patience. Although he is big, he does have solid reflexes and mobility to make a desperation save. He has a calm, confident demeanor and is not easily rattled. His transition to the North American game has not been very fluid, but he can be an effective goaltender in the right situation. At 29 years old, his time is wearing thin to make an impact in the NHL and barring injury or a trade, he won't have that opportunity this season.
I started covering the Chicago Blackhawks in 2007 for IndianHeadNation.com and eventually on Twitter and now The Hockey Writers. Although I've never played at a professional level, I have followed the NHL religiously, analytically, and statistically since 1999, and a born fan since 1989. I have one true passion: HOCKEY.