Trading Dion Phaneuf was something that seemed impossible as early as last off-season. Whether it was poor play or his $7 million cap hit, it seemed that no other team would want to bring in the Leafs captain.
Well, something has changed.
It seems that bringing in Mike Babcock as coach has led to Phaneuf finding his game. While he is playing less than has in previous years, it is definitely having a positive impact. He is leading the team in assists (14) and is tied for second in points with 16. While the ghttps://thehockeywriters.com/wp-admin/post-new.phpoals are still coming slowly, his overall game is much better than what we've seen in the past few years.
With that being said, the time is right to trade Phaneuf. While it might still be hard to find a team that can afford to bring him on, the Leafs should at least try. His trade value might not get much higher than it is right now. After all, the Leafs can probably afford to bring in a bad contract or two to help offset the cap hit for a season or two.
Who Else Is Available?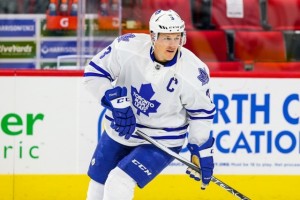 Phaneuf's performance isn't the only thing that increases the chances of a trade. The other factor is free agency. When people think of free agents in 2016, they think of players like Steven Stamkos or Anze Kopitar. The biggest free agent defenseman set to be available is Dustin Byfuglien and Winnipeg would really like to bring him back. Even if Byfuglien is traded at the deadline, you'd have to believe that team that acquires him will have plans to re-sign him long-term.
With the amount of good top-four defensemen available in free agency, teams might be more likely to call the Leafs inquiring about their captain. As has been shown this season, Phaneuf can still be a reliable defenseman when he doesn't have the weight of the world on his shoulders. Imagine what of the could be if he was taken out of the spotlight of Toronto altogether.
While Phaneuf could still be useful to the Leafs, it's about time to say goodbye. By the time the Leafs are ready to contend, he should be pushed out of the depth chart by younger defenseman. Whether it's Morgan Rielly, Stuart Percy, Rinat Valiev, Travis Dermott or any other defensive prospect the Leafs have, the Leafs defense should look vastly different in the next few years. Why wait to trade Phaneuf until then when you can get the most for him now?
It might be difficult to trade him in-season, but the Leafs should get as much as they can for him while they still can.