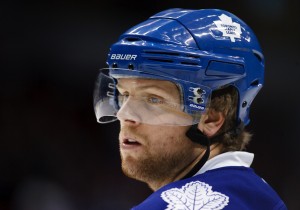 With the 2012-13 NHL season still in doubt due to the unsettled CBA issues, our thoughts have turned back to the 2011-12 season. For those of you that do not follow the Toronto Maple Leafs it may surprise you that the Blue and White employed one of the best 1-2 punches in all of hockey.
For all the flack Maple Leafs president and general manager Brian Burke gets for trading away two first round draft picks and a second rounder to the Boston Bruins in return for Phil Kessel not enough ink is dedicated to just how good Kessel was last season.
A quick look at the NHL scoring race reveals that Kessel registered 37 goals and 45 assists last season for a total of 82 points. Those 82 points put Kessel ahead of super star forwards like James Neal (81), John Tavares (81) Henrik Sedin (81), Patrick Elias (78) and Marian Hossa (77) and just behind the likes of Ilya Kovalchuk (83), Jason Spezza (84), Claude Giroux (93), Steven Stamkos (97) and Evgeni Malkin, who led the NHL with 109 points.
When you consider the names in that top ten Kessel is amongst some very impressive company. That said, there are still many fans that continue to complain about Kessel's lack of defense and are quick to point out that his "outside-inside" move is all too predictable.
Well folks, that predictable move worked on many of Kessel's 37 goals and those 37 goals ranked him seventh overall last season!
Sure, Kessel has his defensive shortcomings and he lacks a physical game, but when it comes to statistics few players put up better numbers last season—and that's a fact.
As much as Kessel surprised a few people last season, linemate Joffrey Lupul was equally impressive, registering 25 goals and 42 assists for a total of 67 points through 67 games.
If not for a late season injury which sidelined Lupul, the Maple Leafs might have employed the NHL's most dangerous 1-2 punch—ok, that may be going too far! As it turned out, Kessel and Lupul combined for a total of 149 points last season.
How good were Kessel and Lupul you ask?
Well, they were better than the Vancouver Canucks duo of Henrik (81) and Daniel Sedin (67), who combined for 148 points last season and they were better than the Chicago Blackhawks two most offensively gifted forwards of Marian Hossa (77) and Patrick Sharp (69), who combined for 146 points last season.
Would it surprise you to learn that Kessel and Lupul combined for more points than the Detroit Red Wings super-duo of Henrik Zetterberg (67) and Pavol Datsyuk (67) who combined for 136 points last season? How about the New York Rangers 1-2 punch of Marian Gaborik (76) and Brad Richards (66) who combined for 142 points?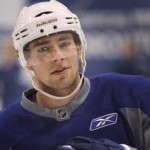 The reality is, when it comes to offensive statistics, Kessel and Lupul ranked sixth overall amongst the NHL's most dynamic duo's, just behind the New York Islanders John Tavares (81) and Matt Moulson (69) who combined for 150 points, the New Jersey Devils combo of Ilya Kovalchuk (83) and Patrick Elias (78) who combined for 161 points, the Philadelphia Flyers combo of Claude Giroux (93) and Scott Hartnell (67) who combined for 170 points, the Tampa Bay Lightning's 1-2 punch of Steven Stamkos (97) and Martin St. Louis (74) who combined for 171 points and the NHL's most feared duo of Evgeni Malkin (109) and James Neal (81) who combined for 190 points.
Of course, not every duo plays on the same line all the time, but this list represents the NHL's two best offensive players on each team—at least statistically.
While there is no guarantee that Kessel and Lupul can meet or exceed last seasons totals, there is hope that they can remain amongst the NHL's best.
With Pittsburgh Penguins forward Sidney Crosby expected to be in good health next season there is a real possibility that the Penguins will return to the top ranking with Crosby and Malkin likely surpassing the 200 point mark. If healthy, Crosby can put together a 100 point season in his sleep, while Malkin is showing no signs of slowing down.
Edmonton Oilers youngsters Jordan Eberle and Taylor Hall are both looking like they will have breakout seasons (not to mention Ryan Nugent-Hopkins) and Anaheim Ducks forwards Corey Perry and Ryan Getzlaf should bounce back from a poor 2011-12 season to get close to the 160 point mark. The Sedin twins could easily improve on last season, registering north of 180 points combined, while the only way to go is up for the Washington Capitals duo of Alexander Ovechkin (who struggled with just 65 points last season) and Nicklas Backstrom (who registered 44 points in just 42 games last season).
Even with Crosby set to hit the NHL by storm and the emergence of Eberle and Hall very real, there is a good chance that Kessel and Lupul will be amongst the ten best duo's in the NHL next year, which should finally get them the respect they so aptly deserve.
So, I ask you NHL fans, which duo do you feel will emerge as the NHL's best (statistically) next season and where will Kessel and Lupul rank? Please let us know your picks in the comment section.
Until next time,
Peace!