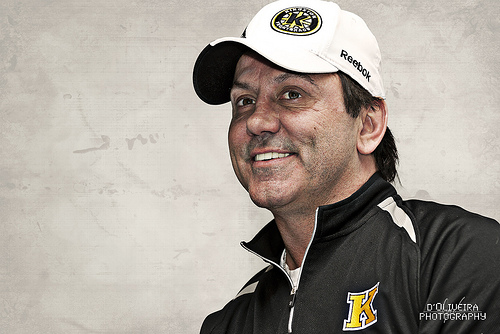 With a regular season record of only 19 wins and 41 losses, the 2011-2012 season was not easy for the Kingston Frontenacs, or their fans. When Doug Gilmour became the teams general Manager prior to the season and called his vision for the future of the team "The Blueprint"
I recently had a chance to speak with Kingston Frontenacs Head Coach Todd Gill and he explained how the Blueprint came to be; "we decided back in September that we were going to tear it down and rebuild it. We knew it was going to be a long and trying year, and it has been."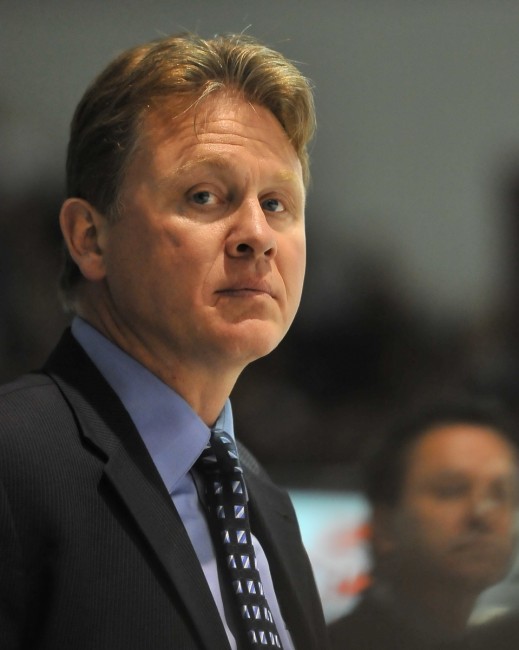 Assistant General Manager and Coach Darren Keily admitted it was a difficult season, but believes the team did what was necessary. "I think the fans understand it was necessary too" Keily said.
"I think we've done better than people expected, but from an organizational point of view, we still have a long way to go" Gill added. "I think if you would have asked any hockey people and they looked at our line up at the start of the year they would have said we won't win ten games, and were closing in on 20. We showed that we can compete. We have 12 kids under the age of 17 and for the first three quarters of the season we competed hard and we didn't get blown out at all."
The Fronts do have several young players, who should all be returning to play a prominent role on the team. 18 years old Warren Steele, Billy Jenkins, and Nathan Cull will all be in their third seasons while Ryan Kujawinski will now be a sophomore. The key players will all be a year older, and more mature which Gill thinks is invaluable.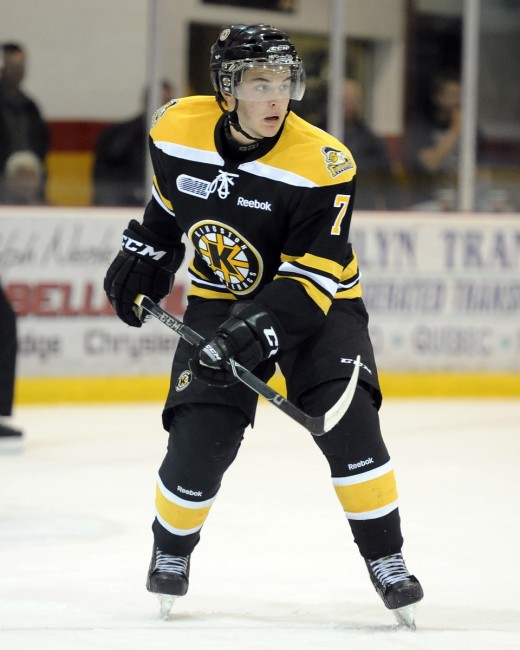 "How I look at is I remember when I was a 15 year old in Windsor. I had a trying first year and the next year I felt like I belonged and had a really good year. Mainly just because of the confidence, knowing I was a second year player and knowing that I belonged. I feel that we're going to be better just because of the summer"
As a rookie Head Coach in the OHL, Gill will also return next season as a wiser, more seasoned Head Coach as well. To further his experience Gill was the assistant Coach with team Canada at the World under 18 tournament in the Czech Republic. "It was just an awesome experience," Gill said. "I thought we did very well to win a bronze considering all the teams we played against were teams that had two years plus of being together." Gill returned to team Canada as the Head Coach in the Ivan Hlinka Memorial under 18 tournament later in the summer and won the Gold.
The summer off-season has provided the Kingston Frontenacs with much more than just the maturation of their younger players and Coach. At the OHL Priority Draft, the Kingston Frontenacs owned two of the top ten picks in the first round and the first two selections of the second round as well. It was a bevy of quality draft picks that may be seen as a franchise defining moment.
With the second overall selection, Gilmour selected Roland McKeown of the Toronto Marlboros, who Keily described as "The guy we wanted from Christmas on." McKeown is a 6'1"; 180 Lbs defenseman that the Fronts believe was the player who would have the most impact on their roster. McKeown has a style of play that has drawn comparisons to Stanley Cup Champion Drew Doughty of the Los Angeles Kings. "I know it's a big step but Drew Doughty is my NHL hero. I figure him playing in the Olympics at the age of 20 is something incredible. I always look up to him and what he does on the ice." McKeown said after being drafted. McKeown describes himself as "a mobile defenseman that skates the puck up the ice or makes an outlet pass." Keily said his combination of character and hockey skill made him "a no-brainer"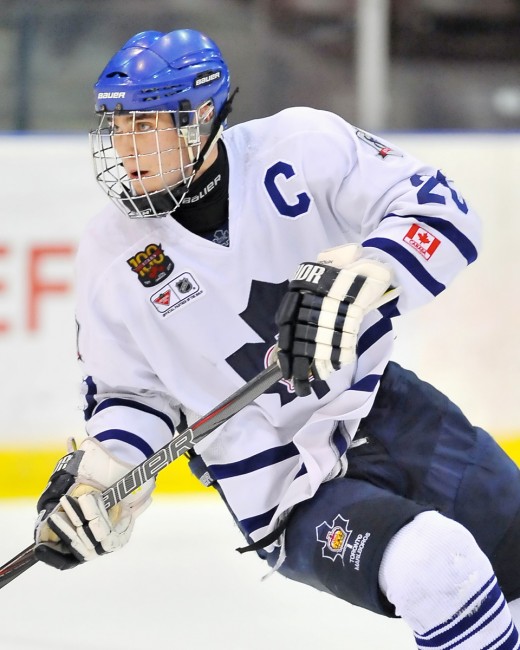 With their second selection, and the ninth overall pick, Gilmour drafted McKeown's Marlboro teammate and good friend since grade nine, Sam Bennett. Bennett provided some levity to the draft as he was in attendance with the Fronts in Kingston. While the Fronts had been assured he would be available at the ninth selection, there was a cheer, or sigh of relief after Owen Sound selected Jacob Middleton eight overall.
Bennett provided more levity at the draft party when reporters asked about his jersey number. With the Marlboros, Bennett wore number 93, a number well associated with Fronts GM and Hockey Hall of Fame member Doug Gilmour. When asked if he would continue to wear 93 he said yes, then looked to Gilmour for approval.
"I'm hoping to be number 93 this year. That's Doug Gilmour's number and I love the way he played." Bennett said. He knows wearing the number will add pressure for him to perform, but also knows it will be exciting and will take the challenge on.
With the first selection of the second round, Kingston drafted Dylan Di Perna who Keily said they were shocked that he was still available and were very pleased to have fall into their lap. Gilmour told The Kingston Whig-Standard "We were shocked. To us he was the second best defenseman in the draft. Him and (Jacob) Middleton (who went eighth overall to the Owen Sound Attack)," Di Perna was projected to be a first round pick by central scouting bureau. Like McKeown, Di Perna is a big mobile defenseman who models himself after Drew Doughty.
The Priority draft had some family ties to it for Kingston as they drafted brothers Spencer, and Matthew Watson. The Watson brothers are twins who were born only two minutes apart and played together for the London Jr. Knights.
"We've wanted to go together from Day one. Who wouldn't want to be on a team with your brother by your side?" Matt said to The Kingston Whig-Standard. Spencer Watson is an offensive winger who has been compared to Phil Kessel of the Toronto Maple Leafs and was selected in the second round. His brother Matthew is a defenseman who has good offensive instincts. "We see each other so well on the ice. We push each other. Why wouldn't you want your brother with you," said Spencer.
Gilmour also drafted his son, and Coach Todd Gill's son as well in Jake Gilmour, and Owen Gill. While Gill is happy for his son, he does not expect he will be part of the Frontenacs this year "It's going to be different. I've never coached him. He still needs a year of Tier II but he will be coming in for the training camp experience."
Gilmour and Keily were also in Pittsburgh for the NHL Entry Draft this summer as well. The NHL draft provided them an excellent opportunity to meet some of the players and their agents who were eligible for the CHL Import Draft later in the summer. For Kingston, the scouting began earlier when Keily was in the Czech Republic for the World under 18 tournament scouting and Gill was Coaching. Darren Keily and player agent Jay Grossman are old friends and who worked out Igor Bobkov finding his way to Kingston last season to play as an over age. Grossman is the agent who represents Mikko Vainonen, a 6'3", 205 Lbs defenseman from Finland who was drafted in the fourth round 118th overall by the Nashville Predators. Grossman and Vainonen were able to assure Kingston that he would indeed be coming to play his junior in North America and would be a player they would have available for at least two years. In turn, Keily and Gilmour were able to convince Vainonen that Kingston would be a winning situation for his career development and make him feel comfortable. Remember, he is an 18 year old moving out of home, and half way around the world.
At the CHL Import Draft the Frontenacs owned the sixth overall selection and drafted Vainonen adding the massive defender to their impressive stable of defense that already boasts Warren Steele, and now Roland McKeown and Dylan Di Perna. The additions allowed Gilmour the ability to trade Alex Gudbranson to Sault St. Marie for a second round draft pick. Two other casualties of the numbers game for Kingston were Jack Nevins, and Adam Lloyd who were also dealt for draft picks. With the addition of players such as Spencer Watson, Sam Bennett, and Slater Doggett it was going to be difficult to fit those players into the roster Keily explained. "The best thing for them was to get an early start with a new team" Keily said. "We wanted to give them a fresh start at a new teams training camp"
The final piece of the puzzle was the starting goalie. Last season, over age starter Igor Bobkov was arguably the teams MVP. With such a young team, Gilmour and Gill believe it is important to have a veteran and reliable presence in goal. With that in mind, Gilmour signed veteran over age goalie Mike Morrison as the teams starting goalie. Morrison played in 40 games last season for the Peterborough Petes with a record of 10-19-5 and 3.87 goals against average and a .890 save percentage. "Mike is a proven OHL netminder who has played in the league four years and is a quality starter," said Gilmour to the Whig. "With Mike in goal, we have the opportunity now to look at shaping our future in net for the hockey club."
This off season the Frontenacs harvested several top prospects to add to the Blueprint. Last season when I asked Gill who the key players for the Blueprint were, he replied "I don't think you have to look any further than Ryan Kujawinski, Billy Jenkins, Trevor Morbeck, and Warren Steele." The first line of Jenkins – Kujawinski – Morbeck was outstanding late in the season for Kingston and no doubt will be the foundation of the team for the coming season.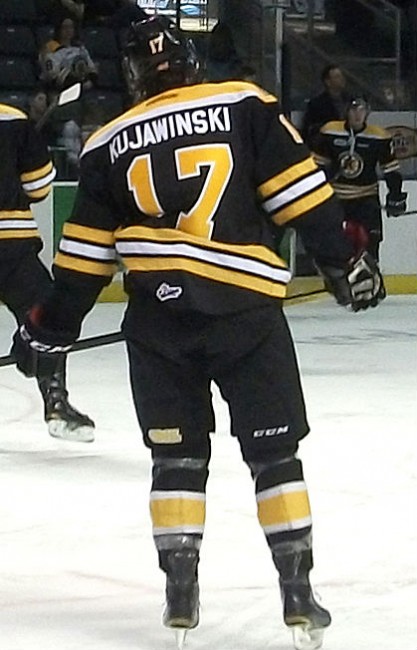 With the "Foundation Line' in place and the off season additions, expectations for this season will be far different than this time last year. "I think expectations have increased greatly with the players we have added" said Keily. "I can't predict the future, but with the work ethic and skill level we have, the fans should be pleased." Doug Gilmour believes this team will make the playoffs and has even gone on record saying so. "It is our goal to make the playoffs" Keily told me. "As we saw in the NHL this year, once you make the playoffs, anything can happen".