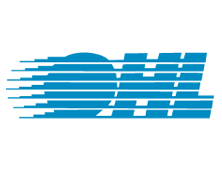 The Ontario Hockey League trade deadline passed on Tuesday. Many teams were busy unloading star players to gain future draft picks and prospects, in particular the teams who were aware that their chances at a playoff spot were slim. There were many unexpected trades, a couple blockbusters, and a whole lot of players finding out they now belong to a new team. Below you'll see a team-by-team recap of all the moves that were made around the deadline.
Barrie Colts
The Colts started off the trade deadline show with a bang, making a huge trade with the Saginaw Spirit on January 2nd. Barrie acquired  forward Anthony Camara, and re-acquired defenceman Ryan O'Connor. O'Connor is a former sixth overall draft pick of the Colts, and played 81 games for them before moving to the Spirit in the 2009-2010 season. Prior to being traded, he was the captain of the Spirit. In exchange for Camara and O'Connor, the Colts sent Saginaw forward Eric Locke, netminder Clint Windsor, and three draft picks.
Belleville Bulls
The Bulls made two deadline trades this season. They acquired 19 year-old forward Joseph Cramarossa from the Mississauga St. Michael's Majors in their first deal. In exchange the Majors received a second round draft pick in both 2012 and 2013. Cramarossa is an Anaheim Ducks prospect, and will be expected to be one of Belleville's top forwards. Seven days later, the Bulls acquired another Major, this time in overaged centreman Jordan Mayer. In exchange, Mississauga gets Belleville's 3rd round pick in 2013.
Brampton Battallion
Brampton didn't make a huge splash this time around, but they did make a couple of small trades that they hope will benefit them in the near future. On Monday they acquired Derek Froats from the Kingston Frontenacs in a trade for Adam Lloyd. Froats will give the Battallion a solid two-way forward who will bring some grit to their lineup. The Battalion also acquired centre Brennan Feasey from the Windsor Spitfires in exchange for the rights to defenceman Jordan McNaughton. Both players are currently playing Junior B hockey. Feasey is with the Chatham Maroons, and McNaughton's with the Strathroy Rockets.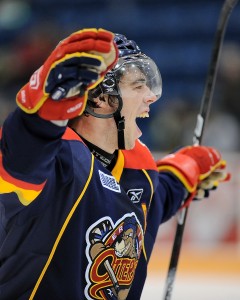 Erie Otters
With the Otters currently being last in the entire league right now, GM Sherry Bassin felt it was probably the right move to look to the future. He started out by trading overage defenseman Derek Holden to the Windsor Spitfires in exchange for Windsor's fifth round pick in the 2015 OHL Priority Selection. Then, he made an absolute blockbuster deal with the London Knights. Erie traded forward Greg McKegg, goaltender Tyson Teichmann, and defenseman Brett Cook to the Knights for center Dane Fox, defenseman Troy Donnay, Sudbury's second round pick in the 2012 OHL Priority Selection and London's second round pick in the 2016 OHL Priority Selection. McKegg was arguably the top player dealt before this year's deadline, and is a highly-touted prospect of the Toronto Maple Leafs. Bassin wasn't done there, as he also traded overage center Mike Cazzola and a 12th round pick in the 2012 OHL Priority Selection to the Ottawa 67's for a pick in each of the next three drafts. On top of all that, he traded for Jimmy McDowell from Oshawa.
Guelph Storm
The Storm appeared to be content with what they have right now, as they chose not to make any trades.
Kingston Frontenacs
Kingston GM Doug Gilmour was a busy man in the last few weeks, as he made five deals with other teams. For starters, he traded star centreman Ryan Spooner to the Sarnia Sting in exchange for rookie centreman Ryan Kujawinski. Spooner was being considered as a potential member of Team Canada in the World Junior's before illness struck, and Kujawinski was Sarnia's first round selection in the 2011 OHL Priority Selection, 4th overall. The Fronts then acquired Billy Jenkins and a pick from the Niagara IceDogs in exchange for three draft picks. Then they went back to the Sting, trading Tyler Brown to Sarnia for rookie centreman Jack Nevins and a 3rd round selection in the 2016 OHL Priority Selection. Along with the previously mentioned Froat trade, they traded fourth year defenceman Jeff Braithwaite to the Windsor Spitfires for three future selections, and acquired goaltender Jacob Riley from the Attack.
Kitchener Rangers
The Rangers only made one trade, but it was a result of a valuable return to their lineup. They dealt Julian Melchiori to Oshawa in exchange for Oshawa's 4th round pick in the 2015 and 2016 Ontario Hockey League Priority Selection. Kitchener needed to free up an overage spot because  the Boston Bruins have re-assigned forward Tyler Randell from the Providence Bruins of the American Hockey League to the Rangers. The odd side to the Melchiori trade: he was orignally drafted by the Generals, wouldn't play for them, threatened to go the NCAA route, and was subsequently dealt to the Rangers. This trade was meant to be!
London Knights
GM Mark Hunter had stated that he wasn't planning on doing much around the deadline, as he was happy with his number one team in the country, and didn't want to stir up the team chemistry. Greg McKegg became the exception to that statement. Just when everyone thought he was done, Hunter went out and acquired another star forward. The Knights acquired centreman Austin Watson and Peterborough's 4th round pick in the 2016 OHL Priority Selection from the Peterborough Petes on Monday. In return, they sent right-winger Chase Hatcher, London's 2nd round pick in 2014, Mississauga's 2nd round pick in 2016 and a 4th round conditional pick in 2018 to Peterborough. Clearly, the Knights are trying to make a big run at the OHL Championship and the Memorial Cup.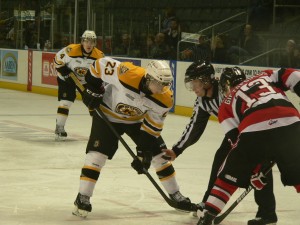 Mississauga St. Michael's Majors
The Majors made three deals prior to the deadline this season. Trading Crammarossa was their first move, and then GM James Boyd made a trade with Sudbury. Mississauga acquired forward Kristoff Kontos in exchange for forward Derek Schoenmakers, a conditional first round pick in the 2013 CHL Import Draft, and a conditional fourth round draft pick in 2014. The team made their biggest splash when they swapped number one goalies with the Sting. The Majors acquired goaltender Brandon Maxwell, three second round draft picks, and two fifth round draft picks in exchange for goaltender JP Anderson. This was a nice deal for both sides, as Sarnia finally gets that number one netminder they've been seeking, and the Majors receive a nice pile of picks alongside their new goalie.
Niagara IceDogs
Niagara started out by trading Billy Jenkins to the Frontenacs, and then began to make some bigger moves. They traded for a second round pick of the Dallas Stars, Brett Ritchie. In return they sent Sarnia a total of four draft selections (three second rounders and a fifth). The IceDogs made their biggest trade on Monday night, when they acquired Team Canada World Junior defenseman Jamie Oleksiak from the Saginaw Spirit. In return they sent Frank Schumacher, the rights to a pair of prospects, and draft picks to Saginaw. The trade means Niagara now has five players from this year's Team Canada on their roster.
Oshawa Generals
Oshawa was fairly busy around this year's deadline. They made a total of four trades with four different teams. They began by acquiring two top defensemen in Matt Petgrave and Geoffrey Schemitsch from the Owen Sound Attack, alongside a conditional 4th round pick in 2015. In exchange the Generals traded defenseman Kyle Hope, Sault Ste. Marie's 2nd round pick in 2012, and the Generals 2nd round pick in 2015. It wasn't an expected trade, as Oshawa certainly hasn't locked up a playoff spot, and Hope was looking like he could be a really good defenseman in the near future. Apparently GM Chris DePiero wants to make a big push. The Gens then traded forward Mark Petaccio to the Sault Ste. Marie Greyhounds for their 2nd round pick in the 2013 OHL Priority Selection and 3rd round pick in 2014. They also made a deal the deal with Kitchener, and just before the deadline, traded defenseman Jimmy McDowell to the Erie Otters for two draft picks.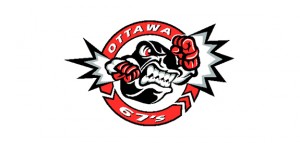 Ottawa 67's
Ottawa only made two trades, but they definitely made some important ones. John McFarland was acquired from the Saginaw Spirit in exchange for rookie David Perklin and a 4th round draft pick in 2014. McFarland was a first overall OHL Priority Selection Draft pick by the Sudbury Wolves in 2008. Perklin was the 67's first rounder in last May. They also acquired veteran overage forward Mike Cazzola from Erie.
"We've been looking to add an experienced forward with offensive skills and McFarland certainly fits the bill," said 67's coach and GM Chris Byrne.  "He's already recorded 20 goals this season and sits in the top-25 in League scoring with 41 points in 36 games so we think John will be a great addition to our lineup, on right-wing or at centre."
Owen Sound Attack
The Attack weren't too busy this time around, but the loss of Petgrave and Schemitsch to Oshawa is certainly a big one. Owen Sound also dealt goaltender Jacob Riley to the Kingston Frontenacs in exchange for a 5th Round Draft Choice in the 2013 OHL Priority Selection.
Peterborough Petes
Peterborough made one deal this year, but some are wondering whether they got enough in return. The trade that sent Austin Watson to London gave them right-winger Chase Hatcher, London's 2nd round pick in 2014, Mississauga's 2nd round pick in 2016 and a 4th round conditional pick in 2018, however, many believe they could have received much more. Kitchener GM Steve Spott has even said that they offered a better package for Watson. This trade could be debated for a while.
Plymouth Whalers
Like Guelph, Plymouth ultimately decided that no movement was the better choice for them, as they made no deals.
Saginaw Spirit
The Spirit are having a poor season, so they decided to look to the future. The started off making the big trade with Barrie that gave them Eric Locke and goaltender Clint Windsor, both 1993 birth years, along with three second round draft picks. Then they made the deal with Ottawa that sent the 67's John McFarland. Their biggest deal came next, as they traded Jamie Oleksiak to the Icedogs. Saginaw then made the final deal before the OHL trade deadline, acquiring 17-year-old defenseman Grant Webermin from Windsor for London's 3rd round pick in the 2013 Priority Selection, and Ottawa's 4th round selection in 2014.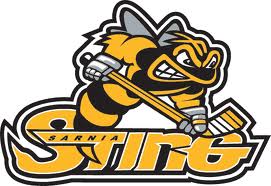 Sarnia Sting
The Sting first made the blockbuster deal that got them Ryan Spooner from Kingston, and sent Ryan Kujawinski the other way. Then they made the deal that sent Brett Ritchie to Niagara. Following that, they picked up Tyler Brown in a separate transaction with the Fronts. Adrian Robertson was also dealt to the Sarnia Sting, this time for a trio of draft picks – Sault Ste Marie's 3rd round pick in 2012, Sarnia's 2nd round pick in 2016 and Sarnia's 2nd round pick in 2017. They topped their busy season of trading by bringing in their long desired number one netminder, J.P Anderson from the Majors. In return they sent them another goalie, Brandon Maxwell.
Sault Ste. Marie Greyhounds
The Hounds made two moves with others teams this deadline. GM Kyle Dubas first got Mark Pettacio from Oshawa, sending two draft picks to the Gens. He also made a deal with Sudbury on Tuesday. In the deal the Hounds acquire 17-year old defenseman Cody Mintz, 18-year old forward Greg Jambrosich, and Sudbury's 4th Round pick in 2014, in exchange for Michael Kantor and a conditional 15th Round pick in 2013.
Michael is a young man who plays hard and it was not surprising that he was highly sought after at the trade deadline. We know that Michael will have a solid run and be a great asset to the Wolves" stated Dubas.
Sudbury Wolves
Before the trade with Sault Ste. Marie, Sudbury picked up Derek Schoenmakers and draft picks from Mississauga in exchange for Kristoff Kontos. They also acquired 18-year-old defenceman Mackenzie Braid from the Windsor Spitfiresor for a 13th round draft selection.
Windsor Spitfires
Trading captain Adrian Robertson was the biggest move GM Warren Rychel made, but he also made another move to stock up on draft picks, sending Mackenzie Braid to Sudbury. He also chose to bring in two defenseman – Derek Holden from Erie, and Jeff Brathwaite from Kingston.
According to Anthony Nicholson of Toronto News 24, since January 2nd, almost 30 deals occurred, involving a total of 50 players and 67 picks.