When the Kingston Frontenacs started to go into a free fall in 2011-12, there was speculation that the team was going to completely dismantle their veteran corps.  A player expected to be traded away was Boston Bruins prospect Ryan Spooner, who had been sought after by several teams wanting to make a run for the OHL championship.  Spooner did not want to leave Kingston, not wishing to waive his no-trade clause, but the management and coaches felt that it would be the best for him; he was subsequently traded to the Sarnia Sting.  Additionally, the player rumoured to come to the Limestone City in return also arrived, a 16-year-old fresh-faced rookie centreman named Ryan Kujawinski.
The question became, "Ryan who?"
A native of Iroquois Falls, Ontario, outside of Sudbury, Kujawinski was the fourth overall pick in the 2011 OHL Priority Selection after scoring 35 goals and 56 points in only 24 games with the Sudbury Minor Midget AA Wolves.  He came with added renown of stellar skating ability and keen on-ice vision, talents that belied him being so young; he also had good size for his age, standing 6'2″ and weighing 195 pounds.  When Sarnia chose Kujawinski, it became clear that the first-year pivot was going to have to work his way into regular action due to the depth of returning talent up front such as Nail Yakupov, Alex Galchenyuk and Brett Ritchie (who was later traded); the team also had brought in Charles Sarault, Brett Thompson, Ludvig Rensfeldt and Reid Boucher.  It appeared that it would be a struggle for Kujawinski but so it is in the life of a first-year OHL player, especially on a team so dynamic.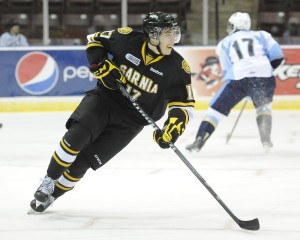 After going pointless in his first six OHL career games, Kujawinski was finally rewarded with his first OHL career goal and assist in a game against the Windsor Spitfires at the WFCU Centre on October 10, 2011; his goal, which was scored on Dallas Stars prospect and World Junior Championship top goalie Jack Campbell, started a comeback for Sarnia after being down 3-0, a game the Sting won 4-3 in overtime on a goal by Domenic Alberga.  Kujawinski was even named the game's second star.
Things, however, started to go south for Kujawinski on the Sting after that euphoria in Windsor.  He tallied only two assists in nine more games in October, two assists in 10 games in November, and no points at all in three games in December.  In December, however, he did miss some time representing Ontario at the World Under-17 Hockey Challenge in Windsor, scoring one goal and two assists in five games, en route to helping his province win bronze over Sweden, a team who had previously lost to Ontario in the round robin.  He also missed eight games that month with a knee injury.
http://youtu.be/47uRjfq3LOs
Upon his return from injury, a trade rumour began swirling that the Sarnia Sting were looking to acquire Ryan Spooner from the Kingston Frontenacs and, in return, the Frontenacs would acquire Kujawinski.  When January 6 of this year came, the rumour became reality as Kujawinski was brought to Kingston.  There had been some report that the Frontenacs had actually intended to draft Kujawinski if he had been available.  When the Sting chose him with their earlier pick, the Frontenacs drafted Max Domi, the son of former NHL tough guy Tie Domi; the younger Domi did not wish to report to Kingston, which had been speculated for some time, and he was traded to the London Knights.
When Kujawinski arrived, he was immediately thrust into action that same night when the Frontenacs hosted the Peterborough Petes, wearing the same #17 he wore in Sarnia.  Although Kingston lost the game 6-4, the newbie in the Frontenacs lineup had an instant impact, scoring a goal and an assist, and he was named the second star of the game.  He tallied three assists in the next two games against Barrie and London.  His fourth game in a Kingston uniform, however, was quite memorable as he managed to score a goal against his former team at the RBC Centre in Sarnia, Kingston's only score in a 4-1 loss.
Noticing how adept Kujawinski was at scoring, Frontenacs head coach Todd Gill placed him on a line with former Niagara IceDogs winger Billy Jenkins, who was also acquired at the trade deadline, and former Sault Ste. Marie Greyhounds forward Trevor Morbeck, who had been acquired in October.  On January 22, Kujawinski scored two goals, including the game winner, against Belleville, giving himself first star honours.  He finished January with ten points, giving him 16 on the season up to that point, nearly 300% more than what he had accumulated until then.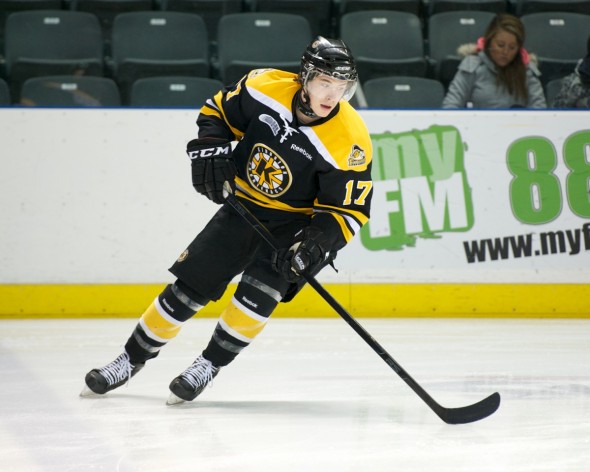 As if Kujawinski's meteoric rise from sometime-fourth-liner to top-line pivot was not enough in January, it was February where he really begin to shine.  After he went pointless in Kingston's first two games that month, he tallied 11 points, including seven goals, in the next seven games; four of those goals came on back-to-back two-goal outings, February 12 at home against Guelph and February 16 on the road against Peterborough.  He truly endeared himself to Frontenacs fans in the game on the 12th, as he racked up two assists, giving him four points on the night in a 6-3 Kingston victory; he was named third star, primarily because linemates Jenkins and Morbeck also had stellar nights, with four points for Jenkins (2+2) and five for Morbeck (1+4).  Kujawinski also showed another aspect of his play in February: Physicality.  With 2:37 remaining in an out-of-control 10-3 spanking at the hands of the London Knights, Ryan Rupert leveled second-year Frontenacs forward Nathan Cull with a blindside check to the head.  With his teammate lying on the ice, Kujawinski came to his aid by getting into a fight with Rupert, who had previously been suspended for five games for a nasty slash to the stomach of Greyhounds forward Nick Cousins after a game against Sault Ste. Marie in November; it should be noted that Rupert was not suspended for his hit on Cull.  Kujawinski finished February with 15 points, one shy of his season total to that point, as well as a +2 rating; due to this accomplishment, he was rewarded by being named the OHL Kal Tire Rookie of the Month for February.
With the season coming to a close for the Kingston Frontenacs, it seems as though Kujawinski is going to be a major part of the rebuilding of the franchise. He has given the fans promise that they have not had from a rookie in some time.  TVCogeco commentator Jon Begg said it best when he talked about how Ryan Spooner had been brought in from the Petes for Detroit Red Wings prospect Alan Quine, the Frontenacs' first-round pick in the 2009 OHL Priority Selection, stating that Kingston was essentially trading Quine for Kujawinski.  In fact, going into the last two games of the regular season, Kujawinski had scored the same amount of points that Quine had in 64 games as a rookie in 2009-10 (28); to add, Kujawinski had accumulated them in 36 fewer contests.
The question in Kingston may still remain, "Ryan who?"  It is just no longer about Ryan Kujawinski.