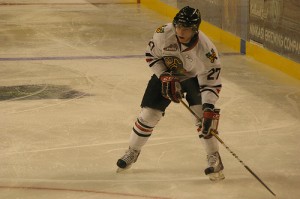 Throughout the tenure of former general manager Darryl Sutter, the Calgary Flames have been criticized for not having a particularly deep prospect pool. That reputation wasn't entirely un-earned, but blaming it on Sutter might have been. Dating back to 1990, only a handful of Flames first round picks have gone onto impactful NHL careers, often not with the Flames.
However, recent years have seen Flames director of amateur scouting Tod Button seemingly take control of later-round drafting. As a possible result of that, Calgary has a few players that could turn out to be NHLers. Case in point, the 2008 draft: at time of this writing, three 2008 picks (Lance Bouma, T.J. Brodie and Greg Nemisz) were on the Flames roster. Restocking the prospect pool will take a lot of effort and time, but it seems like it may actually be happening.
Here is a brief overview of the Calgary Flames ten best prospects. Prospects are defined here as players under the age of 25 that are Flames property that have not yet established themselves as full-time NHLers (like Mikael Backlund). Because neither Lance Bouma or T.J. Brodie are eligible to play in the AHL post-season, they are judged to have graduated to the NHL and are no longer considered prospects. Players are listed with the age, their primary 2011-12 club and how they became Flames property.
LW Sven Baertschi
19 years old // Portland Winterhawks (WHL) // 2011 first round pick
This Swiss-born player really turned a lot of heads during the 2011 WHL playoffs. He can skate, he can pass and he can shoot. He validated a lot of Calgary's hopes with his play in the WHL this season, racking up over 30 goals and 60 assists. He joined the Flames in early March on emergency recall and didn't look out of place, giving Calgary brass a bit of a hint he may be ready to make the jump to the NHL full-time in 2012-13.
G Leland Irving
23 years old // Abbotsford Heat (AHL) // 2006 first round pick
Sometimes regarded as the best goaltender outside of the bigs, Irving joined the Flames this season when back-up Henrik Karlsson blew out his knee. Playing almost exclusively in the second game of back-to-backs on the road, Irving has a 1-2-3 record in the NHL. Combined with his excellent AHL numbers, he appears to be on the verge of supplanting Karlsson as the club's secondary netminder.
C Max Reinhart
20 years old // Kootenay Ice (WHL) // 2010 third round pick
The eldest of the three sons of former Flame blueliner Paul Reinhart, Max was a crucial component of Kootenay's WHL championship team last year. He plays in virtually every situation imaginable and, despite "only" being a third round pick, he's continued to show improvement. The big challenge for him will be transitioning to a pro without losing what makes him so effective on the junior level.
LW Johnny Gaudreau
18 years old // Boston College Eagles (NCAA) // 2011 fourth round pick
Not exactly the biggest player in hockey, the 5-foot-7, 150 pound Gaudreau turned heads at Calgary Flames development camp in July. While he may look like a boy off the ice, he's a boy wonder on it. He's got speed and hands and won a championship in the USHL last season. This season he's made the jump to the NCAA and playing in the very tough Hockey East conference, he was second in freshman scoring during the regular season. The big question is whether he can put some size onto his frame and continue to be successful.
C Roman Horak

20-year-old Roman Horak made the Flames roster out of training camp. (Icon SMI)

20 years old // Calgary Flames (NHL) // Acquired from the New York Rangers
Snagged from Manhattan in the Tim Erixon trade last June, Horak arrived in training camp to little fanfare. When camp broke, he made the Flames roster. It helped that the team has been riddled by injuries, but Horak has been solid if unspectacular on the club's bottom six. He's probably a better fit in Abbotsford, but for a kid who started the season with no pro experience whatsoever, he's a wonderful surprise.

RW Michael Ferland
20 years old // Brandon Wheat Kings (WHL) // 2010 sixth round pick
A very strong "team" guy, Ferland can hit, fight, skate, pass and shoot. He's been on a line with WHL standout Mark Stone all season and his crash-and-bang style has helped give Stone the space to be a strong offensive player. Ferland doesn't have the flash or style of Stone, but the physical aspects of his game should make any line he plays on a pain in the rear for opposition players.
LW Paul Byron
22 years old // Abbotsford Heat (AHL) // Acquired from the Buffalo Sabres
Acquired from the Sabres in the deal that sent Robyn Regehr out of Calgary, Byron is one of several small but skilled players brought into the organization by general manager Jay Feaster. He impressed with his skills in Abbotsford and has looked good during recalls to Calgary, particularly during one stint on a line with Roman Horak and Lee Stempniak. Byron isn't going to get any bigger, so his main challenge will be figuring out how to adjust to the size and speed of NHL players.
RW Greg Nemisz
21 years old // Abbotsford Heat (AHL) // 2008 first round pick
Last year, Nemisz and Lance Bouma were the only Abbotsford Heat players called up to the NHL. This season, roughly a dozen players have gotten the call. Several other players were called up before Nemisz, but he seems much more poised on the ice. It would be nice if he used his size a bit more and played meaner, but he's progressing subtly. That said, Nemisz is in danger of being over-taken by a few of the newer prospects.
C Bill Arnold
19 years old // Boston College Eagles (NCAA) // 2010 fourth round pick
Last season, Arnold was a rookie on a very strong Boston College team. The team won the Hockey East conference championship and Arnold made the All-Rookie team. Now a sophomore, Arnold has continued to progress: he racked up 31 points in 34 regular season games. He also scored the dramatic overtime game-winner in BC's Beanpot tournament victory.
G Laurent Brossoit
18 years old // Edmonton Oil Kings (WHL) // 2011 sixth round pick
Drafted late in the 2011 draft, Brossoit was a back-up in Edmonton last season but the Flames saw some promise. This year he's gotten the chance to start with a very good team in front of him. That said, he's also been taking advantage of his opportunity, racking up 40 wins this season with a .913 save percentage. He's still got another year of WHL action left before he's able to turn pro, so it'll be very interesting to see if he can continue to progress.
THE NEXT FIVE:
LW Carter Bancks
22 years old // Abbotsford Heat (AHL) // Signed as a free agent
Often injured, but his rough and tumble agitating style affords his teammates a lot of room. His hustle last season earned him an NHL contract, but he's got to stay healthy. His upside is similar to former Flame Scott Nichol.
C Markus Granlund
18 years old // HIFK (SM-Liiga) // 2011 second round pick
This skilled Finn has been great in Europe on a line with his brother, Minnesota Wild prospect Mikael Granlund, but will need to eventually stand on his own. He played well in the World Juniors and has been on a tear since returning to his club team.
LW Ryan Howse
20 years old // Abbotsford Heat (AHL) // 2009 third round pick
Tremendously talented offensive player, but has struggled with conditioning and consistency, to the point where Abbotsford coach Troy Ward sent him home to get into shape. He's been very effective since, though.
D Joey Leach
20 years old // Kootenay Ice (WHL) // 2010 third round pick
Another Kootenay product, he's silently been defensively responsible and offensively valuable for the Ice.
D John Ramage
21 years old // Wisconsin Badgers (NCAA) // 2010 fourth round pick
Captained a disappointing Wisconsin club this season and has character and leadership for days. But needs to work on his mobility to be successful as a pro.