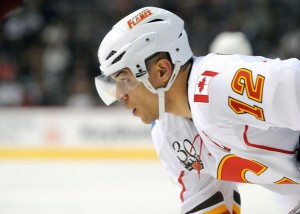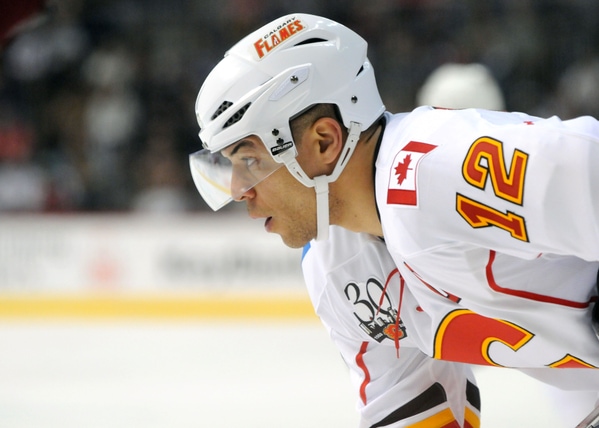 THE STATS LINE
33-25-12 record [18th overall (in points percentage)]
2.47 goals-for per game [23th overall]
2.66 goals-against per game [14th overall]
18.0% power-play success rate [13th overall]
82.8% penalty-kill success rate [12th overall]
45.6% in the face-off circle [30th overall]
2 points out of 8th spot in the Western Conference
12 games left in the regular season
40.3% chance of making the playoffs (as per SportsClubStats.com)
THE WEEK THAT WAS
March 9: In a wild affair at the Scotiabank Saddledome, a rowdy crowd welcomed the Jets back to Cowtown. Calgary jumped out to a 3-0 first period lead, then held on for their lives to win 5-3. Alex Tanguay had four points and 2011 draft pick Sven Baertschi made his NHL debut.
March 11: In a game that was, quite honestly, bowling shoe ugly, the Flames edged the Minnesota Wild 4-2 in an afternoon affair. Jarome Iginla had a goal and an assist and rookie Sven Baertschi scored his first NHL goal.
March 13: In a play-off type battle, the Flames beat the San Jose Sharks 3-2 in overtime. Calgary battled back from a 1-0 deficit, Sven Baertschi scored his second goal, Jarome Iginla scored his 30th of the season and Matt Stajan scored the OT winner with less than a minute left to play.
THE REDEMPTION OF MATT STAJAN

While the Calgary Flames' injury troubles throughout this season aren't exactly a secret, the club has continued to rack up points despite missing as many as nine regulars from their line-up. The secret to their success has been their ability to rely upon their best players to be their best players. Over the past several games, names like Iginla, Tanguay, Jokinen, Glencross and Stajan have been all over the score-sheet.
Wait a minute… Matt Stajan?
That's right, Matt Stajan.
Despite starting out the season seemingly in a lull, Matt Stajan has emerged as a very useful player for the Flames. He has points in four straight games (all wins.) He's been hovering around 50% in the face-off dot each of the last 6 games. He scored the dramatic game-winner against San Jose in overtime after blocking a shot in his own zone.
Stajan attributes some of his recent success to his new linemates, Alex Tanguay and Jarome Iginla, as well as the recent increase in ice time.
"When you play more, you get more comfortable out there," said Stajan. "You get your confidence back. Things just happen, you're not thinking too much. Sometimes you're your own worst enemy: when you make a mistake and you're not playing as much, you sit on the bench and think about it for too long."
However, while some may believe that Stajan's goal-scoring prowess is a new thing, he's actually been playing quite well for some time. Prior to joining the top line, he formed a very effective checking like with Tom Kostopoulos and Tim Jackman. Stajan has noticed a difference on the ice since he came back from a recent injury.
"Ever since I came back from injury I've felt really good out there. I'm just trying to go with it and pull my weight, and hopefully we keep winning as a team because that's all that matters," said Stajan.
THE PRODIGAL SWISS SON ARRIVES

With the team missing seven forwards, Flames general manager Jay Feaster reached into his bag of tricks and went to the WHL for help.
Last Wednesday, the Flames recalled 2011 first round draft pick Sven Baertschi from the Portland Winterhawks. Considered by many to be the best offensive talent in the team's prospect pool, the Swiss product made his NHL debut on Friday night against the Winnipeg Jets on a line with veteran Tom Kostopoulos and rookie Greg Nemisz. The trio was kept together for Sunday's game in Minnesota and produced some offense, with Baertschi scoring his first NHL goal in the third period of Calgary's 4-2 win.
Baertschi noted that while he didn't expect to make the NHL during this season's training camp, he was given some homework to take back to junior to work on. Now up on an unexpected recall, he's been given a unique opportunity – both a preview of the playoff atmosphere he'll be experiencing soon back in junior, as well as a preview of his future against stiff NHL competition.
"When I went back to Portland, my goal was to get ready for next season," said Baertschi. "I worked on all those things every single day. Worked on my skating, worked on my skills, worked on my body overall. I got stronger every game. I was right in it and I was working on all that stuff during the whole season and jumping it and being able to keep up with the speed and everything, it's good when you see a result."
Baertschi had two goals in three games with the Flames at the time of this writing. He's slated to return to Portland once a Flames forward is ready to return to the line-up.
MAN-GAMES LOST COUNTER
328-man games lost (up to the March 13 game with San Jose): David Moss (48), Brett Carson (30), Mikael Backlund (28), Henrik Karlsson (25), Anton Babchuk (24), Derek Smith (22), Mark Giordano (21), Lee Stempniak (19), Alex Tanguay (16), Matt Stajan (15), Curtis Glencross (15), Blair Jones (15), Brendan Morrison (14), Chris Butler (9), Raitis Ivanans (5), Lance Bouma (5), Scott Hannan (4), Blake Comeau (4), Mike Cammalleri (4), T.J. Brodie (2), Rene Bourque (1), Tim Jackman (1) and Krys Kolanos (1).
Blake Comeau returned from injury for the March 13 game against the Sharks and Krys Kolanos was re-assigned to Abbotsford. Lee Stempniak (lower), Blair Jones (lower), Chris Butler (lower), Tim Jackman (lower), Lance Bouma (upper), Mike Cammalleri (upper), Mikael Backlund (upper) and T.J. Brodie (upper) remain out.
DISPATCHES FROM THE FARM
AHL: It was a Jekyll and Hyde week for the Abbotsford Heat. They beat Houston 4-1 based on a very strong team effort, and two goals by Akim Aliu. Then they lost both weekend games against Peoria by a combined 9-1 score, with the team looking fairly poor. They lost to Peoria 4-1 on Tuesday night, as well.
NCAA: Boston College swept Massachusetts 2-0 over the weekend to advance to Hockey East's semi-final, where they'll face Providence. B.C. beat Providence twice by a combined 10-0 two weeks ago. Flames prospect Johnny Gaudreau had three assists, while Bill Arnold also had a helper. The semi-final is played on Friday night.
WHL: Most of Calgary's WHL prospects have qualified for the playoffs, with the notable exception of Red Deer (where Turner Elson hasn't played since March 6 due to an injury). Brandon's Michael Ferland had six points (4 goals, 2 assists) in four games.