We've heard them all before – those typical answers that athletes give during media scrums. But what drives these player clichés? Why don't athletes and coaches give their all in coming up with unique answers?
The answer is simple. Predetermined answers are used by professional athletes to shy away from the post-interview scrutiny of media and fans alike. But what happens when players step away from these answers – share their true thoughts, their real emotions. After all, the locker room can be a fiery place during post-game scrums. Just ask Phil Kessel.
Letting the Scoresheet Talk
When Kessel played with the Bruins it wasn't often that you would see him do post-game or post-practice interviews. In fact, with the veterans that played in Boston at the time, he didn't have to speak to the media much at all.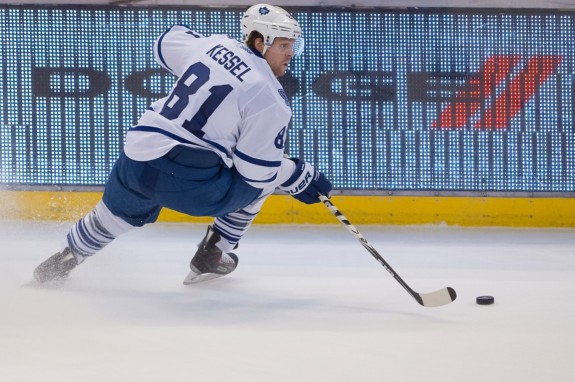 Instead, he went about his business playing the game on the ice and speaking with his skill rather than his words – giving members of the media one less individual's clichés to work with. In fact, even now in Toronto, Kessel likes to let the scoresheet do the talking.
In a piece by National Post reporter Michael Traikos, Kessel admits that he doesn't talk a lot with media. Instead, he hopes that his on-ice performance will say what he wants.
"I've played six season here now and I'd say so," said Kessel in Traikos' article when asked about his leadership on the team. "I don't say a whole lot, but I try to lead on the ice."
And that's where he does his best talking. While he's struggled at times this season with his consistency, Kessel still leads the Leafs with 43 points (19g-24a) in 45 games. He sits tied for sixth in the league in points with Nikita Kucherov and still the introverted Kessel is expected to show up and discuss – and sometimes defend – his play each and every game.
Phil Kessel: Uncensored and Outspoken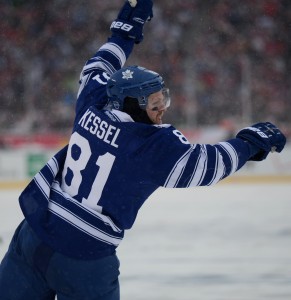 Now since the trade that landed the sniper in Toronto, Kessel's learned that hiding from the camera in a media populated market is next to impossible.
While he's sometimes shown up reluctantly to talk with journalists, he done so on a regular basis – with the exception of a few incidents.
But what separates Kessel from many players around the league is that he tends to step away from the usual responses.
Sure, you'll hear the casual cliche from Phil every once and while, but  he's not afraid to insert himself into the interview – a refreshing attribute for Maple Leaf writers. Or is it?
Twice this season Kessel's responses have led to the typical media scrutiny – wondering if he's frustrated with his play or simply disappointed with the need for post-game interviews. After a rough start to the Leafs season, he reminded fans, media, and others to simply relax.
"Guys, it's Game 1," he said in another Traikos article. "You guys need to relax a bit here. You guys look at our test scores…and then come talk to me and see where we stand."
That was following the Leafs first game of the season – a 4-3 loss to their rival Montreal Canadiens. But it was a more recent comment that had some shocked and others laughing.
Following the firing of head coach Randy Carlyle, the Toronto Star's Dave Feschuk stood among his peers in a post-game scrum with the Leafs star where he asked Kessel if he was 'uncoachable'?
https://twitter.com/SteveBurtch/status/450786424237719552
Now, I've read some of Feschuk's stuff, but surely not enough to accuse him of being a baiter in terms of his questions. That being said, this question was just that – a question trying to bait Kessel into a soundbite worth writing a story around.
Think about it. How in the world is Phil Kessel supposed to answer whether or not Phil Kessel is uncoachable – I mean without providing journalists with a story. If he says yes, he blames himself for the Leafs woes. If he says no, he lays the blame solely on the shoulders of Randy Carlyle. So how exactly was he supposed to answer?
Well, instead of folding under the pressure of Toronto media, Kessel surprised everyone with an answer that is sure to change the way he is approached in scrums.
"I don't think so, but that's a weird question for you to ask though," said the Leafs' star laughing at Feschuk's follow-up question accusing him of being at fault. "You think it's my fault? Is that what you're saying? Is that what you're saying?"
After Feschuk continued by saying he was simply asking a question, Kessel responded again.
"This guy's such an idiot here. He's always been like this," he said turning away from the microphones.
Finally, as the scrum broke up, Kessel questions Feschuk and why no other reporters are disrespecting the players with their post-game questions. Regardless, Kessel's response was refreshing. Without question, it was emotionally driven, but it's one that most hockey fans don't have an opportunity to watch.
SEE THE FULL INTERACTION HERE:
Since then, Kessel's shown up for post-game scrums and answered questions with the same sort of Kessel response – sharp, forward, and without following the typical clichés for the most part.
Interacting With Phil
I was fortunate enough to be a part of a Phil Kessel scrum at the 2014 Bridgestone Winter Classic in Ann Arbor and my experience with him that he is simply a man of few words. There's no question that he's become more of a media target since coming to Toronto, but he handles it in a way that – I think – most people just aren't used to.
He's laid back in his responses. He'll talk, but don't ask him questions trying to bait him into a soundbite. On the ice, he's a player that shows his emotion by slamming his stick every once and while. He's the same in the locker room during scrums. He's not afraid to let his emotions seep into his answers.
Maybe it's time we understand that – understand he's not a cliché when it comes to answering questions. Instead, his answers are refreshing, something new for journalists and fans. Maybe, they're even more real than some of the answers we get from other players. It's time to stop scrutinizing players who do stray from the same old answers and applaud them for not falling into line with everyone else.
And if you still don't like his answers, maybe it's time to let Phil just do his talking on the ice.
For more, follow Andrew on Twitter at @AndrewGForbes or his THW column at @Tape2TapeTHW.