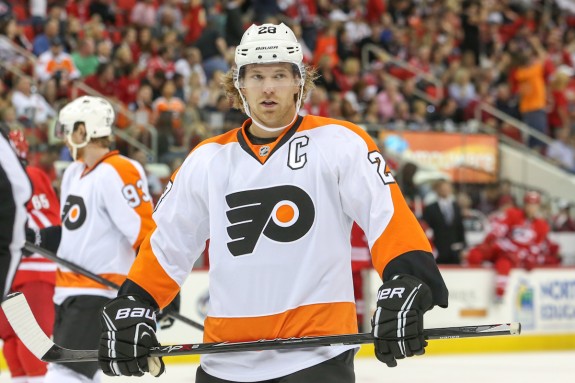 We have made it all the way to the Philadelphia Flyers. This week we talked to Anthony Mingioni of Sportsology. There were quite a few questions we asked of him and he definitely delivered some provocative answers.
The Flyers face a lot of uncertainty much like any Metro Division team and now we present to you the Q&A in its entirety. Read it and enjoy.
Philadelphia Flyers Q&A
1.  We hit hard off at the first drop of the puck. Is Steve Mason the goalie to lead this team for the next several years?
I believe so. The Flyers have made a three year commitment to him and he is at that stage of his career where he might emerge as the top flight goaltender everyone thought he was during his Calder Trophy winning campaign with the Columbus Blue Jackets. Now that he's unquestionably the number one goaltender, there's added pressure to live up to that billing. At the same, he's displayed a confidence to his play that didn't exist the last few years with Columbus. He's been a willing student of goalie coach Jeff Reese. He's stated that he has learned to play each game in stages and doesn't seem perturbed if he lets a bad goal in. He proved to be relatively unfazed by postseason pressure, as three of his four first round games against the Rangers were really good to excellent performances.
2. Should Claude Giroux send a gift basket to Anton Belov? After all, his "head" shot did turn around Giroux's season.  
Not so sure about a full gift basket, but perhaps a box of cherries will work. Scores the game winning goal and takes off after that. Ok, let's throw in a couple of roses in with those cherries and call it a day.
3. The Rangers-Flyers series just seemed to lack that normal rivalry spark at times. Did we miss something or is there a little truth to that statement?
I don't think there's a question that it missed a spark at times, especially at the games at Madison Square Garden. With the exception of some ill-advised Benoit Pouliot offensive zone penalties, the Rangers refused to get baited by the Flyers the way that the Penguins did two years ago. I felt through most of the series, the Rangers were able to contain the Flyers. Biggest differences in the series to me were New York's discipline and their speed advantage on their wings. If Philadelphia was able to put New York on their heels more often, things might have turned out differently.
4. If I put you on the spot. Opening night….the Flyers top line will be who, who, and who? Why?
Claude Giroux and Jake Voracek are locked in place, but the big question is who will man the left wing for them? In many ways, I expect that role to be a revolving door this upcoming season. Craig Berube has stated on multiple occasions that he'd like to have a physical presence with Giroux and Voracek. There's been speculation that they might use Brayden Schenn there and if the plan is to make him a left wing once and for all that would make sense. But Schenn is a natural center and seemed to play particularly well with Wayne Simmonds. Some might point to newly acquired R.J. Umberger who scored 18 goals last season for Columbus but also found himself in a press box seat late in the season. I thought that Michael Raffl acquitted himself well there. He plays a physical game, walls off his man, and is a defensively responsible player. He might not have the finishing touch you'd like to see but if that's the kind of player Berube's looking for…then Raffl's not a bad dark horse to be playing on Giroux's left when the puck drops in Boston for the opener.
5. So I am looking at Flyers training camp in September, is there a player or two from the prospect ranks I should be keeping an eye on?  
Scott Laughton continues his upward ascension of development. Looked positively dominant with Oshawa this season, but much depends on what happens with Vincent Lecavalier. Laughton has expressed willingness to play wing, but most would agree that center is where his greatest growth will come from. He stands just as much a chance of being the top line center with the Lehigh Valley Phantoms which certainly can be a boon for his long term development. Forward Jason Akeson made late season and playoff appearances. Despite a disasterous high sticking penalty during the Rangers series, I thought he had moments where he looked like he belonged in the NHL. There's a good chance he'll get that opportunity at the start of the season. Defensemen Robert Hagg and Shayne Gostisbehere are likely ticketed for the Phantoms to start their first full professional seasons, but on a blue line that is in need of transitional speed, a strong training camp and preseason from either might open doors.
6. So that S**T The Beach thing is called Trial On The Isle actually. How did this year's edition go?  
Well, it's been Trial On The Isle for a long time, but that's what happens when you hit send without checking for typos. Beach Obstacle Course/Flyers Trivia Challenge was won by a four man team including Hagg. They also had kayak races, paddleboarding, and tug of war with paddle boarding, along with a two on two volleyball challenge. Fun times had by all, according to NHL.com's Adam Kimelman.
7. What do the Flyers have to do in order to advance deeper into the playoffs?
While this might sound cliché, they need to play faster and smarter. They also need to make sure that their game is in high gear from the moment the puck is dropped. Too often, they started games slowly and had to climb back. The ability to come from behind is admirable but a Stanley Cup contender doesn't dip into that well too often for risk of it eventually running dry.
The trade of Scott Hartnell sends a message to the rest of the lineup that a continued lack of on ice discipline will lead to a lack of ice time or worse. They need to get the goaltending they got out of Mason in the latter part of the Rangers series, combined with upgrades on their defense to be able to smoothly transition out of their own end. They found themselves dealing with opposing counter rushes when they didn't adhere to Berube's script.
The continued evolution of their younger players is important. Wayne Simmonds' game evolved from a power forward element to more of a 200-foot game last season.  That's not to say he still doesn't have room to grow in the defensive aspect of his game, but last season's results were encouraging.
Beyond Simmonds, Sean Couturier, Schenn, and Matt Read look to provide support for Giroux and Voracek. The Rangers knew that if you kept Giroux shut down, they stood a good chance of winning the series. With the exception of Game Six, they did that. The Flyers established the fact that they can score in the regular season, but against a superior defensive opponent like New York, they struggled. That can't happen if they want to advance deeper.
8. When does Philadelphia address the need for a backup goaltender? Is there anyone in the system that offers some hope?
The Flyers signed Ray Emery to a one year deal to return as their backup goaltender this season. For now, Philadelphia is hopeful that'll be enough to keep things in place while 2012 third round pick Anthony Stolarz rounds into form with Lehigh Valley as he enters his first professional season. The big goalie from Jackson, New Jersey likely needs a few years development time before being ready for the NHL. Other than that, German league veteran Rob Zepp will share duties with Stolarz.
9. So R.J. Umberger is back in the fold. What do you expect out of him this season?
He'll be a candidate for one of the top two line forward spots. He plays with more speed than Hartnell did and I expect he'll be used as a "jack of all trades," but think he stands a good chance of making an effective combination as a third line left wing with Couturier and Read. There is some concern with him having a variety of injuries last season, but if he's healthy  expect him to bank in between 15 to 20 goals this season.
10. Is the Metro Division even more wide open than last season? Why or why not?
It will be more wide open if the Penguins struggle in their first year under Mike Johnston. They have Sidney Crosby and Evgeni Malkin and as long as they are healthy, they remain the best in the division even with hockey operations and roster changes. The addition of Christian Ehrhoff to replace the outgoing Niskanen is a good one, but the James Neal for Nick Spaling and Patrick Hornqvist trade will be very much a "wait and see" proposition.
If there's a divisional dark horse, the Columbus Blue Jackets are that team. If Ryan Johansen takes the next step as their top line center, then the other parts of their lineup fall into place rather nicely. Brandon Dubinsky is finally in a role that suits him and his six year deal is reflective of that. In the short term, the Hartnell acquisition adds a player who can disrupt in front of the net.
The Rangers, even with the addition of Dan Boyle to the blue line, had a long grinding run to the Final. How the trade off from Brad Richards to Matthew Lombardi will go is anyone's guess at this point. The addition of Lee Stempniak was one of the better value signings off the offseason and gives Alain Vigneault a player to move up and down the lineup, though his best spot will likely be as third line right wing. There's a definite feeling of opportunity's window starting to close on the Blue Shirts.
The Capitals are undergoing yet another restructuring in the Alex Ovechkin era, adding former Penguins defensemen Matt Niskanen and Brooks Orpik to the fold, while shifting to a defensive oriented system under new coach Barry Trotz. Who knows what happens with them?
Carolina seems as if they're treading water and with news of Eric Staal's operation to repair a core muscle, there's concern about how competitive they'll be in the division.
I liked the moves the Islanders and Devils made with Mike Cammalieri and Martin Havlat going to Newark, while Nikolai Kulemin and Mikhail Grabovski signed very affordable deals on Long Island. Is it enough to think they're playoff teams? Not yet.
11. Lastly…the moment of truth. Where do the Flyers finish in the Metro and do they make the playoffs?
Columbus is the team to watch for in the division. If they rise, then the Flyers as they stand now become more of a "on the bubble" playoff team. Their salary cap situation restricted their ability to look at free agents. With the exception of Hartnell, this is pretty much the same club that lost to the Rangers in the first round and other teams in the division did make moves to improve. I believe it'll be the same combination of four teams that make it from the Metropolitan Division, but the Flyers and Blue Jackets switch spots. Philadelphia makes the playoffs, but as a wild card team.