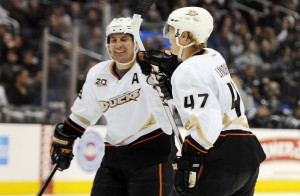 The Anaheim Ducks are loaded with experience heading into the 2014-2015 regular season. Up front, they've got captain Ryan Getzlaf, his line mate Corey Perry, and newcomers Ryan Kesler and Dany Heatley. No veteran is more important to Hampus Lindholm's sophomore campaign, though, than his fellow defense partner Francois Beauchemin.
Lindholm's chemistry with Beauchemin results in points
Lindholm played alongside the Sorel-Tracy, Quebec native in his debut season in the National Hockey League. The two combined for a plus-55 rating, while additionally they totalled 47 points from the blue line. Impressively, out of those numbers, Lindholm amounted for six goals, 30 points, and finished plus-29 in 78 games. In short, as the Ducks number one pair, Beauchemin and Lindholm seemed to compliment each other nicely and should likely share ice time in the upcoming season. Thus, offensive output shouldn't be hard to come by for Lindholm in his second pro stint.
Beauchemin's knowledge and ability to bounce back
Numbers aside, though, Beauchemin has played 12 seasons in the NHL. Therefore, he has lots he can offer to Lindholm. For example, from the beginning of the 2007 season to the end of the 2012 season, Beauchemin struggled to register a positive plus-minus rating. In his last two campaigns, he turned around his defensive play and was plus-19 from 2012-2013 and plus-26 last year. Technically, the 20-year-old Lindholm has yet to experience a down season in the NHL, but avoiding hardships as an athlete is almost inevitable. Yet with Beauchemin probably by his side again, the former Rögle BK d-man should continue to learn how to weather criticism and how to easily bounce back from a rough game or season. This kind of knowledge will be valuable for the younger half of the Ducks' top defensive pair as he is quite familiar that a rookie's second season is one of the most difficult.
"I feel like I had a good first year, but I know the second year is a lot harder. I really want to come to Anaheim prepared and do my best to have an even better year. I want to help the team win games. I don't want to not work out and feel like I didn't give it a chance. I want to work my [rear end] off to really give it a chance this year." – Hampus Lindholm. AnaheimDucks.com. Published: July 28, 2014.
Knowing what it takes to win as a d-man
Most importantly, Beauchemin knows what it takes to perform as a defenseman in the playoffs. Currently, he is the only Ducks d-man on the roster with their name engraved on Lord Stanley's cup. The veteran was with the team when they won it all in 2007. Keep in mind, Ben Lovejoy was on the Pittsburgh Penguins when they won the cup in 2009 but he didn't appear in any playoff games. Therefore, his name was not included with the rest of the Pens.
Given the Ducks' offseason acquisitions of Kesler, Heatley, and Nate Thompson, the team is prepared to make a deep playoff run and Beauchemin's experience, if and when the time comes, would help Lindholm elevate his game to the next level for the high tempo postseason. After all, an athlete's performance is often under the microscope when everything is on the line, and Lindholm will be watched closely not only because he will be competing in his sophomore season, but also because he will likely see a lot of ice time. Fortunately for the young d-man, he already has 11 playoff games under his belt where he registered two assists and was minus-2 – numbers that aren't spectacular, but should improve if the Ducks make the playoffs.
In the end, between whistles and off-ice, the Swedish-born has a variety of mentors to help him develop his game like head coach Bruce Boudreau and assistant coach Scott Niedermayer. When the puck drops and the game is being played, no one will be more important to Lindholm's sophomore season than Beauchemin. The vet brings with him point production, knowledge, and experience – all of which will be critical in his partner's quest to avoid a sophomore slump.