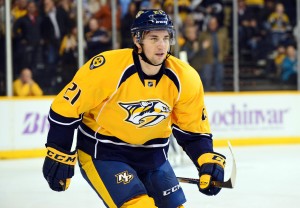 Simon Moser will play hockey in his hometown of Bern, Switzerland next season. That is, unless the Nashville Predators re-sign the restricted free agent prior to November 15.
The contract with SC Bern includes an NHL out-clause, which means if he is signed by an NHL team prior to the deadline, he is free to go. However, if that does not happen, Moser would have to complete his valid contract with Bern through the 2014-15 season.
Moser, 25, made his NHL debut in a road game against St. Louis on February 1. In 6 NHL appearances last season, Moser registered just a goal and an assist. Moser spent most of the year in Milwaukee scoring 26 points (8 g, 18 a) in 48 games. The left-winger also appeared in the Sochi Olympic Games for the Swiss, scoring the game-winner in a 1-0 preliminary match win against Latvia with 7.9 seconds remaining.
There is upside in Moser's game, but the question is: why hasn't he and the Predators reached a deal?
In September of last year, Moser was signed to a one-year entry-level contract worth $570,000 at the NHL level and $70,000 at the AHL level.
At $70,000, Moser would be set to earn the same AHL salary as prized prospects Filip Forsberg, Kevin Fiala, Magnus Hellberg, Miikka Salomaki, Pontus Aberg and Brendan Leipsic this year. However, Moser wants more money. And why shouldn't he? He has $350,000 awaiting him in Switzerland.
Moser's agent Georges Müller told ThePredatorial.com on July 25, "We are in talks with other clubs. A return to Nashville is only an option if the Predators are willing to increase the AHL salary."
Money at the AHL level is certainly an issue for Moser, but why? Does he not have even more money than what Bern is offering him at the NHL level?
The answer is simple really when looking at Nashville's depth chart. Playing for the Predators in the near future is unpromising for Moser.
Unless a trade unfolds prior to training camp in September, there are approximately 16 forwards–excluding Mike Fisher (out 4-6 months)–competing for 14 roster spots in the upcoming season. 12 are a lock because of veteran experience, leaving 2 spots for 4 young forwards to be integrated into the lineup.
Moser is not one of them. He is behind in a long list of forwards eager for an NHL re-call.
While his opportunity with the Predators is fading away, another NHL team could seek his services. As an RFA, a team can sign Moser to an offer sheet, then allowing Nashville 7 days to match it or lose the player. If a team were to do so, and the offer sheet would most likely be under $1.1 million, the Predators would not receive a draft pick compensation under the current rules.
For Nashville to make the right move, it would mean to give Moser a two-year, two-way deal with more money at the AHL level, as requested. After the 2014-15 season, the Predators will have 5 UFAs and 4 RFAs at forward. If Moser could patiently wait a year for a grand opportunity in 2015-16, it could pay off in the bank and on the ice.